Insight
Qiu Xiaofei at Pace Gallery, New York
In its New York location at 510 West 25th Street, Pace is currently showing a series of new paintings by contemporary Chinese artist Qiu Xiaofei. The exhibition, entitled Double Pendulum
and on until 23 April 2016, marks the artist's first foray into the North American art world, as well as a shift in his practice.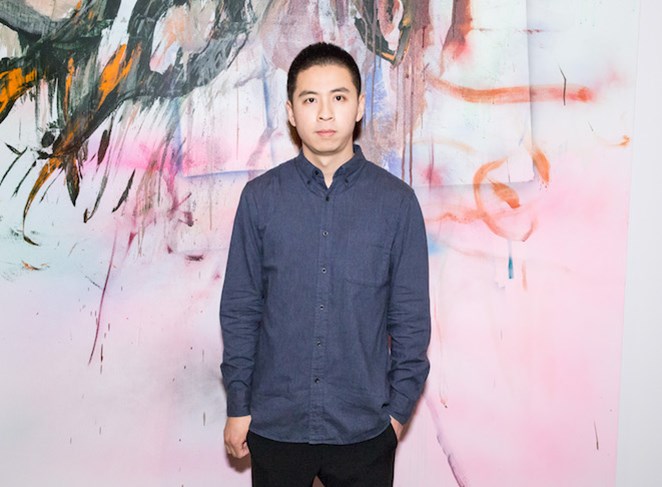 Image: Oiu Xiaofei. Photo: Aria Isadora/BFA.com.
Qiu has been painting for nearly 20 years and his oeuvre is characterised by numerous changes and developments. After studying at the Central Academy of Fine Art in Beijing and with Liu Xiaodong, Qiu began working in a representational style until around 2012 when his practice radically shifted towards the abstract. Qiu's works on show at Pace reflect another alteration; they combine a representational style with an abstract approach to produce large-scale contradictory pieces.
The outcome is quite disconcerting—the vast canvases are undefinable and chaotic, imbued with the artist's touch and energy, yet stilted by the invasion of a square or figure. Layer upon layer of paint slips and slides across the surface, refusing to settle. Using palette knives, spray guns, brushes and other implements, Qiu improvises as he works, reacting to and against drips, sprays and forms as they materialise on the canvas. Each work exists autonomously and is somewhat removed from his earlier socio-critical works which were often bent on exploring past memories.
There is a certain vitality to Qiu's paintings, especially when considered alongside the continuing debate on painting's mortality. Ocula took the chance to speak with the artist about his process and ever-changing artistic style.
Your recent paintings are multifaceted images which appear to have been built using many different media and techniques—please could you begin by talking through your process?
My process is quite improvisational and very spontaneous: as I develop each canvas I add on different elements. Each layer that you see I intentionally introduced to maintain a certain space, certain room, certain void in the canvas. So to me it's definitely very much a spatial arrangement that enables me to create sparks or conflict between my touches, and with that create multidimensional works.
To me, my new works here are not completely abstract; rather I am trying to compose my works of both abstract and representational elements, using figures and geometric shapes alongside impasto brush strokes. This creates juxtapositions in my paintings that I feel capture a sense of infinite space.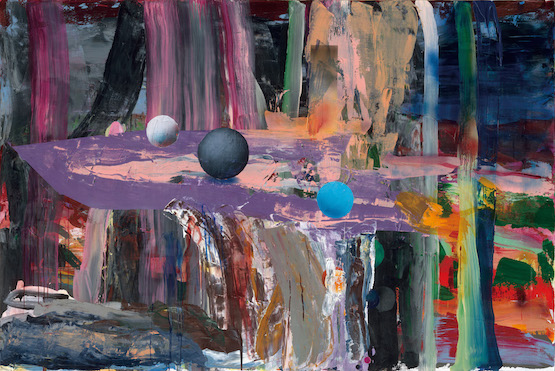 Image: Qiu Xiaofei, Zero Gravity No. 1, 2015. Acrylic on canvas, 200 cm x 300 cm. Courtesy Pace Gallery, New York.
Your work has moved from a representational style to purely abstract and now to a blend of the two. Why have you developed your practice in such a way?
The early works were very focused on time and memories. Looking at the current reality in China, it is very very different from the one I used to live in and how I used to remember it. This dramatic transformation that we are experiencing in China is something my practice is definitely trying to reconcile with my new works. The change in my reality is exactly what is causing the change in my painting.
In the past, my work was very simple and pure but the conflicts, dilemmas and contradictions taking place in China have required a different form to capture the conflicting nature of society. I felt I needed to use more than representational forms; I felt I had to use a more metaphysical style.
Image: Qiu Xiaofei, Tape Junk No. 2, 2015. Acrylic on canvas, 280 cm x 200 cm. Courtesy Pace Gallery, New York.
Your jarring canvases are very effective.
Aesthetically speaking, using many different styles in my canvases creates juxtapositions, enabling me to represent conflict.
The abstract strokes on your canvases appear to be driven by impulse and speed, yet at times these sensations are halted by the addition of a painted square or circle. Why have you chosen to make these additions?
As you mentioned, there are a lot spheres, spirals and even figures of dictators being contrasted with my abstract expressionist base. I feel they all have some form of symbolic meaning when I use them. For example, the spheres evoke an old work from 2010, Utopia, and represent the skulls of people being killed by a dictator; spheres represent death for me.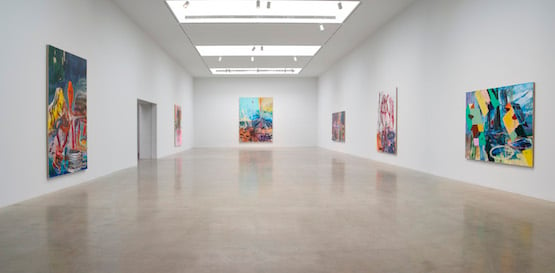 Image: Exhibition view, Qiu Xiaofei, Double Pendulum, 2016, at Pace Gallery, New York. Photo: Tom Barratt / Pace Gallery.
So they are intentional and conscious additions to the canvas?
The process itself is still very improvisational, but that does not mean it is mutually exclusive from the symbolic; using certain forms to represent certain things. I do think that a lot of implied meanings, symbols and metaphors can be used in a very improvisational way.
The snake-like spirals represent to me how the concept of time has evolved. In the past I thought of time in a very linear way, but nowadays I have realised this is not a reality, rather time has a cyclical way of repeating itself: time is spiralling.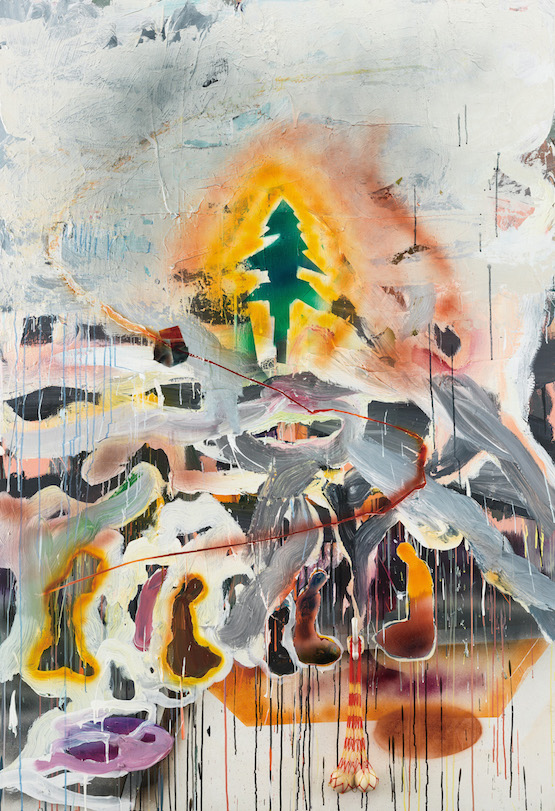 Image: Qiu Xiaofei, Temple Base, 2014-2015. Acrylic on canvas mounted on board, old white porcelain hook, plastic mesh bag, wood balls, 210 cm x 144.9 cm x 13.5 cm. Courtesy Pace Gallery, New York.
Alongside the social context and symbolic meanings embedded in your work, they also appear to interrogate the medium, or as you previously commented they appear to be 'editing painting with painting'.
This has a lot to do with my past experience at art school, at the Central Academy of Fine Art, Beijing. At the time, I was not exposed to what was happening in the contemporary art world, the little knowledge I did gain was from time spent in the library, and so I learnt about art in a different way, not in real time. I would learn about Da Vinci and Duchamp in the same day. To me, that is why I made the comments I made; I am trying to reconcile this issue.
As a result of my unsynchronised way of learning, I approach the progressions and evolutions of styles and technique as though they are the same elements, bringing them together on my canvas.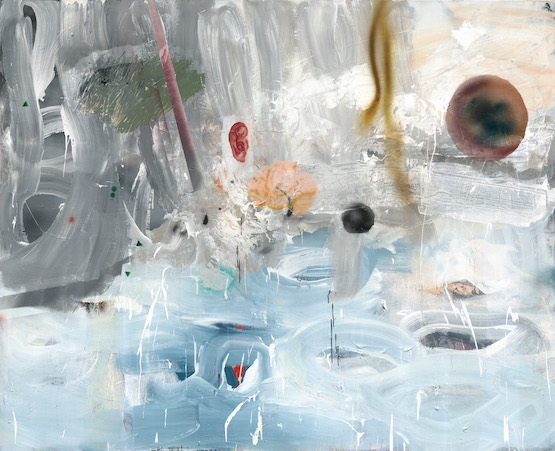 Image: Qiu Xiaofei, Vortex, 2015. Acrylic on canvas, 200 cm x 250 cm. Courtesy Pace Gallery, New York.
What are your thoughts on the so-called 'death of painting'?
If you say 'painting is dead' I think it has some truth if you are referring to works that are created in a single style; this has run its course. For me, I do not see painting as just a format, but I see it as a way to express how you explore conceptual ideas. I think with this approach you can give a 'breath of fresh air' to something that has become quite static and stale.
Image: Exhibition view, Qiu Xiaofei, Double Pendulum, 2016, at Pace Gallery, New York. Photo: Tom Barratt / Pace Gallery.
Would you say this is why you have stayed faithful to the medium throughout your career so far?
The act of painting is not just a way of expressing myself; I do feel physically connected to the works. This is one reason I like large-scale painting, some days I will just feel lost in the process of making, I will become part of the process, become one with the canvas. I very much enjoy that.
—[O]