Insight | Artworks
Taipei Connections: Eight Artwork Highlights

In Partnership with Taipei Connections
Spanning works by emerging, established, and historical artists, members of Ocula Magazine's editorial team present their picks from Taipei Connections (2–10 May 2020), an online platform launched by Ocula and Taipei Dangdai, involving the fair's leading galleries.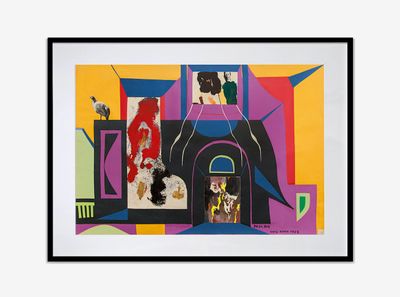 Luis Chan, Door God (1978). Mixed media and collage on paper. 54.5 x 79 cm. Courtesy Hanart TZ Gallery.
Luis Chan, 門神 Door God (1978) at Hanart TZ Gallery
The artistic trajectory of enigmatic self-taught artist Luis Chan, known among his peers for his elegant yet unpretentious cosmopolitanism, is intertwined with Hong Kong's dynamic 20th century. Born in Panama in 1905, he moved to Hong Kong with his family when he was five, where he became a focal point in the city's art scene.
Drawing as much from influences like Helen Frankenthaler and Willem de Kooning as from Chinese ink painting, Chan's prolific oeuvre was showcased in a survey at Shanghai's Power Station of Art in 2019. Three sections organised 100 works: 'Early Realism (Early career to 1950s)', when Chan, known as 'Watercolour King', was dubbed one of the Hong Kong art world's 'Three Musketeers' alongside painters Li Bing and Yu Ben; 'Experimentation (1940s to 1970s)', when realism gave way to Cubism, Surrealism, Structuralism; and 'Mature style (1960s to 1980s)', defined by imaginative ink paintings balancing fine figuartive lines with expressive colour fields. In this history, Door God is at the cusp—a mature example of Chan's unceasing evolution. SB
Aaron Johnson, Five Moons for Ten Lovers (2020). Acrylic on canvas. Ø 152 cm. Courtesy Over the Influence.
Aaron Johnson, Five Moons for Ten Lovers (2020) at Over the Influence
Aaron Johnson says he felt a 'sort of strange magic' when he landed upon the fluid technique of his recent paintings, which differ from his hard edge, hyper-detailed works of earlier years. The magic can be felt in these luminous paintings, where interlocking figures emerge from sweeps of watered down, fluid acrylic applied to raw canvas via a paintbrush Johnson straps to the end of a pool cue. Two fine examples of his work can be found at Over the Influence, including this group of lovers embracing beneath five watchful moons. TM
Fan Ho, Evening in Aberdeen (1958). Resin coated silver gelatin print. 26.5 x 35.5 cm. Courtesy Blue Lotus Gallery.
Fan Ho, Evening in Aberdeen (1958) at Blue Lotus Gallery
Fan Ho's life story is as layered as the black and white photographs of his 'Portrait of Hong Kong' series: images taken in the 1950s and 60s documenting life in the British colony with a searing balance of realism, cinematic drama, and formalist precision, resulting in scenes brimming with fact and affect. Ho came to Hong Kong from Shanghai in 1949 when he was 18, the year his father bought him the twin lens Rolleiflex camera that he used to take his pictures. He amassed most of his international photography awards—in total around 300—before 30, and was apparently voted world's greatest photographer by the Photographic Society of America in 1958. In 1961, he shifted track, becoming a Shaw Brothers actor and later finding commercial and critical success directing category III (R-rated) titles.
Evening in Aberdeen was taken in 1958, when Aberdeen was developing into an industrial hub. The focus here, though, is the harbour's fishing boats surrounded by mist that catches the light as it dissipates over the water: a knowing pause between tradition and transformation. SB
Noel McKenna, Country Home (2019). Oil on plywood. 42 x 44 cm. Courtesy the artist and mother's tankstation.
Noel McKenna, Country Home (2019) at mother's tankstation
Noel McKenna's enigmatic paintings showing with mother's tankstation—further to the artist's current solo show at the gallery's London outpost—speak to current times of introversion. Country Home (2019) captures the Australian artist's signature, whimsically forlorn style. Time appears to be edging forward at increments in the night, which engulfs a small house with glowing windows outside; while inside, a pipe, playing card, and clock suggest the passing of time in a sparse room whose only occupant is a startled cat. TM
Renate Bertlmann, Zärtliche Berührungen (Tender Touches) (1976/2017). Digital colour photograph mounted on dibond, with perspex, edition 2/5 + 2APs. 30 x 45 cm. Courtesy Richard Saltoun Gallery.
Renate Bertlmann, Zärtliche Berührungen (Tender Touches) (1976/2017) at Richard Saltoun Gallery
When it comes to viewing works online, there is something to be said of Renate Bertlmann's visceral colour photographs that comprise the artist's 'Tender Object' series, created one year after Bertlmann was included in MAGNA. Feminismus, curated by VALIE EXPORT in Vienna. The teats of inflated latex condoms are photographed in zoomed focus, the interactions of these artificial barriers invoking the intimacy of skin on skin. In one sequence included in this Taipei Connections display, one tip pushes into the other, while other segments catch them in a rubbery slip and slide.
At once playful and confrontational, these are also tender abstractions of touch. This is especially palpable in images like this one, where the zoom is increased to a point that the subjects of these performative compositions become ambiguous; in which the suggestion of an act becomes the translation—or communication—of ineffable sensation. SB
Alvin Ong, Skype (2019). Oil on canvas. 200 x 175 cm. Courtesy Yavuz Gallery.
Alvin Ong, Skype (2019) at Yavuz Gallery
With a solo exhibition slated to open 21 May at Yavuz Gallery in Sydney, rising talent Alvin Ong presents a taster of recent paintings for Taipei Connections. The Singaporean artist's tableaux of twisting and blurred figures trapped in states of simultaneous pleasure and pain have featured in a host of solo and group exhibitions since the artist graduated from the Ruskin School of Art, University of Oxford with a BA in 2016, followed by an MA at the Royal College of Art in 2018. In Skype (2019), Ong's wrestling figures brandish mobile phones with headphones strung to their ears in both a fight for and refusal of connectivity. TM
Aiko Miyawaki, Work (1962). Oil and powdered marble on board, framed. 24.2 x 33.4 cm. Courtesy SHIBUNKAKU.
Aiko Miyawaki, Work (1962) at SHIBUNKAKU
In 1962, Tokyo-born artist Aiko Miyawaki was invited to Paris by French dealer André Schoeller. There, Miyawaki experienced an autumnal sunset that profoundly informed her relationship with representation. 'I lost all interest in stories which have a beginning, and an end, in bold shapes, bright colours', she said. The mixed-media, two-dimensional works she created in the 1960s, such as the one presented here, expressed this perspective, incorporating materials like glass and powdered marble to create undulating dune-like surfaces that, to quote Hayashi Michio, express a 'tension between transformations and something that remains unchanging'.
These 'paintings' would give way to the artist's shift towards sculpture in 1966. Her 'Utsurohi' works are some of her best known: swirling stainless steel cords planted in bases as if caught in mid-dance. Miyawaki described these as more 'intermediary' than sculpture. 'When the eye that observes the intermediary blends with its refractory, reflective, translucent surface,' she explained, 'something appears, and it is this something that I seek.' SB
Osang Gwon, Whip & Plate (2016). C-print, mixed media. 78 x 40 x 44 cm. Courtesy Arario Gallery.
Osang Gwon, Whip & Plate (2016), at Arario Gallery
Existing between photography and sculpture, Osang Gwon's innovative assemblages throw images back into three-dimensional space. In 1998, the artist began his 'Deodorant Type' series to explore the limits of two-dimensionality, taking thousands of photographs of human subjects, which he then collaged and melded onto Styrofoam to create photo-sculptures reflecting on the abundance of images in the digital age. Gwon's more recent series of 'Masspatterns' (2015–2018) are shrine-like objects in which forgotten treasures have been drawn together. TM—[O]