News | Artists
Alex Seton Wins Sovereign Asian Art Prize With Marble Boat Engine
Seton said he was proud to show alongside other artists from the region, 'where all the most exciting art is being made now'.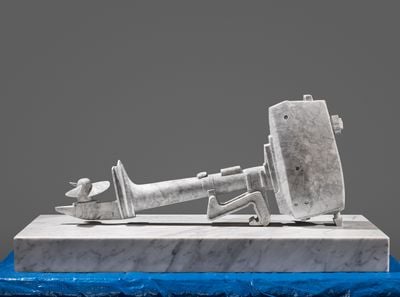 Alex Seton, Oilstone 05_Corrosion (2019). Courtesy the artist and Sovereign Art Foundation. Image: Mark Pokorny.
Australian artist Alex Seton won this year's Sovereign Asian Art Prize with a Yamaha boat engine recreated in marble. He receives US $30,000 in acknowledgement of the work, entitled Oilstone 05_Corrosion (2019).
Two more prizewinners were announced alongside Seton. Pakistani artist Saba Qizilbash was awarded The Vogue Hong Kong Women's Art Prize of $5,000 for her work Inbezelment (2019), an installation of graphite drawings on mylar paper, and Indonesian artist Made Wiguna Valasara won the Public Vote Prize of $1,000 for her work Daily Parade (2019), a hand-stitched, embossed canvas evocative of traditional Balinese painting.
In his practice, Seton adopts materials and techniques used in classical statuary to bring out the beauty in banal contemporary objects. To create Oilstone 05_Corrosion, he took 200-million-year-old stone and smashed it, reassembled it, and weathered it with hydrochloric acid to give it the appearance of an ancient relic.
Seton was nominated for the prize by Dr Mikala Tai, Director of 4A Centre for Contemporary Asian Art in Sydney.
'Without curator advocates like Mikala it's almost impossible to stand out in the wonderful roar of contemporary art now,' Seton said. 'This year's field of artists have my admiration and heartfelt congratulations for their bold and sensitive works, and I'm proud to show alongside them together as artists of the Asia-Pacific region. It is after all, where all the most exciting art is being made now.'
Altogether, Mikala and 87 other art professionals nominated 611 mid-career artists from 26 countries and territories for the prize. That number was whittled down to a shortlist of 31 by a judging panel comprising: museum director David Elliott, Financial Times arts editor Jan Dalley, art historian Jiyoon Lee, and artists Miao Xiaochun and Zhou Li. The shortlisted artists took part in the Finalists Exhibition at K11 HACC, from June 6–July 19, where Hong Kong-based judges architect William Lim, Asia Society's Alice Mong, and Asia Art Archive's Elaine Lin added their scores before a winner was chosen.
The Sovereign Asian Art Prize was established in 2003 by the Sovereign Art Foundation, a charitable organisation that aims to draw attention to art talent in Asia and use the arts to benefit disadvantaged children. All the shortlisted artworks, other than Seton's, will be auctioned online at saapauction.com, with proceeds split evenly between the artists and the foundation's charitable projects. —[O]