News | Artists
Alien Scenes in South Florida During Miami Art Week
Gisela Colón's monoliths and rectanguloids portend a quick end to the pandemic (and humanity).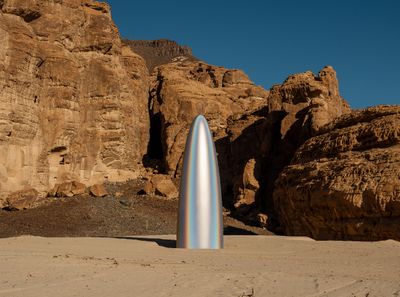 Gisela Colón, THE FUTURE IS NOW, 2020. Installation view at Desert X AlUla. Courtesy the artist and GAVLAK, Los Angeles / Palm Beach. Photography by Lance Gerber.
So much this year was cancelled but for Gisela Colón, whose solo show Existential Time opens 5 December at GAVLAK gallery in Palm Beach, things didn't even slow down.
'The films that I created during quarantine, when our seemingly lengthy lives were put on hold, address this fallacy in our minds that time stops just because our human activity diminishes,' she told Ocula Magazine. 'Cosmic time continues expanding inexorably into the future, leaving us quickly behind.'
Gisela Colón, Rectanguloid (Rubidium Spectrum) (2020). Blow-molded acrylic. Courtesy the artist and GAVLAK Los Angeles / Palm Beach.
In addition to two short films, Colón will show her new 'Rectanguloids' series rendered in iridescent blow-moulded acrylics. With names such as Palladium Spectrum, Quartz Spectrum, and Rubidium Spectrum, they suggest time passed not in human lives but geological half-lifes.
Existential Time also includes the 12-foot-tall carbon-fibre monolith Untitled (Projectile Monolith Titanium) (2017). Colón presented another monolith, THE FUTURE IS NOW (2020), at Desert X AlUla, Saudi Arabia, at the start of the year. She considers them 'a full-on challenge, deconstruction, decolonisation, and expansion of the male-dominated Western art historical canon of minimalism.'
After the discovery of monoliths in Utah and Romania in recent days—possibly created by minimalist sculptor John McCracken, possibly aliens—she said, 'Monoliths are in!'
In Miami, about 100km south of Palm Beach, scenes are no less otherworldly. The Miami Beach Convention Centre, where Art Basel in Miami Beach ordinarily takes place, is now being used for coronavirus testing. Art Basel has moved online, staging OVR: Miami Beach from 2 to 6 December.
Miami-Dade's midnight curfew will curb the partying, but some in-person events are still going ahead. The Rubell Museum, whose Yayoi Kusama: Narcissus Garden exhibition continues until 12 December, is opening its doors while insisting face masks be worn by all visitors older than two. The Pérez Art Museum Miami is letting in visitors too, but restricting entry to a fifth the usual number.
Meanwhile, the climate changes, planets spin, and stars burn.
'Time is the ultimate equalizer,' Colón said. 'The post-Anthropocene is here.' —[O]