News | Market
Art-o-rama 2022 to Gather 47 Galleries in Marseille

Art-o-rama | Sponsored Content
The late summer fair returns to la Friche la Belle de Mai, a former tobacco factory turned cultural centre, from 25 to 28 August.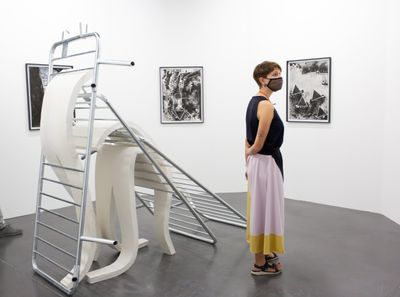 Exhibition view: Rodríguez Gallery, Poznan. Courtesy Art-o-rama 2021. Photo: Margot Montigny.
Art-o-rama, the premiere art fair in the south of France, has announced the participants for its 16th edition. Forty-seven galleries will be joined by 21 exhibitors in the Editions section, which is devoted to multiples and contemporary design works.
'People love being on the Mediterranean coast at the end of summer,' said the fair's director Jérôme Pantalacci. 'The small-scale format allows attendees to take time and have real discussions with exhibitors.'
Pantalacci also extolled the fair's eight-day VIP programme, which offers encounters with collectors, museums, art centres and foundations from Monaco to Montpellier via Arles and Porquerolles.
'But, I guess, what is most appealing for galleries is the possibility to develop an ambitious artistic project, with a bespoke booth for an affordable price,' he said. 'And for collectors to encounter new galleries and discover artists with real curatorial proposals.'
This year's participating galleries include regulars such as Meessen De Clercq (Brussels), Sophie Tappeiner (Vienna), and Paris galleries In Situ fabienne leclercq, Gilles Drouault, and sans titre. Twenty-one galleries are joining for the first time, including Parliament (Paris), whose first fair was Liste in Basel last June.
A highlight of the fair's Dialogue section, added in 2021 when travel was heavily restricted, is a booth shared by LambdaLambdaLambda (Prishtina) and Air de Paris (Paris). They will present works by Brilant Milazimi on life in post-war Kosovo and Mégane Brauer on low-income communities in Marseille.
Exhibition view: Nir Altman Galerie, Munich. Courtesy Art-o-rama 2021. Photo: Margot Montigny.
Pantalacci said the 2022 fair's programming is 'rich in discussions, encounters, signings, and films that will unfold during the four days of the fair, in addition to many prize announcements.'
Art-o-rama will again award the Roger Pailhas Prize for the most daring curatorial project at the fair. Incentivising risk taking, the winning gallery will have their exhibition fee reimbursed. Exo Exo (Paris) won the prize in 2021 for their presentation of work by Gaspar Willmann.
The fair's talks programme will include a panel discussion prompted by the exhibition Glass at Marseille's International Glass and Visual Arts Research Centre (Cirva), and a debate on the role of art fairs in Southern Europe to mark a new partnership between Art-o-rama and Greek art fair Art Athina, one of the earliest fairs in the region.
Art-o-rama's movie screenings include Gerard & Kelly's Bright Hours (2021) — which was shot on the rooftop of la Cité Radieuse de Marseille, an iconic apartment building designed by Le Corbusier — and Lithuanian-American director Jonas Mekas' As I Was Moving Ahead, Occasionally I Saw Brief Glimpses of Beauties (2001), a five-hour film compiled from some 30 years of home movies.
The full list of galleries participating in Art-o-rama 2022 follows below. —[O]
Exhibition view: Ciaccia Levi (Paris / Milan). Courtesy Art-o-rama 2021. Photo: Margot Montigny.****
---
Art-o-rama 2022 Galleries
31 Project, Paris
ADN, Barcelona
Bombon, Barcelona
Bosse & Baum, London
Castiglioni, Milan
Catinca Tabacaru, Bucharest
Ceysson & Bénétière, Paris
Cibrián, San Sebastian
Doris Ghetta, Ortisei
Double V, Marseille
eins gallery, Limassol
everyday gallery, Antwerp
Exo Exo, Paris
FOKU, Tallinn
Gaep, Bucharest
Gilles Drouault galeries/multiples, Paris
Good Weather, Chicago / North Little Rock
Grant Wahlquist, Portland ME
Hubert Winter, Vienna
In Situ Fabienne Leclerc, Romainville Grand Paris
Joseph Tang, Les Lillas Grand Paris
LambdaLambdaLambda, Prishtina & Air de Paris, Romainville Grand Paris
M. LeBlanc, Chicago
Meessen De Clercq, Brussels
Nicoletti, London
Nir Altman, Munich
O-Town House, Los Angeles
Osnova, Moscow & Rodriguez, Poznan
Parliament, Paris
Pierre Poumet, Bordeaux & A. Romy, Zurich
Public Gallery, London
Salle Principale, Paris
sans-titre, Paris
Shazar Gallery, Naples
Sissi Club, Marseille
Sophie Tappeiner, Vienna
South Parade, London
Svit, Prague & Photoport, Bratislava
Tatjana Pieters, Ghent
The Film gallery, Paris
Tomas Umrian, Bratislava / Paris
Wonnerth Dejaco, Vienna
Zeller van Almsick, Vienna & Shore, Vienna