News | Artists
Banksy Goes After GUESS for Use of 'Love is in the Air'
'They've helped themselves to my artwork without asking, how can it be wrong for you to do the same to them?' he posted on Instagram.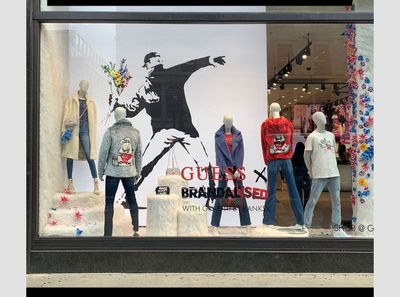 The GUESS store on Regent Street, London. Photo: Banksy.
A GUESS store on Regent Street in London reportedly closed its doors and added security after being called out by street artist Banksy.
Banksy suggested his 11.8 million followers help themselves to the store's clothes after the brand allegedly helped themselves to an image of Banksy's Love is in the Air. For its new capsule collection, GUESS described 'using iconic motifs from Banksy's graffiti'.
GUESS has not yet made a statement in response to Banksy's accusation
Video via Bansky's Instagram.
A stencil and hand-painted version of Love is in the Air (2005) went under the hammer at Sotheby's in May 2021. It was purchased by Particle for over US $12.9 million and segmented into 10,000 NFTs, which were put up for sale at around US $1,500 each in January this year.
Bansky recently shared video footage from a trip to Ukraine, where he executed at least seven artworks.
They include images of a gymnast performing in the rubble, and a military vehicle marked with the letter 'Z', used by Russian forces during the invasion, transporting a crude drawing of a dick. —[O]