News | Market
Christie's Chooses Hong Kong for New Asia Headquarters
The auction house sees huge business potential in the city, despite deteriorating freedoms.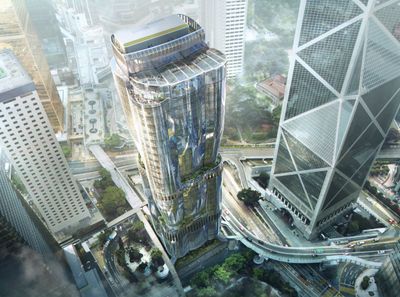 The Henderson, Hong Kong by Zaha Hadid Architects for Henderson Land. Render by Arqui9. Courtesy Christie's.
Fine art auction house Christie's will move its Asia Pacific headquarters in 2024 to The Henderson, a 36-storey tower being constructed on Hong Kong's Murray Road.
Christie's will occupy 50,000 square feet (4,645 square metres) across four storeys of the new tower, which was designed by Zaha Hadid Architects for Henderson Land Group.
They say the move will enable them to establish a year-round saleroom, ramping up from the two marquee events they currently hold in the city each year.
The move signals a long-term commitment to Hong Kong despite its fraught political situation.
One of the city's leading contemporary artists, Kacey Wong, announced on Tuesday he had left for Taiwan, where he would be permitted '100 percent freedom'. He posted a video of himself on Facebook singing lyrics to the song 'We'll Meet Again', which British singer Vera Lynn made famous in 1939.
A spokesperson for Christie's told Ocula Magazine, 'We are very confident that Hong Kong will continue to remain as a stable and leading art market in the region by being competitive and flexible at the same time.'
They said the city was well situated in the region, had high business transparency and low taxes, a thriving art community, and high net worth individuals in China who were embracing art as an asset class.
'The above factors took decades to build and are not easily eroded, and the solidity of the Hong Kong art market under the pandemic demonstrates its durability,' they said.
Christie's held its first Hong Kong auction in 1986 and has since expanded into mainland China, opening offices in Shanghai in 2013 and Beijing in 2016.
Thirty-nine percent of Christie's business came from Asia in the first half of 2021.
'Expanding our headquarters will enable us to respond to and build on the recent record surge in worldwide collecting we are seeing from Asian clients,' they said. —[O]