News | Artists
Claes Oldenburg, a Pioneer of Pop Art, Has Died at 93
The Swedish-born American sculptor brought the world 'happenings' and 'soft sculptures'.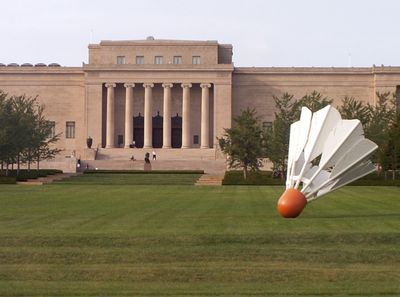 Coosje Van Bruggen and Claes Oldenburg, Shuttlecocks (1994) at the Nelson-Atkins Museum of Art in Kansas City. Photo: Americasroof.
Pace Gallery today announced that legendary Pop artist Claes Oldenburg died peacefully in Manhattan on Monday morning. Oldenberg first exhibited with the gallery in 1962.
In a statement, Pace's Arnie Glimcher, said 'I was honoured to have this great friendship with one of the most radical artists of the 20th century.'
Born in Stockholm in 1929, Oldenburg spent much of his childhood in Chicago, where his father served as Swedish consul general. He studied at Yale and the Art Institute of Chicago before settling in New York, where he helped form the vanguard of American Pop Art.
Before Andy Warhol's screen-prints of Campbell's Soup, Oldenburg already saw the potential of turning banal everyday objects into art. In his 1961 installation The Store, for instance, he stocked shelves with plaster mimics of familiar consumer products.
Oldenburg was also an early proponent of performance art, organising a series of influential 'happenings' in the late 1950s and 1960s at Judson Memorial Church in Greenwich Village. Many of Oldenburg's 'soft sculptures' made from rubber foam, canvas, and vinyl — including the iconic Floor Burger (1962) — evolved from costumes made for these early happenings.
Claes Oldenburg and Coosje van Bruggen, Soft Viola (2002). Canvas, wood, urethane foam, coated with resin and painted with latex; clothesline, hardware. 264.2 x 152.4 x 55.9 cm. Overall dimensions variable. © Claes Oldenburg and Coosje van Bruggen. Courtesy Pace Gallery.
'He changed the very nature of sculpture from hard to soft, and his influence can be seen to this day,' Glimcher said.
Over 40 large-scale public sculptures made with his second wife and collaborator Coosje van Bruggen (1942-2009) stand as monuments to Oldenburg's Pop legacy.
Among them are a giant steel clothes peg outside Philadelphia's city hall, a massive trowel on the grounds of the Kröller-Müller Museum in the Netherlands, oversized shuttlecocks at Kansas City's Nelson-Atkins Museum of Art, an ice cream cone 'dropped' on a mall in Cologne, a 100 foot-tall baseball bat in front of the federal office building in Chicago, and a giant cherry balanced on a spoon at the Minneapolis Sculpture Garden.
Oldenburg once stated that, 'In public sites, our sculptures reflect both the surroundings and their context, but through our imagination and selective perception—which is what makes them also personal.'
On Twitter, a former curatorial assistant at the Whitney Museum of American Art reminisced on the 2009 project to conserve Oldenberg's mechanical sculpture Ice Bag-Scale C (1971), a kinetic sculpture based on mass-produced ice bags used to treat swelling. The piece had 'a tendency to set itself on fire' and was described in the Whitney's files as 'a suicidal piece'.
'It was thrilling to work with Claes, whose odd take on things was delightful, and could completely turn one's mood around,' said Paula Cooper, founder of the eponymous New York gallery that has co-represented Oldenburg since 2002.
Turkish Curator Fulya Erdemci Has Died
Another esteemed art world figure, Turkish curator and public art advocate Fulya Erdemci, passed away on 13 July from cancer.
Born in 1962, Erdemci studied at both Boğaziçi University in Istanbul and Columbia University in New York. She was the director of the Istanbul Biennial from 1994 to 2000, and curated the Turkish Pavillion at the 2011 Venice Biennale. In 2013, she curated the Istanbul Biennial's 13th edition, subtitled Mom, Am I a Barbarian?, while anti-government protests raged in the streets.
In a statement posted on social media, the Istanbul Foundation for Culture and Arts (İKSV) said, 'We will miss Erdemci and her kind soul immensely, and keep appreciating her works that touched the lives of many who accompanied her.' —[O]