News | Exhibitions
Dark Mofo 2022 Divulges Details of Its Coming Resurrection
Visual artists, musical acts, a masquerade, and a nude swim are among the rites at this year's winter solstice festival in Hobart, Australia.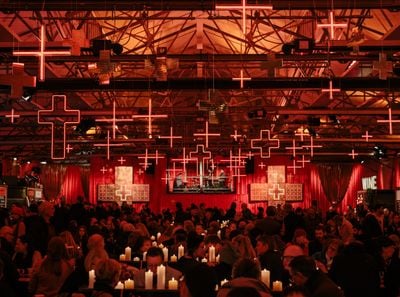 Winter feast, Dark Mofo 2021. Dark Mofo/Jesse Hunniford. Image Courtesy Dark Mofo, Hobart, Australia.
Dark Mofo, the winter festival held in partnership with Hobart's Museum of Old and New Art (Mona), will return from 8 to 22 June. This year's theme is 'Resurrection'.
'As the cultural world re-emerges from the darkness of cancellations and lockdowns, we are all experiencing a rebirth, of sorts,' said Creative Director Leigh Carmichael. 'The forced isolation gave rise to a re-evaluation of what matters, to new ideas, new dreams.'
To kickstart the festival, exhibitions by artists Jeremy Shaw, Fiona Hall with AJ King, and Robert Andrew will open at Mona.
Others artists presenting work at the festival include video maker Bill Viola, sculptor Doug Aitken, and colour-obsessed installation artist Hiromi Tango. Jónsi, the vocalist of post-rock band Sigur Ros, will present a multi-channel installation inspired by the eruption of Iceland's Fagradalsfjall volcano.
Nude Solstice Swim, Dark Mofo 2021. Photo: Dark Mofo/Jesse Hunniford, 2021. Image Courtesy Dark Mofo, Hobart, Australia.
Musical headliners at this year's festival include Justin Bieber-approved pop star The Kid LAROI, Japanese stoner rock band Boris, German electronic artist Nils Frahm, and glam-pop balladeer Perfume Genius.
The event also features a full viking horde of metal bands, a nightclub takeover of central Hobart's Hanging Garden precinct, and a performance of the score from the HBO series Chernobyl, which will take place in an as yet undisclosed industrial setting. Proceeds from the Chernobyl performance will go to Voices of Children, a charity that is providing assistance to Ukrainian children and their families.
Dark Mofo will again conclude with the Balinese-inspired Ogoh Ogoh parade, wherein the previous year's fears are incarnated in a wooden vessel—this time it's a Tasmanian Masked owl—and set ablaze.
'We've assembled over 100 artists from 30 countries, from Australia to Belgium to Kyrgyzstan, and look forward to bringing them to Hobart this winter,' Carmichael said. 'We're just grateful to be able to present a full festival program again.' —[O]