News | Institutions
Ellen Pau Commission to Light Up M+ During Art Basel Hong Kong
Pau described her work The Shape of Light as a lighthouse that will look over the harbour 'like a guardian'.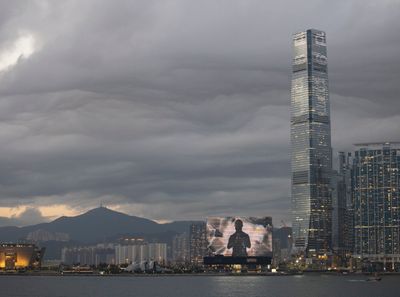 Screening of The Shape of Light on the M+ Facade, 2022. Courtesy of Ellen Pau and M+, Hong Kong. Photo: Lok Cheng M+, Hong Kong.
Ellen Pau's The Shape of Light will illuminate M+ museum's 65-meter-tall LED façade in the first ever co-commission between the museum and Art Basel.
The work will show every evening from 20 May to 19 June, including the dates Art Basel returns to the Hong Kong Convention and Exhibition Centre from 27 to 29 May.
The Shape of Light draws inspiration from the concept of 'form is emptiness, emptiness is form'. The mystical, ritualistic video combines aspects of the Heart Sutra, expressed through hand movements and dance, with computer-generated fire, water, and light.
Pau described the artwork as a lighthouse 'standing on the shores of West Kowloon like a guardian', while M+ Moving Image Curator, Ulanda Blair, compared it with Pau's Great Movement (1993–1995), 'which features a lone lighthouse as a stalwart in troubled times.'
Hong Kong could use a guardian as political pressure from Beijing continues to dampen free expression in the city. On 21 April, local media outlets Ming Pao and the Hong Kong Free Press noted the removal from view of political works by Wang Xingwei, Zhou Tiehai, and others in the M+ Museum's Uli Sigg collection.
Hong Kong-born, Ellen Pau has been a pioneering figure of the city's video and media art scene. In 1986 she co-founded Hong Kong's oldest video artist collective and media art archive, Videotage, and in 1996 founded the Microwave International New Media Arts Festival. Her work has been shown at events including the Hong Kong International Film Festival and the Venice Biennale.
'I cannot think of a better site to show this video work which is created for Hong Kong and its people,' Pau said. 'I hope The Shape of Light can convey a healing message to the city.'
In conjunction with The Shape of Light, Ellen Pau will also enact a live drop-in performance in collaboration with sound artist Paul Yip, lighting designer Amy Chan, and live-coder Quinn Wong on 27 May from 5 to 8pm at the M+ Forum. This will be followed by a talk and screening on 28 May at the M+ Grand Stair.
Further screenings will take place online from 29 May to 1 June, presenting Pau's key video works and installations made between 1988 and 2015.
Another Public commission for Art Basel Hong Kong this year, The Artist Tram Project, will see artworks by Cherie Cheuk Ka-wai, Shum Kwan-yi, and Stephen Wong Chun-hei projected onto three Hong Kong trams.
The fair will also feature six large-scale installations by Hsu Yunghsu, Bingyi, GayBird, Movana Chen, Angel Hui Hoi Kiu, and Ming Fay, and a film programme curated by multimedia artist and producer Li Zhenhua. —[O]