News | Galleries
Four Fantastic Booths at the Independent Art Fair 2022
The fair features 66 galleries as it returns to Spring Studios in Tribeca 5–8 May. We asked Ingleby, The approach, Downs & Ross, and Adams and Ollman to share what they're showing and why.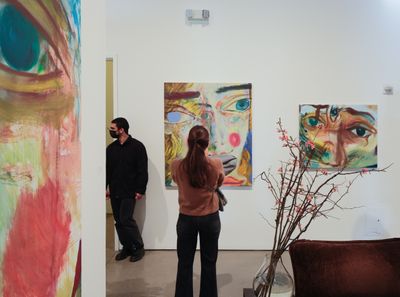 Booth view: Downs & Ross, Independent New York (5–8 May 2022). Courtesy Ocula. Photo: Charles Roussel.
Alex Ross, Director of Downs & Ross, New York
At Independent, Downs & Ross will introduce Beijing-based painter Jiang Cheng's most recent series of oil on canvas paintings characterised by nearly obsessional superimposition.
Jiang Cheng, U-100 Michael (2021). Oil on canvas. 130 × 110cm. Courtesy Downs & Ross, New York.
The artist's nearly kaleidoscopic recursion of a single visage in each of these works, telescoping possibly infinite moments shared with the same figure, dually concentrates the recursive engagements with his subjects while effecting the universalising potency of patterned repetition.
Jiang Cheng's portraits reflect an abiding commitment to exploring the procedural and psychological codes of portraiture.
Booth view: Ingleby, Independent New York (5–8 May 2022). Courtesy Ocula. Photo: Charles Roussel.
Richard Ingleby, Director of Ingleby, Edinburgh
We are presenting a solo booth for Moyna Flannigan, an artist whose work should be much better known in the US. She studied at Yale in the mid 1980s on the same MFA course as John Currin and Lisa Yuskavage and like both of them she has always brought a sense of the old masters to the depiction of resolutely contemporary women, although in her case without the tawdry tinge of soft porn.
Moyna is known as a painter, but her way of working relies heavily on collage, often cutting up her own drawings to form fragments that find their way into new compositions. We'll be showing something of how this transformation comes about, as well as a new direction into a series of sculptures in plaster and bronze.
Moyna Flannigan, Past/Present (2021). Distemper on canvas. 157 x 212cm. Courtesy of the artist and Ingleby, Edinburgh. Photo: John Mckenzie.
The large painting Past / Present (2021) is definitely one of the stand out works. It presents a typically Flannigan-esque form of a female figure against a filmic background that mixes reference to Marilyn Monroe, Fellini, and the Kennedy assassination.
Booth view: The approach, Independent New York (5–8 May 2022). Courtesy Ocula. Photo: Charles Roussel.
Jake Miller, Partner at The approach, London
Independent is a great fair for introducing exciting younger artists to a new audience and Pam Evelyn is a perfect choice for this reason. It's the first time her paintings are being seen in person by a New York audience and for us to be focusing on one artist creates a strong energy.
Pam Evelyn, A Look at Life (2021). Oil on linen. 300 x 200cm. Courtesy the artist and The approach, London.
We will be presenting four very large paintings — it's a straightforward hang, but the scale will be impressive.
Booth view: Adams and Ollman, Independent New York (5–8 May 2022). Courtesy Ocula. Photo: Charles Roussel.
We're excited to present the fantastical paintings of Joan Nelson in dialogue with the sculptural assemblages of Jessica Jackson Hutchins. Nelson, once part of the 1980s East Village scene, is long overdue for a show in New York City—the last time there was a major presentation of her work was over 20 years ago. Jessica Jackson Hutchins, whose solo show with our gallery opens next week, is a 2022 Guggenheim Fellow, and has just unveiled a major commission at the Carnegie Museum of Art.
Nelson and Hutchins share an inquisitive, often subversive, distinctly feminist approach to their work so we are excited to present them in conversation. Both start with material play—Joan with paint, ink, glitter and Hutchins with furniture, magazine pages, glass, and ceramic—and along the way, each creates new forms and language around traditions of landscape painting and sculpture.
Joan Nelson, Untitled (2022). Acrylic, shellac ink, pencil, milk paint on wood panel. 59 13/16 x 59 13/16. Courtesy Adams and Ollman, Portland.
We're particularly excited to present a large-scale painting by Nelson—her largest to date. The piece imagines the possibilities of the landscape in a post-human earth or another plant, positing a dizzying range of phenomena and surreal, often animistic terrain with its own agency, joy and destiny. Another highlight is Hutchins' My Friend the Poet, an evocative piece that was years in the making and titled after the artist's friend, the late musician and poet David Berman.
It was a great opening day. We made key sales, but more importantly we had a steady stream of in-depth conversations with curators and institutions. We are excited to continue to introduce a wider audience to artists whose unique work we nurture and care deeply about. —[O]