News | Artists
Hauser & Wirth Snaps Up Global Representation of Gary Simmons
Gary Simmons and Cindy Sherman both signed with the mega gallery after departing Metro Pictures.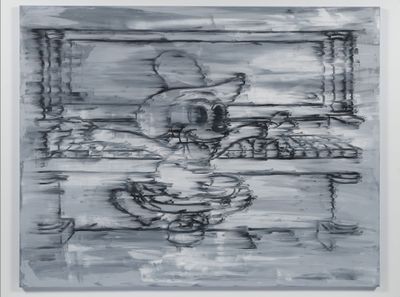 Gary Simmons, Piano Man (2020). Oil and cold wax on canvas. 213.4 x 274.3 cm. Courtesy the artist and Metro Pictures.
Los Angeles-based artist Gary Simmons, best known for his 'erasure' paintings, has joined mega gallery Hauser & Wirth.
Simmons' works include white outlines of subjects such as cartoon character Bosko, disappeared architectural sites, vintage film title cards, and clouds of smoke that he paints on blackboard-like surfaces and only partially wipes away by hand.
'There are gaps in the erasure paintings like there are gaps in your memory—pauses where you have to piece things back together,' Simmons told Ocula Magazine in 2020. 'Once I drag the image, certain hard lines are completely blurred or obliterated; the viewer then has to fill in those remaining fragments.'
Gary Simmons, Fade to Black (2017). Site specific wall drawing installlation at the California African Amercian Museum. Photo: Brian Forrest.
Simmons is among the artists previously represented by storied New York gallery Metro Pictures, which announced in an email on 7 March that it would close by the end of 2021.
On 9 March, Hauser & Wirth announced that Cindy Sherman, who had shown at Metro Pictures since 1980, had joined the gallery.
Sherman told Art News that, like Simmons, she is currently exclusively with Hauser & Wirth, having concluded her relationship with another long-term gallery, Sprüth Magers, at the same time she left Metro Pictures.
Gary Simmons, Sweet Science (2014). Pigment inkjet prints. Courtesy the artist and Hauser & Wirth.
Helene Winer, who co-founded Metro Pictures with Janelle Reiring, said that 'financially, artists really cannot say no to the kinds of opportunities or offers these mega-galleries can make. They can't afford to—and they shouldn't.'
Hauser & Wirth now has 15 locations worldwide.
Marc Payot, President of Hauser & Wirth, said, 'Gary is already very much part of our gallery's family, having studied and enjoyed very close friendships with both Jack Whitten and Charles Gaines, and being part of a circle of contemporaries that includes gallery artists Glenn Ligon and Lorna Simpson.' —[O]