News | Exhibitions
M+ Museum Announces Blockbuster Yayoi Kusama Show
Opening on the Hong Kong museum's first anniversary, Yayoi Kusama: 1945 to Now includes three new works by the 93-year-old artist.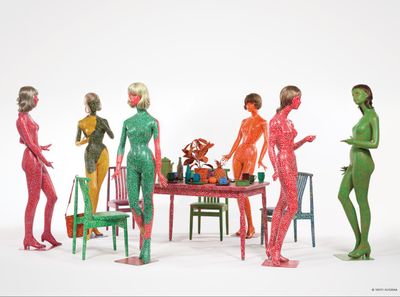 Yayoi Kusama, Radical Connectivity Self Obliteration (1966–1974). Painted mannequins, table, chairs, wigs, handbag, mugs, plates, pitcher, ashtray, plastic plants, plastic flowers, and plastic fruit. Dimensions variable. M+, Hong Kong. © YAYOI KUSAMA. Photo: M+, Hong Kong.
More than 200 artworks by Yayoi Kusama will soon be presented in a major retrospective at Hong Kong's M+ Museum.
'Kusama has transformed her personal experiences—the challenges she has faced in her career, as well as her lifelong battle with mental health—into a creative force through the regenerative power of healing amidst our global pandemic era,' said independent curator Mika Yoshitake, who worked on the show alongside the museum's Chief Curator, Doryun Chong.
'Her Asian roots, transnational history, as well as her singular artistic language and philosophy that she has developed from the 1940s to now, have all contributed to making her the leading cultural figure she is now globally,' Chong said.
Yayoi Kusama, Self Portrait (2015). Acrylic on canvas. 145.5 × 112 cm. Collection of Amoli Foundation Ltd. © YAYOI KUSAMA.
The exhibition will include paintings, installations, sculptures, drawings, collages, moving images, and archival materials arranged chronologically under six themes: Infinity, Accumulation, Radical Connectivity, Biocosmic, Death, and Force of Life.
Three new works will be revealed for the first time: mirror room Dots Obsession—Aspiring to Heaven's Love; two large sculptures entitled Pumpkin; and the M+ commission Death of Nerves, an installation that will be installed in the light well that connects the museum's ground floor and basement levels.
Yayoi Kusama: 1945 to Now will open on 12 November 2022—the museum's first anniversary—and continue through 14 May 2023.
Yayoi Kusama, Accumulation Shooting Stars (1992). Mixed media, 84 boxes. 320 × 840 × 30 cm. Niigata City Art Museum. © YAYOI KUSAMA. Photo: Norihiro Ueno. 1992 Image Courtesy of Niigata City Art Museum.
Reflecting on the museum's first year, director Suhanya Raffel said, 'notwithstanding the temporary closure of the museum from January to April this year due to the pandemic, it has already welcomed over 1.53 million visitors.'
'This strong show of public support is a testament to the museum's role in transforming and enriching the cultural ecology in Hong Kong and Asia and making contemporary visual culture more accessible to all.'
Looking ahead, M+ announced that: Angela Su's Venice Biennale exhibition will show at the museum from June 2023 to January 2024; Madame Song: Pioneering Art and Fashion in China from July 2023 to April 2024; and the Sigg Prize 2023 exhibition from September 2023 to February 2024.
The NFT-sculpture-hybrid Beeple: Human One, which sold at auction for US $29 million last year, will show in the museum's Focus Gallery from December 2022. It will be the first time the work is presented in Asia. —[O]