News | Galleries
'Panorama' Brings Over 50 Works to Procida, Italy's Capital of Culture 2022
Artworks will appear in unusual locations, including the dock, terraces overlooking the Gulf of Naples, and the Chapel of Santissima Purità.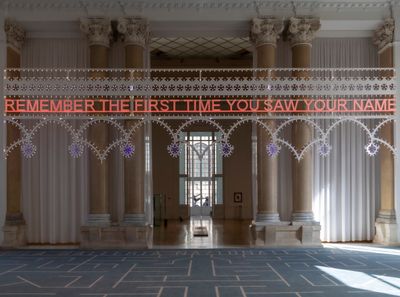 Marinella Senatore, Remember the first time you saw your name (2020). LED installation. 282 x 1,198 x 8 cm. Courtesy Mazzoleni, London and Turin. Produced by La Galleria Nazionale d'Arte Moderna, Rome.
Works by artists such as Lucio Fontana, Christian Holstad, and Marinella Senatore will appear in 20 sites all over the tiny island of Procida in an exhibition entitled PANORAMA from Thursday 2 to Sunday 5 September.
PANORAMA is the first annual exhibition organised by ITALICS, a consortium of more than 60 Italian galleries dealing in contemporary, modern, and pre-modern art. The consortium was formed in response to the pandemic.
Picture-perfect online but 'refreshingly real', according to Lonely Planet, Procida's profile received a bump this year after it won the title of Italy's Capital of Culture 2022.
Port of Corricella in Procida. Photo: Ekrem Canli.
'Procida is still very genuine and true,' said Vincenzo de Bellis, the exhibition's curator.
It's mainly inhabited by Procidans who reside on the island year-round, and much of life revolves around its nautical institute, one of the world's most important schools for boat captains, he said.
'For all these reasons, it has been very much loved by intellectuals over the decades,' de Bellis said.
De Bellis collaborated with Agostino Riitano, director of Procida 2022 Italian Capital of Culture, to find meaningful sites for the works.
'One of the most exciting dialogues happens in the chapel of Santissima Purità where an amazing Lucio Fontana's Fine di Dio is installed across from a 1640 Mathias Stomer's The Adoration of the Shepherds coming from the collection of Capodimonte Museum,' said de Bellis.
Mimmo Paladino, Untitled (2016). Bronze. 277 x 170 x 110 cm. Courtesy of the artist.
'Two other major highlights are Chen Zhen's installation at the Procida Dock and Giuseppe Penone's bronze sculpture in one of the few wonderful terraces of the island overseeing the Gulf of Naples,' he said.
'I'm very excited and honoured to be part of ITALICS, and PANORAMA will really be the first episode where a group of friends and colleagues will team up in a sort of Renaissance dedicated to art and beauty,' said Nicolò Cardi, director of Milan's Cardi Gallery, which also has a space in London.
Cardi Gallery will present a sculpture by Italian 'transavanguardia' artist Mimmo Paladino at the Palazzo D'Avalos, a location Cardi described as 'magic'.
Victoria Miro, which has spaces in London and Venice, will show Christian Holstad's Consider Yourself as a Guest (Cornucopia) (2019) on the northeastern part of the island. It will appear in the medieval village of Terra Murata, where papier-mâché statues for the Good Friday procession are made.
Made from plastic waste, Cornucopia was first shown during the Venice Biennale on the Grand Canal in 2019.
Christian Holstad, Consider Yourself as a Guest (Cornucopia) (2019). Metal, plastic, nylon. 4.7 x 2.5 x 5 m. Courtesy of the artist, FPT Industrial, Andrew Kreps Gallery, Massimo De Carlo, and Victoria Miro. Photo: Marco Antinori.
Mazzoleni, London and Turin, is presenting Marinella Senatore's luminaria Remember the first time you saw your name (2020), pictured top. It will be installed on an exterior wall of Carcere Nuovo, which is visible from the port of Corricella.
'Remember the first time you saw your name, speaking of re-finding one's own origin and identity, seemed to be the perfect fit for PANORAMA, a project committed to promote and rediscover the beauty of Italy in all its profound complexity,' said gallery cofounder Giovani Mazzoleni.
PANORAMA will also feature works by French conceptual artist Daniel Buren in an annual initiative called Italics d'Oro, which celebrates an artist who has a special relationship with the location. Buren, who won the Venice Biennale's Golden Lion in 1986, has been visiting Procida for more than 30 years.
Opportunities to travel for art have been curtailed since the outbreak of Covid-19, but de Bellis emphasised that, 'Italy is fully open to foreigners, so they are more than welcome.'
Indoor locations will require social distancing and masks, but outdoor locations will be accessible with little restriction, and all performances will be held outdoors.
Following PANORAMA, ITALICS will continue to present works on their website.
'Hopefully PANORAMA will help renew and reconnect the relationships that the pandemic forced us to pause for such a long time, thus also leading us back to the true identity of our jobs as gallerists,' said Mazzoleni.—[O]