News | Galleries
PHOTOFAIRS Shanghai Backed by Porsche, Chanel, and Helena Rubenstein
The Chinese economy may be slowing, but the fair still pulled in over 50 galleries and a long list of sponsors.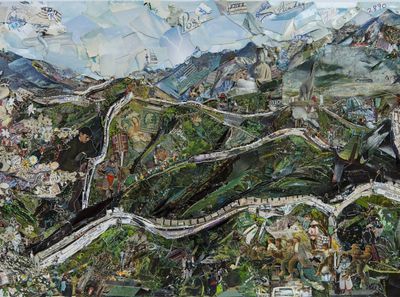 Vik Muniz, Great Wall (万里长城) (2014). Courtesy the artist and Matthew Liu Fine Arts.
Over 50 galleries will exhibit works at PHOTOFAIRS Shanghai when it returns to the Shanghai Exhibition Centre from 3 to 6 November. Originally scheduled for 23 to 26 September, the photography-focused exhibition is one of the better-attended art fairs in the People's Republic.
Among PHOTOFAIRS Shanghai's curated exhibitions is Shanghai Century: Shanghai Spirit, which features newly commissioned photos as well as images from the 2010 photo book Shanghai: A History in Photographs, 1840 to Today. Sponsored by Porsche, the exhibition is curated by the book's authors, Liu Heung Shing, Founder and Director of Shanghai Centre of Photography, and Karen Smith, Artistic Director of the Shanghai Centre of Photography and Director of OCAT Xi'an.
'Shanghai has a long and rich history, evidenced in its European architecture and leafy shaded boulevards, and the major events that have shaped its perimeters and urban centre, forging its distinctive cultural identity,' they said.
Other exhibitions include photos by Xiang Sun entitled Almost Perfect, supported by Chanel, and Beauty Ahead of Time, which is backed by high-end cosmetics brand Helena Rubinstein. Art fairs have proven especially popular marketing opportunities in China, which is on track to become the biggest luxury market in the world by 2025 according to consultancy Bain & Company.
Among the galleries participating in the event's Main Section, ShanghART will show works by Jiang Pengyi, Matthew Liu Fine Arts will present artists including Yang Yongliang and Vik Muniz, and Three Shadows +3 Gallery will show RongRong & Inri and Koo Bohnchang.
Other galleries returning for the seventh edition of the fair include Shanghai's AIKE and Ürümqi's Gaotai Gallery, while first-timers include Beijing's Magician Space, Changsha's X Contemporary Art, and WEST GALLERY from Lanzhou.
The fair's SOLO Section, where booths focus on one artist, will feature Beijing's HdM GALLERY with a new series by Hu Weiyi, Seoul's Jason Shin with works by Ina Jang, and Paris-Taipei gallery V&E ART with works by Thomas Devaux.
A third gallery section, On View, allows global galleries to present and sell work to Chinese collectors via a WeChat Mini Program. Adding some much-needed international flavour, On View participants include Klemm's Berlin, Anna Nova Gallery in St. Petersburg, and artspace AM, Tokyo.
Participants in the fair's Conversations programme include artists Wang Bing, Yang Fudong, and Hu Jieming. —[O]