News | Artists
Rashid Johnson Brings 'The Crisis' to Storm King
Johnson conceived the warning-sign-yellow work before Covid-19 ravaged the globe.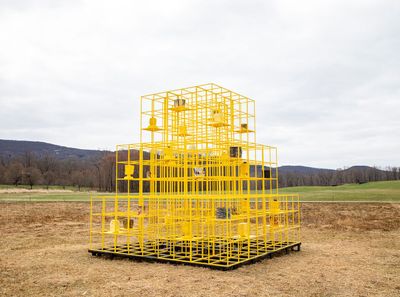 Rashid Johnson, The Crisis (2019). Courtesy of the artist and Hauser & Wirth. Photo: Stephanie Powell, courtesy of Storm King Art Center.
Rashid Johnson's 'The Crisis' will be installed outdoors at New York's Storm King Art Center from 7 April to 8 November.
The 16-foot-tall yellow steel pyramid screams caution but its shelves—which contain blocks of shea butter, fibreglass busts, and pots containing local flora—suggest recovery, reconnection, and regrowth.
In his work, the Chicago-born artist regularly uses West African materials such as shea butter, known for its healing properties, and black soap.
'When I was making this work in 2019, there was so much talk about a "crisis at the border"—but now, in 2021, there is even more at stake,' Johnson said. 'The world has endured a year of struggle defined by the global pandemic, compounded by ongoing social unrest. My presentation at Storm King prompts us to reflect on how we move through our own daily lives as the world around us continues in crisis.'
In choosing a site for The Crisis, Storm King sought to give audiences different ways of seeing the work.
'We were able to place The Crisis in a central location on-site where visitors can view it both from above and from a closer vantage point,' said Nora Lawrence, Storm King Senior Curator. 'These various physical approaches invite the multiplicity of interpretations that Rashid intends for this work and allow space for visitors to contemplate the striking new relevance that The Crisis has taken on in today's moment.'
The work's theme of recovery echoes the outdoor museum's effort in recent years to reintroduce native wild grasses to its 500 acre plot.
'I am looking forward to watching The Crisis change as the grasses grow up and into it and the seasons shift,' Lawrence said.
Rashid Johnson is represented by Hauser & Wirth. His work The Broken Five (2019) was acquired by The Metropolitan Museum of Art in New York last month. Along with Amy Sherald, Nick Cave, Lorna Simpson, Kerry James Marshall, Hank Willis Thomas, and others, he is participating in the exhibition Promise, Witness, Remembrance, which reflects on the life and death of Breonna Taylor. The exhibition opens at the Speed Art Museum, Louisville, on 7 April and will remain on view until 6 June. —[O]