News | Artists
Stanley Donwood's Radiohead Canvases Head to Christie's
Paintings made for the album Kid A will be part of an online auction and in-person exhibition this October.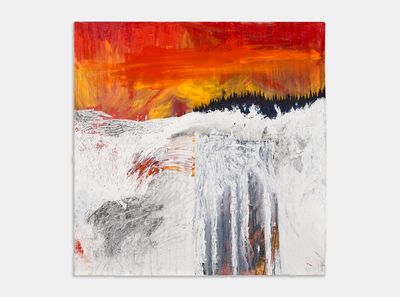 Stanley Donwood, Residential Nemesis (1999). Acrylic and charcoal on canvas. 167.5 x 167.5cm. Courtesy Christies Images Ltd. 2021.
Christie's is collaborating with Radiohead's Thom Yorke to bring six works by English artist Stanley Donwood to auction.
Donwood met Yorke while both were studying art at the University of Exeter in Devon, England. He made the artwork for the experimental rock band's third EP, My Iron Lung in 1994, and has created art for every Radiohead release since.
Donwood uses a combination of sketching, painting, printing, and digital manipulation to create works that reference errant politicians, technological dystopias, and environmental collapse.
Stanley Donwood, Hole (2001). Acrylic on canvas. 149.9 x 149.8cm. Courtesy Christies Images Ltd. 2021.
The works going to auction are six large canvases Donwood painted for Kid A (2000).
'We started to use the computer to collapse geology into itself and to exaggerate mountains and gorges, to populate the landscape with stalking creatures like pylons that had come to life, with half-completed cartoon behemoths and floating red cubes, aerial swimming pools of blood,' Donwood recalled in a press statement.
Donwood's paintings are part of the auction First Open: Post-War and Contemporary Art Online, which opens for bidding from 5 to 19 October.
Stanley Donwood, Get Out Before Saturday (1999). Acrylic on canvas. 167.9 x 167.9cm. Courtesy Christies Images Ltd. 2021.
Drawings, lyrics, and digital art by both Stanley Donwood and Thom Yorke will be presented alongside the paintings in an exhibition at Christie's King Street location in London from 9 to 15 October.
Yorke is credited for his own artwork on the album under the names Tchock, Tchocky, and Dr. Tchock, all derivations of 'The White Chocolate Farm', which is the artist name he used on The Bends (1995).
The First Open auction features works by other artists including Nicolas Party, Peter Saul, Eddie Martinez, Aboudia, and Ai Weiwei. Highlights will be on view at Christie's from 9 October. —[O]