News | Artists
Sakuliu Pavavaljung Dumped From Venice Biennale After Sexual Assault Allegations
The artist's participation in documenta fifteen has also been suspended pending further investigation.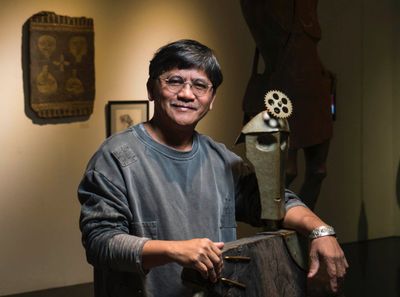 Sakuliu Pavavaljung. Photo: Chen-Hsiang Liu.
The Taipei Fine Arts Museum (TFAM) has revoked its support for artist Sakuliu Pavavaljung, who will no longer represent Taiwan at the 59th Venice Biennale, following sexual assault allegations.
'The TFAM has always taken pride in facilitating the development of arts with the highest professional standard and is adamant in opposing any behaviour that violates any personal rights,' they said. 'As the international art community is now looking squarely at the development of this incident, this decision has been made in order to avoid losing focus on the artistic presentation of the Taiwan Pavilion.'
Allegations against Sakuliu first emerged in response to a Facebook post, published by artist Kuo Yu Ping on 16 December, describing the rape of a 19-year-old girl by her Paiwanese art teacher. While Kuo gave the art teacher the fictional name 'Gulu Sa', readers believed the story was about Sakuliu, a member of Taiwan's indigenous Paiwanese people. Other women subsequently shared their own accusations against him.
Speaking to Taiwanese media, Sakuliu said, 'I did not do what the online story alleges. I will clear things up when I talk to the judicial authorities about the matter.'
An exhibition that centres on Sakuliu's practice had been planned for Venice. In a statement announcing the project, curator Patrick Flores said, 'Sakuliu's knowledge of the Paiwan lifeworld as a doer and a thinker intertwines with his sense of responsibility as a citizen-artist.'
Meanwhile, the organisers of documenta fifteen have suspended his participation.
'The Artistic Direction, the Artistic Team and the organisers of documenta fifteen reject any form of structural and individual violence against people,' wrote documenta organisers. 'We take the accusations against Sakuliu Pavavaljung very seriously and are examining the information available carefully and as quickly as possible.'
Taiwan's National Culture and Arts Foundation has already cancelled its sponsorship of Sakuliu's participation at documenta fifteen. —[O]