News | Artists
Who Is Tate Winter Commission Artist Chila Kumari Singh Burman?
Chila Kumari Singh Burman identifies as a Punjabi, Liverpudlian, Pop artist, and alien.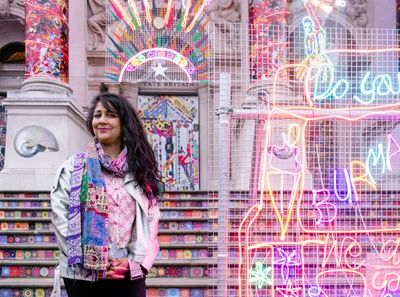 Chila Kumari Singh Burman in front of her Winter Commission at Tate Britain. Courtesy Tate. Photo: Joe Humphrys.
Chila Kumari Singh Burman adorned the portico of Tate Britain with colourful neon lights for the museum's 2020 Winter Commission. The work, entitled Remembering a Brave New World, was revealed during Diwali on 16 November 2020. It will remain in place until 31 January 2021.
In carrying out the commission, Singh Burman used not only neon but a mix of media and techniques such as photomontage, collage, painting, etching, and iPad drawings to revisit a number of obsessions in a career that spans 40 years.
'I've made Tate Britain a bit like a contemporary temple, but not so much to do with anything religious,' she told the Art Newspaper.
Hindu deities Lakshmi, Ganesh, Kali, and Hanuman all appear on the building's facade, along with the Om symbol and the third eye, signifying higher consciousness. The words 'Joy', 'Love', 'Shine', 'Light', 'Aim', 'Dream', and 'Truth' could be prayers, though there's also a confession near the top, in smaller letters, that reads, 'I'm a mess'.
The artist says she took the phrase from a badge 'because right now in Britain we are in a mess, aren't we?'
Colonial history also factors in with depictions of Brittania and Lakshmibai, the Rani of Jhansi, one of the leaders in an uprising against the British in 1857. India won its independence from Britain almost a century later, in 1947.
It was in 1954 that the artist's father, Bachan Singh, moved from Punjab, India, where he worked as a tailor and magician, to the United Kingdom. Unable to make ends meet stitching seams or eating razor blades, he bought a van, added a Bengal tiger cut-out to the roof, and used it to sell ice cream on Formby Beach, north of Liverpool, for over 30 years.
Her father's occupation became one of the artist's chief preoccupations. She used inverted ice cream cones to suggest stupas (ceremonial mounds and towers that date back to the fifth century) in Cornets and Screwballs Go Vegas (2010) and created a 152cm tall ice cream cone adorned with peacock feathers, oversized sequins, and cut out illustrations for Eat Me Now (2013). She even acquired a Bedford van, similar to her father's, and used it as a travelling gallery.
Singh Burman was born in Bootle, near Liverpool in 1957. Remembering a Brave New World—which includes both an ice cream truck and a tiger—was in part inspired by her childhood visits to the Blackpool Illuminations, a lights festival founded in 1879.
She went to art school to escape an arranged marriage, writing a thesis on Dada and Surrealism as political movements (as opposed to aesthetic movements) at Leeds Polytechnic, before studying printmaking at the Slade School of Fine Art, London, where she earned an MA in Fine Art in 1982. She joined a punk band, worked on Asian feminist magazine Mukti, and became a central figure in the British Black Arts movement in the 1980s.
On Twitter she describes herself as an 'alien'.
Singh Burman's work is held in the collections of the Victoria and Albert Museum, London, the Wellcome Trust, London, and the Devi Art Foundation, New Delhi, among others.
The artists previously commissioned by Tate Britain to decorate its facade are Alan Kane in 2017, Monster Chetwynd in 2018, and Anne Hardy in 2019. —[O]