News | Exhibitions
This Week: Glasgow International, Marcel Dzama's Colouring Book, and More
The best art to see online from Tuesday 28 April to Monday 4 May.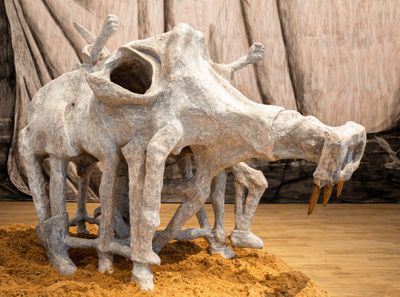 Prabhakar Pachpute, The Bull, Sea of Fists (2019). Plaster of Paris, stone powder, metal, coconut fibre, wood, aluminium wire mesh. Courtesy the artist and Experimenter.
Glasgow International Goes Online
Postponed until 2021, the Glasgow International festival has launched a digital programme that includes new online commissions. Among the works is Georgina Starr's Yesterday (1991), a whistled rendition of the Beatles song she recorded alone in the corridors of the Slade School of Art, which stings a little more thinking back to life before lockdown, and Jenkin van Zyl's video work In Vitro (all the love mix) (2020), an eerie, icy ballet reminiscent of Matthew Barney's Cremaster Cycle (1994-2002). The digital festival runs April 24—May 10.
David Zwirner Presents Platform: Los Angeles
In its third iteration, David Zwirner's Platform initiative will showcase works by a single artist from 12 LA-based galleries. Launching on May 1, Platform: Los Angeles follows previous online exhibitions from galleries in New York and London. David Zwirner's own Viewing Rooms currently feature Marcel Dzama's Pink Moon, inspired by the artist's travels in Mexico and Morocco, including a PDF colouring book Dazama was inspired to make when his son ran out of pages to colour under quarantine. Another online viewing room, the group show Lìxià, will go live on May 5, the same day as David Zwirner Hong Kong reopens.
In Touch Art Platform Connects Galleries in India and Beyond
Launched on April 24, In Touch is an online exhibitions platform created by 10 galleries in India and the United Arab Emirates. Highlights include: Prabhakar Pachpute, The Bull, Sea of Fists (2019) at Experimenter, Kolkata; Rana Begum's reflector on aluminium sculptures at The Third Line, Dubai; and Shilpa Gupta's We Are Closer Than We Ever Imagined (2008-ongoing) at Vadehra Art Gallery, New Delhi.
Hauser & Wirth Launches Inaugural VR Show and Homegrown Initiative
Hauser & Wirth's inaugural VR exhibition, Beside Itself, goes live on Thursday 30 April. Produced by the gallery's tech division, ArtLab, the exhibition will provide a first look inside the gallery's new space in Menorca, Spain. Hauser & Wirth also announced a new initiative this week to sell artwork created by gallery staff and their families in Sarasota, Los Angeles, New York, Berlin, Bruton, London, and Zurich. Artworks will be shared from May 9, and proceeds will go directly to the artists.
Jennifer Guidi Features in Gagosian's Spotlight Series
Tuesday 28 April is the last day of mandala-esque painter Jennifer Guidi's stint in the Spotlight at Gagosian. The next artist in the series will be announced on Wednesday April 29 and promoted with multimedia content such as interviews, videos and playlists. A featured work by the artist will be revealed on May 1 and made available for just 48 hours, a savvy thirst marketing strategy more typically adopted by streetwear brands.
Taipei Dangdai Welcomes Collectors to Taipei Connections
Taipei Dangdai's new online event Taipei Connections takes place 2-5 May, with a VIP preview from Thursday 30 April. Galleries are presenting artists including: Daido Moriyama (Each Modern), Doug Aitken (Galerie Eva Presenhuber), Zeng Fanzhi (Hauser & Wirth), Alex Katz (Galerie Thaddaeus Ropac), Al Held (White Cube), Erwin Wurm (Lehmann Maupin), Alvin Ong (Yavuz Gallery), Zhao Zhao (Lin & Lin Gallery and Tang Contemporary Art), Lu Song (Massimo De Carlo), and Dawn Ng (Sullivan + Strumpf). —[O]
Send art news, announcements, and tips to [email protected]