News | Art & Technology
Mega Galleries Hasten to Launch AR and VR Technologies
Massimo De Carlo, Hauser & Wirth, and Lisson Gallery are all promoting XR projects this month.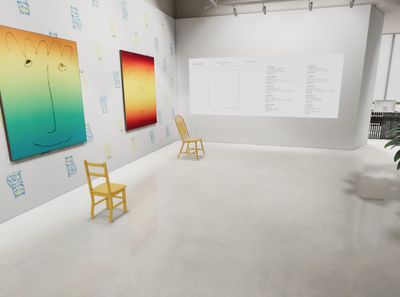 Exhibition view of The John Armleder and Rob Pruitt Show at Massimo De Carlo's Virtual Reality Space. Courtesy Sam Gaskin.
Massimo De Carlo launched the first exhibition in their new Virtual Reality Space yesterday. The John Armleder and Rob Pruitt Show continues until 30 April.
'The history of my gallery reflects an innovative spirit in adventuring in unprecedented, historically charged, distinctive spaces globally,' said Massimo De Carlo. 'With our new Virtual Space we feel we're stepping into a future where artists will have the chance to interact with architecture with an extraordinary freedom while collectors, critics, curators and the general public will have the opportunity to experience art from home like never before.'
The Virtual Reality (VR) gallery, which they're calling VSpace for short, can be viewed using an Oculus Rift or a computer, mouse and keyboard.
Visiting VSpace feels, in some ways, very much like visiting a gallery. There's a front desk with the requisite iMacs, an exposed ventilation system on the ceiling, and the same compulsion to look out the window, situating the white cube in a landscape with autumn trees losing their leaves.
The virtual gallery gives a good sense of the size of the works, though the images are not high enough resolution to accurately convey their texture or lustre. Navigation is easy and intuitive, though the mouse sensitivity makes it a little dizzying—minor quibbles about what is still emerging technology, at least in the art world.
Other blue chip galleries are also developing their own augmented reality (AR) and VR exhibitions—together known as XR—for launch later this month.
Hauser & Wirth's first VR show is being produced in an as yet unopened gallery in Menorca, Spain. It has been created by ArtLab, the gallery's technology and research division, which has been in development since summer last year. Hauser & Wirth says their VR technology has already proven useful not just in creating VR exhibitions but also for planning, logistics, crating, and storage.
Lisson Gallery is taking a slightly different approach with their latest initiative, developed in partnership with software company Augment, whose AR technology is used by global corporate giants such as Unilever and Coca-Cola. The technology will allow users to see what over 100 art works would look like in their own homes.
'You can scroll down and select the artwork you want—say you chose a Carmen Herrera sculpture—you can place it in your garden or courtyard,' Victoria Mitchell told Artnet News. 'You basically pick it up and set it down. You'll see what is in front of you with your camera.'
Similar technology was also used by KAWS, who worked with Acute Art to create COMPANION (EXPANDED) (2020), AR artworks that could be viewed in 11 cities from 12–26 March. Twenty-five editions of a 1.8m tall version of the AR sculpture are now on sale on the Acute Art website for US $10,000.
Other mega galleries such as Gagosian and David Zwirner have chosen to focus on online viewing rooms, high resolution images of the art works accompanied by pithy texts and videos, instead of AR or VR.
David Zwirner's Viewing Room exhibitions currently include Harold Ancart's Pools, James Welling's Pathological Colour and Yun Hyong-keun, while Gagosian has just concluded a Spotlight exhibition showing works by Sarah Sze. Gagosian is showing a new artist for 48 hours each week, including content such as essays, videos, and artists' recommendations. —[O]