News | Artists
Tracey Emin Wins Whitechapel Gallery's Art Icon Award
Emin recently announced plans to convert a former bathhouse and mortuary into 'an artist's haven' in Margate, England.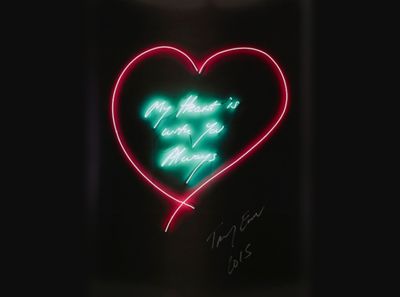 Tracey Emin, My Heart is with you Always (2015). Offset lithograph, edition of 500 70 x 50 cm. Signed by the artist. Courtesy Dellasposa Gallery.
Whitechapel Gallery today named Tracey Emin their Art Icon for 2022. She'll receive the honour at the gallery's annual gala on 22 March, which will coincide with an online auction conducted by Phillips.
In a statement announcing the award, Whitechapel described the artist's work as 'expressive', 'visceral', and 'renowned for its portrayal of personal experience and heightened states of emotion.'
'Frank and intimate, but universal in its relevance, her practice draws on the fundamental themes of desire and grief, unravelling the constructs of "woman" and "self" through painting, drawing, film, photography, sewn appliqué, sculpture and neon,' they said.
Emin is the ninth recipient of the award, joining Yinka Shonibare CBE, Francis Alÿs, Rachel Whiteread, Mona Hatoum, Peter Doig, Joan Jonas, Richard Long, and Howard Hodgkin.
Emin made headlines last week with her announcement of plans for new artist studios in Margate, the English seaside town where she grew up and returned after her mother's death. She discussed her 2012 homecoming exhibition, She Lay Down Deep Beneath the Sea, in a Conversation with Ocula Magazine in 2016.
'The most wonderful thing about my show in Margate was that 170,000 people went to view it; that really was a feeling of being home,' she said.
Now, Emin plans to convert a former bathhouse and mortuary near her own studio into 30 studios for emerging artists. The development's name, TKE Studios, comes from Tracey Karima Emin's initials.
Emin, who underwent major cancer surgery in 2020, said there would be strict rules of conduct for artists accepted into the low rent studios. Only full time artists would be permitted, and there would be no subletting, smoking, or loud music.
Tracey Emin, Sometimes the Dress is Worth More Money Than the Money (2000). Single channel video (shot on Mini-DV), 4 minutes, 2 seconds. Courtesy the artist and Xavier Hufkens, Brussels.
Speaking to The Guardian, she said, 'You know in life you sort of amble around, and you don't know what you're doing, but you know you're doing something? And then suddenly you see the light. You go: "Oh my God, that's what I'm doing!" Well, with Margate now, especially after the cancer and everything, it's all making sense what I'm doing. I am sort of helping. I am making an artist's haven.'
Tracey Emin's exhibition at the Munch Museum in Oslo, Tracey Emin / Edvard Munch: The Loneliness of the Soul concluded on 2 January. Her exhibition with Brussels gallery Xavier Hufkens, Tracey Emin: Video Works, 1995–2017, is available online until 23 January. —[O]