News | Institutions
Wairau Māori Art Gallery Names Director Two Months After Opening
Larissa McMillan outlined a 'tirohanga Māori' approach for New Zealand's first indigenous public art gallery.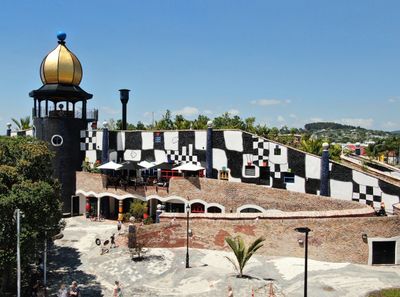 The Hundertwasser Art Centre, home to the Wairau Māori Art Museum. Photo: Greg Hay.
The Wairau Māori Art Gallery (WMAG) in Whangarei, New Zealand, has announced its inaugural director, two months after opening.
Larissa McMillan previously served as marketing manager for the Hatea Art Precinct, which encompasses WMAG, the iconic new Hundertwasser Art Centre it sits in, and the nearby Whangarei Art Museum.
Elizabeth Ellis, the Chair of WMAG's board, said there was a slow response to the job ad because the title was initially listed in Māori. Hiring of the Te Ringa Hautū Toi (Gallery Director) position was further delayed by McMillan's need to fulfil the terms of her previous employment.
Speaking to McMillan's qualifications for the role, Ellis said, 'She understands the importance of fostering relationships with Māori communities and has the perception, capabilities, and enthusiasm we need for this inaugural position.'
She also noted that McMillian is a member of the Nga Puhi tribe.
'There has never before been a Māori Director of a Māori public Art Gallery,' Ellis said. 'This is a first.'
Leilani Kake, Swallow Green (2017). Digital print. 470mm x 340mm. Collection of the artist. Photo: Sam Hartnett.
WMAG's inaugural exhibition, Puhi Ariki, opened on 20 February. Curated by Nigel Borell, former Maori Art Curator at Auckland Art Gallery Toi o Tāmaki, the exhibition features work by artists including Ralph Hotere, Maureen Lander, and Nova Paul. It continues until 12 June.
As an indigenous-led institution, McMillian told Ocula Magazine, 'the main issue for us is reflecting a totally Māori tikanga (ways of looking at, planning and doing things) and kaupapa (agenda and intentions). Our approach is totally tirohanga Māori (Māori worldview).'
The gallery will hold three exhibitions a year showcasing established and mid-career Māori artists.
McMillan said exhibitions would discuss themes 'that are topical and relevant for Māori and many other indigenous cultures,' such as water sovereignty and land rights, language, identity, and how to align with global issues such as Black Lives Matter and climate change.
Development of the Wairau Māori Art Gallery began in 2012 with a group of Māori artists and scholars, and founding patrons Sir Chris Mace and Peter Cooper.
Trustees on the gallery's 12-Member board include: Borell; Auckland gallerist Tim Melville; Director of The Dowse Art Museum Karl Chitham; and contemporary artist Lisa Reihana, who represented New Zealand at the Venice Biennale in 2017.
WMAG sits within the Hundertwasser Art Centre, which was built according to designs by eccentric Vienna-born visual artist and architect Friedensreich Hundertwasser (1928–2000).
Aside from an elaborate set of public toilets in nearby Kawakawa, it stands as the only example of Hundertwasser architecture in the Southern Hemisphere.
Typical of the late Austrian architect's distinct design philosophy, which intertwines human creativity and nature, the colourful tiled museum building is made with sustainable materials, and accommodates spontaneously incorporated vegetation, a water fountain, and a reforested garden roof complete with a gold-domed pagoda.
Hundertwasser himself first envisaged the inclusion of a Māori art gallery when he designed the space over 20 years ago. The architect strongly identified with Māori values, particularly around ecology.
The name Wairau, chosen for the gallery by the board's kaumatua (elder) Dr Patu Hohepa, translates to 'one hundred waters', a literal translation of Hundertwasser's name. —[O]