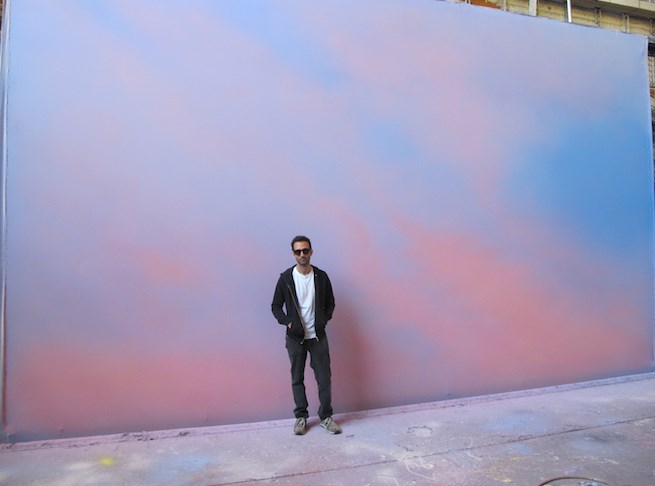 Alex Israel. Image courtesy the artist and Almine Rech Gallery
In an essay for Art in America
which he wrote in 2013, Alex Israel states of the 90s television classic Saved by the Bell that as a kid growing up in LA, this 'was the realest thing [he] knew.' Israel goes on to explain that after going to college (at Yale), the show 'became the "ultrasimplistic, hyperstereotypical and staggeringly unreal" cliché pop-culture critic Chuck Klosterman described it as in 2003, but then reverted to becoming 'real' again following a chance encounter with one of the show's actors at his gym in Los Angeles. This 'realness' is something Israel explores in his practice, which you might call a sincere phenomenological study into the culture of LA, and more specifically, Hollywood. The Los Angeles based artist's projects include the Freeway Eyewear company, which Israel founded in 2010, and although Israel is quick to draw a distinction between this project and his 'art', the eyewear does feature often in Israel's artworks: for example in Israel's self-portraits (sexy, acrylic and bondo on fiberglass profiles reduced to acid blocks of colour), and in his series of Lens works, which present oversized lenses produced from UV-protective plastic.
In Google image searches, there are portraits of Israel wearing Freeway sunglasses in front of one of his self-portraits, or next to a giant lens. The sunglasses are featured, too, in As It Lays—a web series published on YouTube in which Israel interviews various personalities in LA's creative world, from Perez Hilton to Oliver Stone. In this production chain, the object becomes product only to become object once more; reality becomes the constant question in a practice that explores the machine of culture through a soft wit which draws on Israel's love affair with Los Angeles. As Israel explains in this interview, which discusses his second solo exhibition at Almine Rech Gallery in Paris, he is "a lover of Hollywood the place"—"the landscape, its culture," and "the physicality of the surfaces, textures and patina." Continuing a narrative, the show, titled Summer, references Israel's previous exhibition at the gallery, Thirty, which featured walls painted with the image of a Californian sky.
The exhibition currently on show at Almine Rech in Paris feeds off your first exhibition at the gallery, Thirty, which was staged in 2012. Could you describe the relationship between the two shows, and the intentions behind producing a conceptual link between them?
Both shows explore ideas about the Hollywood dream: a specific, west coast version of the American dream that defines 'success' as 'fame,' and that ends when the classic convertible rides off into the sunset.
Thirty
enveloped the viewer in an immersive dreamscape, placing him or her within it, like an actor on a film set.
Summer
breaks down the dream into different acts—like in a screenplay—spreading it out across three distinct rooms.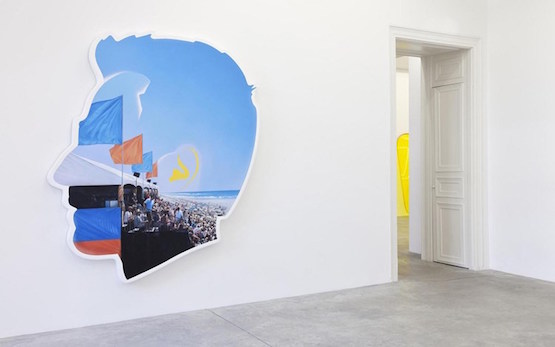 Alex Israel, Exhibition view of the exhibition Summer, 13 June - 25 July 2015, Almine Rech Gallery, Paris. © Alex Israel - Photo: Zarko Vijatovic. Courtesy of the artist and Almine Rech Gallery
You produce your Sky Backdrop paintings, one of which is presented here in homage to Thirty, in the scenic art department at Warner Brothers Studios. Could you talk about how and why you chose to produce work in this setting, and how it relates to your purported interest not in the illusion of cinema but the realities of Hollywood?
I want my work to be as close to Hollywood as possible, so it was a very natural decision to have the paintings made in the Scenic Art department at a Hollywood studio. I figured that they might accrue some Hollywood magic, some stardust, being made in that context. Now don't get me wrong: I'm a movie lover, and the illusion of cinema is all part of the fun. However, I'm also a lover of Hollywood the place, the landscape, its culture. I like the physicality of my city, its surfaces, textures and patina. Scenic painting is meant to be seen through the lens; on a screen. It's usually in the background and oftentimes it's blurry, or seen through a window. I like the idea of presenting scenic painting in the flesh, directly to the viewer, inverting its position from cinematic illusion to physical, Hollywood thing.
How does this relate to your view or understanding of art? And to this end, what art histories do you draw from when considering the realities of the movie industry through your work? I'm thinking here of your series Property, which makes use of the props department at Warner Bros. In this show, you include a new, painted bronze sculpture of a Chevy Corvette positioned near a cactus tree, which itself used to be a prop, as I understand it: Desperado.
I've always seen parallels between the magic of Hollywood and the magic of art. Duchamp's readymades are magical. He transformed them metaphysically, endowing them with power and presence beyond their physical being. When I began exploring Hollywood prop houses, I sensed that here too were inanimate objects that felt alive, sprinkled in stardust. Noticing this similarity compelled me to rent props, particularly the ones that I felt had the most 'star power,' and to begin exhibiting them as sculpture.
Yes, Desperado started as a cinema prop. I had rented it for potential use in a show in Rome, where it would have been shown in relationship to other props. Ultimately, I decided that it wasn't totally right for that context, and to save it for a rainy (or rather a sunny) day. Desperado is particular because it comprises a whole world unto itself: the empty convertible, the cactus, the patch of desert that holds it all together, these elements comprise a complete narrative on their own. Where I would usually combine a couple or a group of props and exhibit them in dialogue with each other, Desperado always needed to be the only prop in the room.
Alex Israel, Exhibition view of the exhibition Summer, 13 June - 25 July 2015, Almine Rech Gallery, Paris. © Alex Israel - Photo: Zarko Vijatovic. Courtesy of the artist and Almine Rech Gallery
The last question also relates to the three new 'Lenses' you present in this show, which respond to memories of twentieth century art in California (Craig Kauffman, Larry Bell, De Wain Valentine). Could you talk about your relationship with California, and more specifically LA?
I was born and raised in LA. I went to college in New England, which made me homesick for the LA sun. It was Connecticut's long winters that helped me appreciate the LA that I had always taken for granted, and that sparked a deeper love and longing for Southern California's light, space and ethos. This newfound sensitivity to my native landscape and its climate was deeply impactful on my thinking and on my art. Soon, all the art I was making at college was inspired by my hometown.
Growing up, my parents and grandparents would take me to local museums, so I was always familiar with the art history of the region. Many of the most celebrated LA artists, I felt, were also deeply connected to LA as a place. It dawned on me that the light, the water, the waves, the surfboards, the sprawl, the cars, the stardust and the city's unique spirit, these were all things that I had inherited as material, that had been there for artists in the past and that would be there for artists in the future. So yes, I'm very inspired by these artist you've mentioned—Craig Kauffman, Larry Bell, De Wain Valentine, and others—and I'm also very much inspired by some of the same, elemental things that inspired them.
How has this relationship with LA and the west coast changed as your career as an artist has progressed? For example, you have said Los Angeles is America: where the American Dream comes to life. To this end, what happens when you show this work outside of America? Have you noticed the way reception and meaning shifts according to exhibition context?
I want my work to embody and to communicate in the language of LA. It's the language of American popular culture and media, and it's a language that has been disseminated outward, and is used and understood across the world. And yes, I do get the sense that my work is legible to people of different cultures, in the different parts of the world where I've shown it, from Asia to Europe.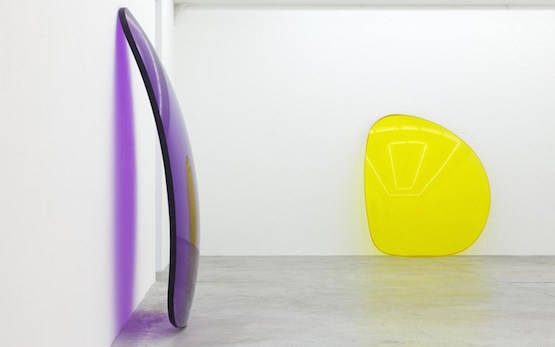 Alex Israel, Exhibition view of the exhibition Summer, 13 June - 25 July 2015, Almine Rech Gallery, Paris. © Alex Israel - Photo: Zarko Vijatovic. Courtesy of the artist and Almine Rech Gallery
The 'Lenses' and your self-portraits both makes reference to the Freeway Eyewear company you founded in 2010. Can you talk about how this company fits into your practice? I'm thinking here of the web series Rough Winds (2011), in which actors all wear Freeway Eyewear, and the empty display you presented as part of Fall Collection in 2008, in which you likened the sunglass rack to Duchamp's Bottleneck …
Freeway is an eyewear brand and a functioning small business. It's a part of my practice; however, I'm very clear in making the distinction that it's not my 'art'. When launched, in 2010, it represented an effort to channel my ideas toward a platform outside of art, and to create a product that wasn't precious. I chose to make sunglasses because I always needed them; they are a fundamental part of LA life. As a brand, Freeway draws on the same source material as my art; it simply uses these references and ideas to different ends. As was the case with Rough Winds, Freeway and my art have, on occasion, become intertwined.
I'm curious about a question you posed to Oliver Stone in As It Lays: 'Does the avant-garde exist today?' I wonder if you might answer that question yourself?
Everyone is avant-garde.—[O]