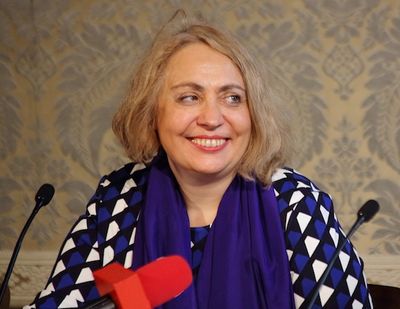 Ekaterina Degot. Photo: J.J. Kucek.
Inaugurated in 1968, steirischer herbst is an annual multidisciplinary art festival in Graz, Austria. Every few years, the festival reinvents itself by inviting a new director to lead the event, with Ekaterina Degot recently taking on the role for the next five.
Degot's stated intention for her tenure as director of steirischer herbst is to turn 'the festival towards intense political and aesthetic debates, grounded in a dedicated site-specific approach'. This reflects the festival's position within a country that is witnessing the return of the far right in its political reality. This year's 51st edition is Degot's first show (20 September–14 October 2018). Titled Volksfronten, it considers the historical conditions that have nested the 'little fascisms' present across an increasingly xenophobic Central and Eastern Europe, with newly commissioned installations by 30 artists and groups spread out across the city, along with performances, symposia, and panel discussions.
Rosella Biscotti & Kevin van Braak, The Standing Wave (2018). Exhibition view: Volksfronten, steirischer herbst, Graz (20 September–14 October 2018). Courtesy steirischer herbst. Photo: Mathias Völzke.
Degot is an art historian, curator and writer, who started her career as an art critic, working as senior editor of the arts section of OpenSpace.ru, an independent online magazine, between 2008 and 2012. As an art critic, Degot has analysed the way art plays, or seeks to play, an important role in neocapitalist 'normalisation' under the Russian 'new order', and has co-edited publications including Post-Post-Soviet?: Art, Politics & Society in Russia at the Turn of the Decade in 2013 with Marta Dziewanska and and Ilya Budratskis. From 2014 to 2017, she was artistic director of the innovative Academy of Arts of the World (Akademie der Künste der Welt) in Cologne, where she initiated Pluriversale, a festival that focuses on interrogating postcolonial and global issues and contexts; the last edition she organised was Stealing from the West (20 September–10 December 2017 ), which focused on notions of appropriation through the works of Ines Doujak, Uriel Orlow, Yuri Albert and Lawrence Abu-Hamdan, among others.
The first exhibitions Degot curated in Russian and European museums in the early 2000s were frequently labelled as protest gestures. Her exhibition about underwear during the Soviet period Body Memory: Underwear of the Soviet Era, was first presented at the City History Museum in St Petersburg before it travelled to the City Museum in Helsinki, and the Volkskundemuseum in Vienna, between 2000 and 2004. In 2005, she mounted a show at the Musée de l'art wallon in Liège about communist art of the Cultural Revolution titled Soviet Idealism. Degot was part of the curatorial team of the seminal exhibition, Berlin-Moscow/Moscow-Berlin 1950–2000, which was staged between 2003 and 2004 at Martin-Gropius-Bau in Berlin, and the State Tretyakov Gallery in Moscow in 2004.
Bread & Puppet Theater, The Underneath the Above Parade #1 (2018). Exhibition view: Volksfronten, steirischer herbst, Graz (20 September–14 October 2018). Courtesy steirischer herbst. Photo: Jasper Kettner.
DZ

Firstly, how would you describe your main interest as a curator?

EDI started as an art critic and I guess I am maintaining that focus. For me, exhibiting an artwork means interpreting it by combining it with other works and the real city landscape. An exhibition is an essay—sometimes even a novel—where themes and details come in contact and produce new meanings that are at times unexpected for the artist.
DZ

For audience members who are new to steirischer herbst, how would you describe the festival's legacy?

EDSteirischer herbst emerged in 1968 in a context similar to documenta. Both cities were situated right next to the Iron Curtain, were engulfed by a conservative milieu, and contained lots of unresolved issues in relation to Nazism. Former Nazis were more active in Austria—at least in academia and media—than in Germany. There was a desire to break with the past and shock with the new, even though modernity had not yet been accepted. It is a legacy that contains heroism, as well as lots of illusions. The festival was multidisciplinary from the very beginning, and at different decades, different arts played the leading role: first music and painting, followed by visual arts, design, and urban studies in the 1990s. Later it was new media and photography; and for the last 15 years or so there has been a focus on theatre and performance.

For this year's festival, we are re-establishing a focus on visual arts without losing the performative medium, which is very important for the issue of 'being contemporary'. The films, installations, performances and theatre productions included in this festival are presented through the frame of visual art. Site-specificity plays a crucial role, and the approach is highly discursive. Two very important qualities of steirischer herbst remain: the focus on new productions, and the coming together of the international with the local.

Department of Ultimology, What Where (2018). Exhibition view: Volksfronten, steirischer herbst, Graz (20 September–14 October 2018). Courtesy steirischer herbst. Photo: Liz Eve.
DZ

How did you conceive of the central idea of this year's steirischer herbst, and what does the title Volksfronten refer to?

EDVolksfronten is deliberately written in German, but even in German its plural form sounds unusual, disturbing, and this is what we wanted. It includes many references, such as the German notion of the 'Volk'—a more ethnic-centred term for 'populus', or 'people'. 'Volk' is a word that marked German nationalism until fascist times, and was adopted by a US-based white supremacist group of the 1990s who called themselves 'Volksfront'. On the other hand, it is also an obvious translation of 'Popular Front'—the broad left-wing coalition aimed at resisting fascism.

But there is no one joint Popular Front now. We fight on many fronts, too many maybe; and each adversary, be it on the left or on the right, is arguing with values of different 'Volks'—ethnic or religious groups whose traditions, beliefs, and identities seem to be in need of protection. Does it hamper us from creating an anti-fascist coalition, and what would the role of culture be in a situation where 'cultural traditions' and 'cultural identities' are used to drive people apart rather than together? Is there hope in popular culture? Does it contain elements of resistance that could fuel contemporary critical cultural production as well? These are questions we are asking in this edition, among others.

Bread & Puppet Theater, The Underneath the Above Parade #1 (2018). Exhibition view: Volksfronten, steirischer herbst, Graz (20 September–14 October 2018). Courtesy steirischer herbst. Photo: Jasper Kettner
DZ

How many venues have been included for the festival?

EDI must stress that the festival does not 'have' any steady venues besides one: Helmut List Halle. We have to find new venues for each edition, which is a creative process but also challenging. The structure of this year's project is complex as it is at the intersection of installation and performance, both of which can be shown indoors or in the public space. We are working with eight spaces for installations and four other spaces for various performances, along with seven projects that are in the public space or online. There are 29 projects all in all, plus several symposia as part of the discursive programme, and discussions as part of the public programme.
DZ

The Ideas programme includes a cluster of interviews and debates titled 'Our Little Fascisms'. How do you approach the movements of Neo-Nazism and xenophobia in Europe, in a festival taking place in Austria?

EDWe are of course concerned with the new right-wing turn all over Europe and especially in Eastern Europe, where nationalism has become normalised since the 1990s and even praised as a tool of anti-communist resistance. The demise of the European communist bloc is at the core of the current situation. In the festival's discursive programme, which includes several conferences, we are bringing together speakers from Hungary, Poland, Israel, Russia, Germany, Turkey, and of course Austria, who will speak freely about the political situation today.

Laibach, Laibach's Sound of Music (2018). Performance: Volksfronten, steirischer herbst, Graz (20 September–14 October 2018). Courtesy steirischer herbst. Photo: Jasper Kettner.
DZ

What was your experience of Graz while working on steirischer herbst? How has this experience manifested through the festival?

EDHistorically, Graz is a frontier city, a fortress on the border of the 'Western' world, constantly on alert against the 'Other', whether that be the Ottoman Turk, the local Jew, or the Yugoslav communist—this is what was praised by Adolf Hitler. But the contemporary city has translated this mistrust of the 'Other' into an openness towards the world across the border—even if the old times do not go away so easily. The city is full of historical architecture and looks conservative, but a festival as cutting edge as steirischer herbst has been at home here for 50 years already, and it works with and on this tension.
DZ

Does this tension have something to do with why you chose the Slovenian avantgarde music group, Laibach, for the opening event?

EDLaibach fit perfectly with everything I want from artists and for this first edition. Their very clever and very complex subversive position towards the right wing as well as towards the dogmatic left; their highbrow intellectualism combined with popular appeal; their interdisciplinarity and their sense of humour—all of it is very East European, and represents everything I am committed to. I was lucky to have a project that is also related to Austria and its difficult past—the Sound of Music project.

Milica Tomić, Exhibiting at the Trowel's Edge (2018). Exhibition view: Volksfronten, steirischer herbst, Graz (20 September–14 October 2018). Courtesy steirischer herbst. Photo: Mathias Völzke.
DZ

Could you talk about other works on show that activate local history?

EDIn Austria, and in Graz in particular, the past is very present. Historic or historicist architecture prevails, rare modernist buildings or artworks still have a tone of heroic resistance about them. The very notion of un-burying the past is already controversial. It is what Milica Tomić is doing, an artist from the former Yugoslavia now living in Graz; she digs the past at the site of a labour camp in Aflenz close to Graz, literally bringing its soil into a white cube exhibition space. In the work Adolf Hitler from a Private Space, Yoshinori Niwa, an artist who recently moved to Vienna, offers the inhabitants of Graz an opportunity to resolve their moral dilemmas about getting rid of the Nazi memorabilia kept in families by helping them to dispose of them with a special container that has been installed to drop items in—and having a conversation in the process.
DZ

Actually, a large number of works refer to Austria's Nazi past or challenge nationalist, patriotic narratives. What has been the local response? Were there any reactions, negative or positive?

EDThere were quite strong reactions to Niwa's Withdrawing Adolf Hitler from a Private Space. 
We got messages on Facebook suggesting that, instead of Nazi memorabilia, the artist or the institution should be thrown into the container and disposed of. Some people wished for us to be struck by lightning. It was all pretty specific. 


We are getting great support and feedback from many local institutions—there is a growing sense of solidarity, which we feel is much needed if we are to stand any chance against the outer right wing. The local media is also welcoming the turn to more experimental, political and edgy programming, though national Austrian media have been rather sceptical for quite a while, and some of them remain so. We don't have the illusion that everything can be changed overnight. We started a discussion and made some important points; created beginnings. The next years will have to show us which of the seeds we planted will grow.

Yoshinori Niwa, Withdrawing Adolf Hitler from a Private Space (2018). Exhibition view: Volksfronten, steirischer herbst, Graz (20 September–14 October 2018). Courtesy steirischer herbst. Photo: Mathias Völzke.
DZ

Have you personally experienced a conservative turn in the art field?

EDRight-wing conservatism all over the world privileges national tradition over cosmopolitan innovation, and ethnic crafts over critical thinking. This can be, and is, expressed in the politics of funding and media representation. It is easy to see that Austria represents itself as a country of culture, which means established tradition as well as folklore. Artists such as Klimt and Schiele—though controversial in their time—are inscribed into this model, while the greatest critical thinkers of Austria, like Karl Kraus or Robert Musil, are left to intellectuals.

On the other hand, there is also conservatism of the left, which can sometimes censor thought under the slogan of political correctness. Society has become very conservative. We are trying to protect ourselves and our children from all kinds of dangers—real and imaginary, current and eventual—including the danger of being disturbed. It is very difficult to make and represent art under these conditions.
DZ

With governments cutting down budgets for independent institutions or supporting a strict 'patriotic' agenda, and powerful private or national institutions supporting projects that perform their own agendas, how can independent voices sustain themselves and their identities in these conditions?

EDI am much more concerned with self-censorship than censorship. I did work under conditions of censorship in the Soviet Union, and I know that artists are very good at developing Aesopian languages—they can use irony, parody, sarcasm, subversive identification, and other forms of critical language that can sharpen the intellectual abilities of an audience. It is very important for artists not to lure themselves into 'safe spaces' of self-censorship under the pretext that what is being said might be harmful, that the person speaking has no right to it, or that 'the time is not ripe for such a statement'

Michael Zinganel & Michael Hieslmair, School Trip (2018). Exhibition view: Volksfronten, steirischer herbst, Graz (20 September–14 October 2018). Courtesy steirischer herbst. Photo: Liz Eve.
DZ

Throughout your career you have specialised in aesthetic and socio-political issues in Russia from a historical perspective. How are issues concerned with the Russian avantgarde still relevant today?

EDThere is a well-known saying in Russia: that the country's mission is to be a frightening example to others. This might be an exaggeration, but I agree that what happened and is happening in Russia is not marginal but relevant for us all—the Russian revolution and its Stalinist degeneration, the social and cultural richness of this context during the Cold War that remains unknown in the West, as well as the tragi-farce of current neoliberal capitalism. Russian artists and—maybe especially—writers have worked under these conditions and have reflected on them. Their works are of incredible dialectical complexity, which serves as a beacon in my current curatorial choices.

Igor & Ivan Buharov, Örök szándékmező hangolás (Stimmen des unsterblichen Absichtsfeldes) (2018). Performance: Volksfronten, steirischer herbst, Graz (20 September–14 October 2018). Courtesy steirischer herbst. Photo: Mathias Völzke.
DZ

Artworks or curatorial projects that directly express a socio-political urgency are often characterised as activist in a reductionist way, with more sophisticated approaches seen as elitist and doomed to address only a privileged art audience. What is your approach to complex political issues in the context of art? Do you consider yourself an activist?

EDWhether someone is an activist or not depends on external conditions, partly even legal ones. In the early 2000s, almost every gesture made in the cultural field in Russia became activist due to the political climate. I made exhibitions about the underwear of Soviet times, and about committed communist art of cultural revolution. All of it was read as a protest gesture. The energy of resistance was high and remains so. In Russia, one can land in jail for an innocent comment on social media. However, I would not call myself an activist in the West, where my critical thinking and practice is still legal—at least for now. Here I am a normal, reflexive intellectual.
DZ

Biennials and similar large-scale events are facing a transitional point—if not a moment of crisis—as they seek to redefine their connection to both the local and global art spheres. What do you think could be the future of such events?

EDI don't get the dilemma between local and global. I am a dedicated cosmopolitan for whom the local is only relevant when it dreams of globalities, while the global is only interesting when it is rooted in local histories from all over the world that resonate with each other. A biennial should be a place where all of it meets. —[O]