Image: Francis Upritchard. Courtesy Kate MacGarry, London. 
Francis Upritchard's artistic lexicon is perhaps best known for her curious, and at times disconcerting, small-scale figurative sculptures which in their fantastical forms also embody a constellation of historical and contemporary references.
These figures inhabit a universe whereby imagination and the ancient and contemporary collide. Often juxtaposed and staged upon the geometric, clean lines of modernist furniture, her imaginative enquiry traverses the limits of human behaviour, imbuing gravitas with each assemblage and scenario.
In 2009, Upritchard represented New Zealand at the 53rd Venice Biennale, and her distinct visual language has continued to attract critical attention with solo exhibitions such as: Francis Upritchard at the Hammer Museum (2014); Potato Poem (2013) at The Marugame Genichiro-Inokuma Museum of Contemporary Art (MIMOCA), Kargawa, Japan; A Long Wait (2012) at the Contemporary Arts Center, Cincinnati, United States; and In die Höhle (2010) at the Secession in Vienna, Austria.
Upritchard's dynamic output was also presented in her first major survey exhibition entitled Jealous Saboteurs at Monash University Museum of Art (MUMA) (13 February to 16 April 2016).
The exhibition is presented in partnership with City Gallery Te Whare Toi, Wellington and is curated in tandem with Chief Curator Robert Leonard and MUMA's Director Charlotte Day. Rachael Vance speaks with Upritchard about the opportunity to revisit the different stages of her practice and her search for otherness within her work.
Francis Upritchard, Untitled 1 (2002–2003). Fiberglass, resin, fake hair and dental teeth. 27 x 20 x 18 cm. 
Chartwell Collection, Auckland Art Gallery Toi o Tamaki (2003). Courtesy of the artist and Auckland Art Gallery Toi o Tamaki.
RV

Could you discuss the selection process of works included in the exhibition retrospective of your work spanning 20 years at MUMA in Melbourne?

FUThe selection was made working very closely with Charlotte Day. We drew up a wish list of works we wanted and then tried to come up with a realistic selection that wasn't going to create too much of a shipping nightmare. My works are strewn across many continents and are often quite fragile, so moving them about was always going to be a major challenge with this show.

We included some of my very early land works, which I actually made at art school, because I thought it was very important for local audiences to see what exactly moving away from New Zealand did to my work. Lots of my first works in the UK are about remembering New Zealand and simultaneously being exposed to new cultures. Upon leaving New Zealand I quickly travelled a lot: to Japan, Thailand, Germany, France, Italy, Greece, Morocco and I also visited many, many museums and poured over the amazing collections of African and Egyptian works. A special trip to the Wellcome Trust archive warehouse in London was especially inspiring. I found the 'tiki's' made by white sailors on their return from New Zealand in the 1800's. This was very interesting for me and solidified some of my ideas around mis-remembering.

Also, for the show we were really lucky to be loaned Travellers Collection (2003), a key work of mine, and also during a chance studio visit I found my old table and was able to reunite the base with the planets in Planets in the detrimental sign (2003). We tried to represent each phase of my work in the show, and keep a balance across the 20 year span.
RV

How you have felt reviewing and reflecting upon your practice in such an extensive way?

FUIt's very strange. Sometimes I get the 'old friend' feeling, and often, the 'who on earth are you' feeling? I can see quite clearly now that my concerns are walking around in circles, even when the look of things are developing. I'm really into materials, and it's nice to see how many materials I'm now comfortable in using.
Francis Upritchard, Blue and Green Scarf (2012). Modelling material, foil, wire, paint, cloth. 49 x 33 x 38 cm. Collection of Auckland Art Gallery Toi o Tamaki, gift of the Patrons of the Auckland Art Gallery (2013). Courtesy of the artist and Kate MacGarry, London.
RV

You often deploy staged gatherings of performative figures in your exhibitions. Can you discuss the final exhibition design at MUMA and how the individual rooms engage with each other?

FUI've been making figures in many different ways these last years. The first emergence I guess would be the mummy, followed closely by the severed heads. Later the rubber 'Balata' works which I developed in Brazil, and lastly the new polymer plastic figures. We decided to see it as a series of rooms that were roughly but not strictly chronological. In fact at MUMA, the first room you enter has the earliest and the latest works in it [and] also the smaller, more intimate pieces, so the work kind of shrinks and grows along the way.

I have built new walls covering the normal entry and main circulation space to the gallery, so you pass through the rooms in a very different way than you normally would. I'm not sure a new visitor would notice, but a regular visitor will encounter walls where they are expecting doors. I did this so that the space felt quieter and slower; the spine of the building is modern looking with raw wood, and a faster path for linking the rooms. Visually my work has changed quite a lot over the years and there are certainly works I wouldn't display in the same room.
RV

By virtue of the materials and techniques you use, your pieces evade specific temporal reference. For example, the blending of Medieval imagery such as harlequin design and Egyptian-esque urns that clash with the drapery of a Northern American caftan or a Middle Eastern keffiyeh. Can you discuss your interest in this illusory time shift and why this has remained such a constant?

FUNice question. I'm not sure what it means exactly, but I think it's perhaps an attempt to say that humans are all the same, ancient or modern, black or white. I love going to museums and seeing marble busts of obviously powerful, but dull men; You can just see the vain, rich, managerial expressions. Representations of Jesus have always been interesting to me too, because there is always this expression of suffering, and the time scale, material, technical ability of artists is so very varied. However, you always know who it is supposed to be. Similarly you find this in depictions of slavery and of war.
Francis Upritchard, Tourist (2012). Modelling material, foil, wire, paint, cloth. 80 x 25 x 20 cm. Collection of Auckland Art Gallery Toi o Tamaki, gift of the patrons of the Auckland Art Gallery (2013). Courtesy of the artist and Kate MacGarry, London.
RV

I agree that your figurative sculptures provide a backdrop for the engagement in dialogue about human behaviour. There is a certain gravitas about them. Each character appears to represent a human urge in their expressions and body language, and a desire for connection. Is this something you consciously channel when creating your figures and staged narratives?

FUThe narratives are usually pretty simple; [the sculpture are] either male or female, and frequently [it's] ambiguous. Sometimes I'm trying to capture a face I glimpsed, sometimes a friend I have photographed, and sometimes a pose. Of course it's more complicated than that, as it often includes race and decoration, but I find it very hard to articulate exactly what I'm trying to do with each work, although sometimes the titles explain a little. 'Nincompoop', I think is an idiotic character, 'Bangle', I just made for my show at Anton Kern is confident, serene, and adorned by bangles.
RV

You remove the possibility for viewers to enter into a total engagement or reach a level of empathy with your figurative sculptures through the omission of the pupils in their eyes, but also in their scale. They are not large enough to be exactly human, nor are they animal, and therefore they can't be full scrutinised. Do you consider the audience's interaction with these pieces when producing them?

FUCertainly. I want to remind the viewer [my works] are firstly sculptures; despite the face, the clothes, they are a form. They have no actual personality. They are all imagined. I find watching violent or awkward moments in movies very hard. Perhaps it's because I'm not very good at separating reality from fiction well myself.
Francis Upritchard, Sun Worship (detail) (2013). Modelling material, foil, wire, paint, cloth. 141 x 25 x 19 cm. 
Collection of Simon Robinson. Courtesy of the artist and Kate MacGarry, London.
RV

I want to discuss the way you conflate multiple disciplinary approaches and elements such as design and craft into your art practice. Your installations are therefore critical yet informed by more decorative traditions. What interests you about this mixing of creative processes?

FUIt's pretty complicated for me. I love craft, especially ceramics, glass work, and weaving. I also love high art. I know these things are made differently with different intentions, but I'm also sure many artists could, or perhaps should, be craftspeople, and many craftspeople should be artists. Perhaps it's a query into why people might choose one path or another: Class? Education? Confidence?
RV

You have referred to a sense of cynicism located within your work in its reflection and commentary about the world and societal engagement. Is this something you still feel, and if so, how does this resonate in this exhibition at MUMA specifically?

FUThe title Jealous Saboteurs refers to this specifically. This title came from a leaflet slipped under my boyfriend's door who lived in New Cross, a London neighbourhood with a large African community. The leaflet offered services to combat a whole list of interesting ills and I poached many of the particulars for titles, which relates to my interest in talisman. I like it that some people believe that they need protection from spirits, that an object can protect them from a car crash, that a wax representation of their leg can cure their actual leg. Perhaps it insinuates that my sculptures could be powerful objects too.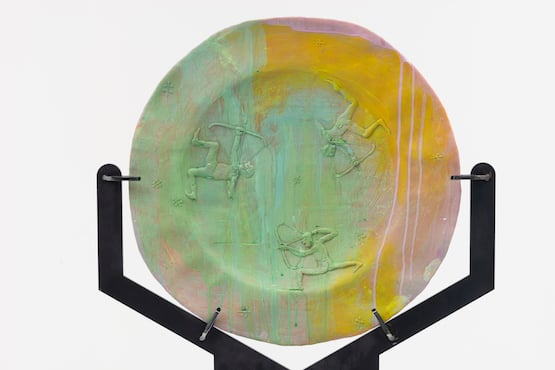 Francis Upritchard, Archer Plate (detail) (2012). Modelling material, foil, paint. 52 x 35 cm. Collection of Auckland Art Gallery Toi o Tamaki, purchased 2015. Courtesy of the artist and Auckland Art Gallery Toi o Tamaki.
RV

Beyond MUMA, can you discuss your next project or body of work?

FUI made a sculpture called Long Legs and Long Arms go Fishing inspired from a netsuke I saw at the Los Angeles County Museum of Art, of Japanese characters called Ashinaga and Tenaga. They represent symbiotic relationships and I want to explore them as sculptures because they make a great but complicated piggyback form. There is a sort of bro-mance aspect to their relationship which is so tender; one can't fish without the other, and they have to work together physically and intimately. —[O]