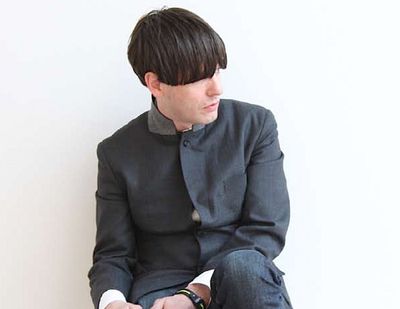 Jim Lambie. Photo: Inoue Yoshikazu
Currently on show at Roslyn Oxley9 Gallery in Sydney, Zero Concerto is Jim Lambie's first commercial solo exhibition in Australia. Although Australians are no stranger to this acclaimed Glaswegian's work, as he has previously created variations of his signature floor installation, ZOBOP, for both the Australian Centre for Contemporary Art (ACCA) in Melbourne in 2008, and as part of the Biennale of Sydney in 2014 at the Museum of Contemporary Art (MCA), Sydney.
'It's amazing how far a roll of tape can take you,' Lambie says as we discuss his ubiquitous work, ZOBOP. First installed as part of his first solo show as a young artist at Transmission Gallery in Glasgow in 1998, ZOBOP is a site-specific floor installation which uses strips of coloured vinyl tape to navigate the architecture of each space in which it is installed. 'It was a big moment for me but I didn't quite realise how big it was. I was basically messing around with holding a lot of sculptures together with tape, one thing led to another and I ended up with that piece for my first solo show. I didn't know about the art market, I didn't know what it meant to end up sitting here in Sydney doing this show. I had no clue about that,' says Lambie. Over the past seventeen years ZOBOP has appeared in almost every major museum in the world.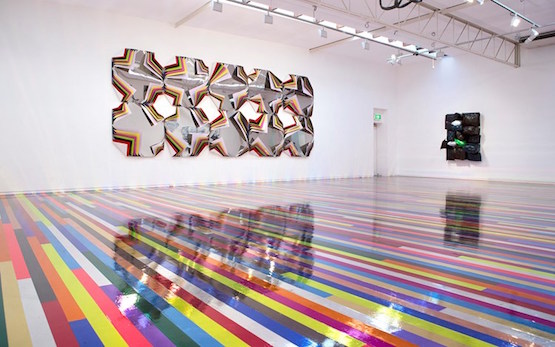 Exhibition view: Jim Lambie, Zero Concerto, 2015. Image courtesy Roslyn Oxley9 Gallery, Sydney'The ZOBOP pieces and the floor pieces tend to be very photogenic so they tend to get reproduced a lot. Maybe on some level it appears like I am doing a lot of them,' Lambie subtly alludes to cynicism that he may be a one-trick pony. 'But the reality is that it is actually not that. It's not that intense. Given the right circumstances I don't mind doing them. And I certainly didn't mind doing this one [Sound System (2015)] because this piece is a new piece, it is only two months old. So I was happy to bring it to Sydney.'
Jim Lambie, Sound System, 2015. Coloured metallic vinyl. Dimensions variable. Image courtesy Roslyn Oxley9 Gallery, SydneySound System (2015) differs from previous incarnations as it specifically mirrors the floorboards of the gallery as opposed to ZOBOP which moves from the outer walls towards the centre of each site-specific space, creating a map of the vertical architectural elements. Sound System (2015) underpins the entire show at Roslyn Oxley9—it is hard to imagine the exhibition without it—and with it, the orchestration of space is masterful.
Exhibition view: Jim Lambie, Zero Concerto, 2015. Image courtesy Roslyn Oxley9 Gallery, SydneyZero Concerto fills the entire upstairs space of Roslyn Oxley9, including both galleries, with a number of wall works, ceiling pieces and of course, the floor installation. 'One of the things I was trying to feed through was that every piece should be able to exist on its own, and that's really important,' says Lambie. And whilst each work is capable of existing individually—pushing and pulling at space within its own orbit —the strength of the exhibition lies in the fact that each work also operates within the greater sphere of the gallery space. The gallery expands and contracts depending on where one stands within the exhibition.
Lambie's so-called 'potato sack paintings', Other Side of the Sun (2015) and Purple Night (2015) present every day greengrocer potato bags filled with expanding foam. The bags are then pieced together, vertically and horizontally, to form a rectangle. 'With these works I was thinking about how to make a painting. Painting is always talked about as a window onto something—like a portal going out—but I started to think about what it would be like to have a portal coming in,' Lambie explains. As a sculptural painting the potato sacks protrude into the gallery space giving the impression that they may have entered via the wall.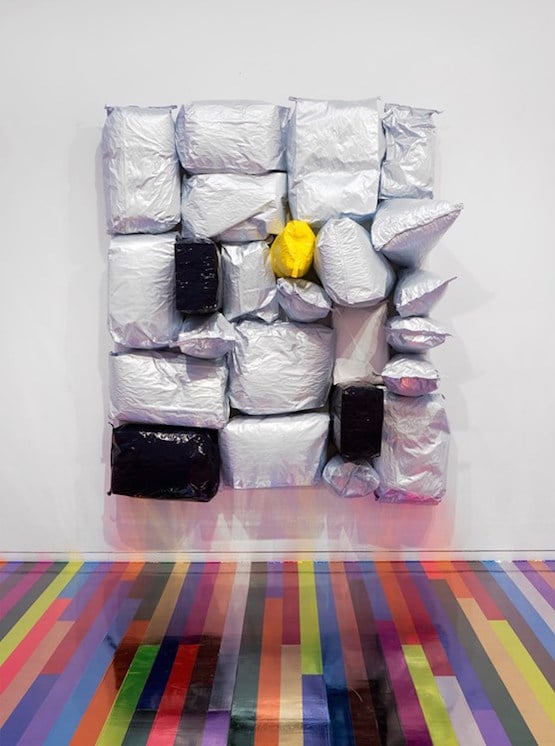 Jim Lambie, Other Side of the Sun, 2015. Potato bags, acrylic paint, expanding foam on canvas. 210 x 178 x 60 cm. Image courtesy Roslyn Oxley9 Gallery, SydneyMany of the other works in the show operate in a similar way. It's Tricky (Run DMC) (2015) is a junk shop suitcase attached to the ceiling in the second gallery space. The suitcase is open and inlaid with a mirror so as to reflect the vibrant floor installation. Lambie sees the rectangular form as an elevator shaft leaving the gallery. In Here Comes the Sun (2015) Lambie has inverted the spokes of a number of different sized bicycle wheels so as to the present the audience with a view of static suns. In contrast, Other Planes of There, Sun Ra (1964) (2015) consists of a number of inner tubes, also from a bicycle, wired together to create a mid-air scribble. The piece hangs from the ceiling and rotates with the help of a mirror ball motor. 'The rest of the show is quite formal and I wanted to disrupt that a little,' says Lambie.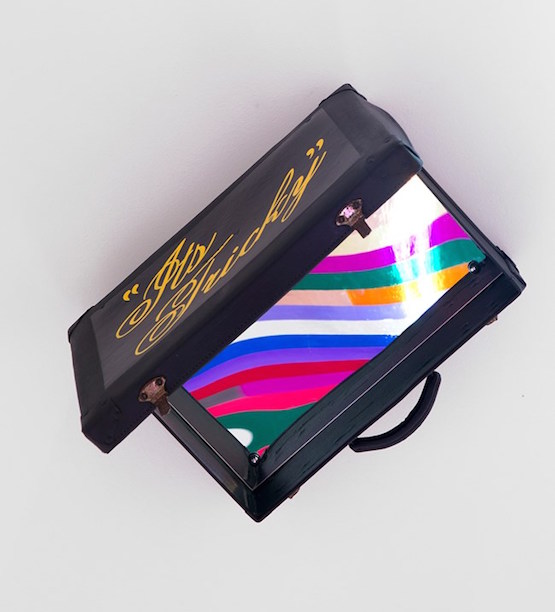 Jim Lambie, It's Tricky, 2015. Found suitcase, mirror, enamel paint. 30 x 45 x 46 cm. Image courtesy Roslyn Oxley9 Gallery, SydneySimilarly, Don't Fight It, Feel It (Primal Scream) (2015) displays a single black leather men's shoe attempting to exit the gallery space via the skirting boards. Lambie sees this shoe together with a second shoe also attempting escape in Zero Concerto (2015) as the book ends to the entire exhibition. 'I wanted to reference the body and also create an internal space for myself, looking at the imagined space between the two shoes, my two feet,' says Lambie.
Jim Lambie, Don't Fight It, Feel It, 2015. Wooden chair, leather shoe, black paint, handbag straps. 123 x 173 x 80 cm. Image courtesy Roslyn Oxley9 Gallery, SydneyThe internal space appears to be one that Lambie is beginning to explore. The most unsettling work in the show is Blue Monday (2015), a plastic tub filled with blue dyed water, vodka, a rock and a copy of a thriller Lambie found in a charity shop called 'Blue Monday'. The rock holds the book under the water in a somewhat violent manner, perhaps a drowning of words. The piece sits in an awkward nook between the two gallery spaces, as Lambie says, 'That corner felt like a non-space but I wanted to activate it. But I also wanted a deeply private space for myself. I am not sure words can talk about this work.'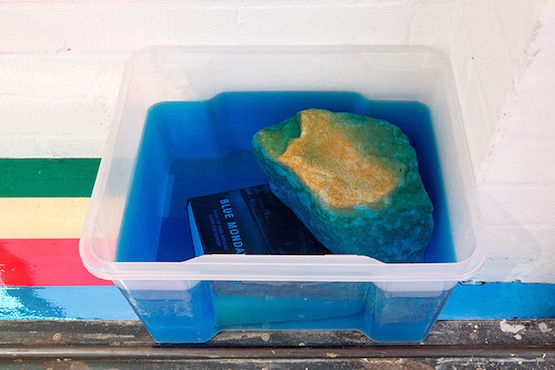 Jim Lambie, Blue Monday, 2015. Water, vodka, food dye, book, stone, plastic box. 26 × 45 × 36cm. Image courtesy Roslyn Oxley9 Gallery, SydneyIt would seem that Lambie's work with The Poetry Club—a spoken-word/music/gallery space Lambie opened in Glasgow three years ago as a piece of 'social sculpture'—is perhaps the key to understanding the subtle direction change in his work. 'There are two text pieces in this show and this is something that I am really happy about because I think in a round about way The Poetry Club has influenced that. Maybe it has also strongly influenced the Blue Monday piece. I think it has made me dig that little bit deeper,' Lambie says. 'As far as I am concerned that is all good news. I certainly don't want to be doing the same thing over and over and over again.'—[O]
Jim Lambie, 'Zero Concerto' is showing at Roslyn Oxley9 Gallery, Sydney, until 12 September 2015