Larys Frogier, curator, critic and art historian is Director of the Rockbund Art Museum (RAM) in Shanghai. He is also the Founder and Chair of HUGO BOSS ASIA ART Award for Emerging Asian Artists.

Since opening in 2010, RAM has forged a unique position within China's burgeoning contemporary art scene. Notably for presenting exhibitions by world renowned Chinese and international artists including Cai Guo-Qiang, Zeng Fanzhi, Duan Jianyu, Paola Pivi
, Ugo Rondinone and Mark Bradford.
Ocula talked to Frogier on the occasion of the 5th anniversary of RAM, looking at what has been achieved and the vision for the future.
Please tell us a bit about the history of RAM: how it was founded and where it sits within the myriad of art institutions in China today.
The Rockbund Art Museum (RAM) was one of the very first private museums to open in Shanghai. It has fully contributed to the cultural rejuvenation of the city, as a high profile art destination in the North Bund area. RAM opened in May 2010 during the World Expo after a stunning, elegant renovation of the original building (The Royal Asiatic Society – Natural History Museum) by architect David Chipperfield. RAM is part of the Rockbund Urban Renaissance development project and now in 2015, around the museum, the Rockbund area hosts other dynamic art organisations like Christies, the ART021 contemporary art fair and private galleries, demonstrating the success of such cultural urban development projects.
As a fully self-funded private museum, RAM had to position itself with very clear vision and guidelines, like curatorial excellence and programming ambitious education-research activities. Its mission is to spread and share values related to the decisive role of contemporary art in the context of the urban mutations in China but also globally. The rapid growth of private Chinese museums, especially in Shanghai, led RAM to focus on the quality of exhibitions we curate, produce and promote. RAM is a boutique museum actively engaged in supporting unique art projects, activating concepts and connecting efficiently with our audience. RAM never buys exhibitions or rents its space for exhibitions curated outside the museum. Our signature is to be fully involved in the (co)conception, (co)production and communication of the projects. This means that each time we invite artists and guest curators, we ask them to conceive unique projects tailored for the museum in the context of Shanghai and China.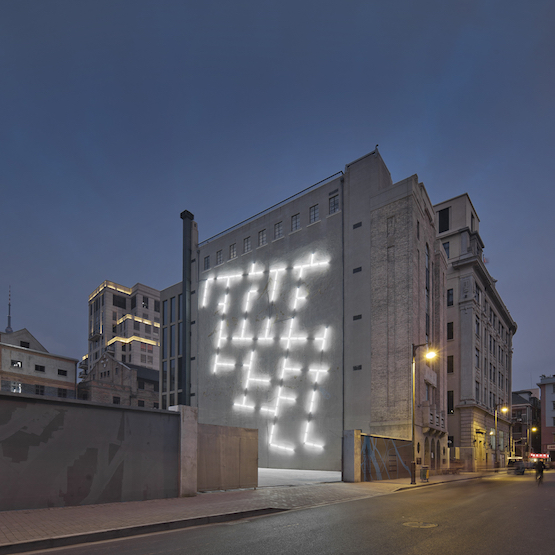 Rockbund Art Museum, Shanghai
2015 marks the fifth anniversary of the museum and the third under your directorship. Describe the journey so far with respect to the greatest challenges and achievements?
The 2010-2011 early years were dedicated to positioning RAM on the forefront of curated projects with acclaimed Chinese artists (Cai Guo-Qiang, Zeng Fanzhi, Zhang Huan) and to launch the successful
Night@RAM
education activities (started in the framework of the group show curated by Hou Hanru
By Day by Night
).
The second wave of RAMs development, starting in 2012, aimed to fully integrate the guidelines for the museum and to implement the platforms dedicated to curated exhibitions, research, education and development programs.
In terms of exhibition programming, we work with international artists who have never exhibited in China and who are willing to conceive special projects for the museum and to work in the specific context of Shanghai (Paola Pivi, Bharti Kher, Ugo Rondinone, Mark Bradford). We also started to explore projects with Chinese and Asian artists like Michael Lin, Hu Xiaoyuan, Duan Jianyu and launched the very successful HUGO BOSS ASIA ART Award dedicated to emerging artists (BIRDHEAD, Hsu Chia Wei, Kwan Sheung Chi, Li Liao, Li Wei, Lee Kit, Hu Xiangqian for the 2013 edition; Guan Xiao, Huang Po-Chih, Moe Satt, Maria Taniguchi, Vandy Rattana, Yang Xinguang for the 2015 edition). The 2015 Chen Zhen solo exhibition is a very special project for RAM as we want to pay tribute to a Shanghainese artist who gained international recognition but deserved better visibility in his native country. We also curate some group shows mixing Chinese and international artists related to contemporary art challenges and topics.
I am particularly proud of how RAM has achieved a curatorial program based on what I would call "constructive paradoxes" combining and activating different if not opposite art projects, from conceptual to more formalist artworks, from anthropological to social topics, from unexpected historical analysis to allegorical displays. Such confrontations not only demonstrate the diversity of contemporary art, but they build a sincere and open vision of the museum from which our audience can experience an on-going process of discovering, learning and debate about contemporary art.
Also, RAM is committed to regular solo exhibitions with female artists, which is not the case in many Chinese museums. Such gender dynamics are not an obsession but rather an important component in the museum's life and an important way of spreading values contributing to the development of diverse art practices in Shanghai and China.
In terms of achievements, RAM has grown its audience 50% every year—a very good sign that the public in Shanghai is engaged with the museum's programming and has a strong appetite for contemporary art. Our rich and successful education program is now tailoring new in-house curated projects related to the exhibitions but also to extended topics such as urbanity, performance art, intra-Asian curatorial connections and social challenges in contemporary China.

Chen Zhen, Purification Room, at Rockbund Art Museum, Shanghai. Image courtesy Rockbund Art Museum
And what lies ahead for RAM?
RAM has quickly matured as a professional museum, but we remain committed to building our reputation in China and internationally: content, content and content is the beating heart of RAM.
With the Hugo Boss Asia Art award, RAM's goal is to fully contribute to building and developing meaningful connections between the Chinese art scene and other intra-Asian areas, especially by supporting emerging curatorial and artistic projects. I am, for example, extremely happy that our senior curator Li Qi will curate the first solo exhibition of the Singaporean artist Heman Chong in China.
I am also concerned that RAM develops more curatorial projects to deeper analyse the current and future development of Chinese contemporary art. This can be achieved if we pay more attention to recent art historical research related to the changes of the art economy, the critical analysis of major collections that have helped to define art history in China, new exhibition trends and practices in China and the change in status and wealth of the artists.
As regards international visibility, RAM will continue to invite different international artists to create groundbreaking projects in Shanghai, but we will also engage in co-operation/co-production of art projects with other museums or foundations in Europe. It is now an important time to develop fresh perspectives of Chinese art and start breaking some misconceptions. We wish to work with international partners so that they understand better how to share international art projects in China instead of just coming and depositing exhibitions in a venue. So co-operation is about sharing information and desires, co-conceiving new curatorial ideas and supporting each other in the production of artworks and exhibitions.
Finally, another important goal for RAM is to conceive and to implement a network with a new generations of art professionals (curators, collectors, researchers) who have a real passion for the development and support for contemporary art in China.
RAM places great emphasis on research and education platforms. How important is the role of museums in building new modes of thinking in China?
Our deputy director Liu Yingjiu and education manager Yan Chan actively conceive the education platform as a fully curated program. As they say, "RAM positions itself as an advocate of contemporary art so must promote art and social practice. Just like its exhibitions, RAM's education and public programs explore and present creativity and critical thinking in different cultural areas, building RAM into a space for learning and discussion that stimulates imagination, values equal participation and transcends disciplines and social boundaries." Many museums in China now offer extensive education programs, so much so that there is almost a plethora in Shanghai. The challenge for RAM is to carefully conceive programs that position the museum at the forefront of critical and theoretical art challenges, but that also continue to bridge links with a larger audience. The education program should not be based on an excessive quantity of activities but rather on a quality program which truly engages our audience.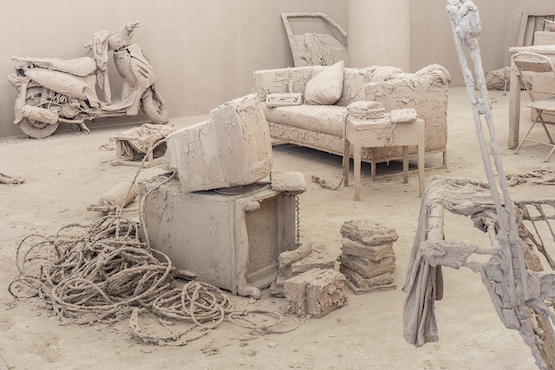 Chen Zhen, Purification Room (detail), 2000-2015. Found objects, clay, 850 x 1100 x 450 cm. Private Collection, Paris. Courtesy GALLERIA CONTINUA, San Gimignano / Beijing / Les Moulins. © Chen Zhen, ADAGP, Paris - SACK, Seoul, 2015. Photo provided by Rockbund Art Museum
And what has been your experience of the audience for contemporary art in China? Does it continue to grow and is there enough curiosity to sustain the multitude of museums and galleries?
There can never be enough curiosity for the arts, so the more the museums are developing their audience, the better it is. Of course the quality of the audience development depends on the way each museum builds its specific relationship to its audience.
The audience of contemporary art museums in China is quite recent but growing very fast in Shanghai, demonstrating a strong appetite for the arts. But beyond primary interest and curiosity, I believe that in the past three years, the Shanghai audience has changed and developed more sophisticated and demanding expectations. For example at RAM, the majority of our audience is Chinese (70%) and it consists largely of the younger generations. Their cultural scope is much greater through an increased access to art exhibitions and cultural events, but also in the way they use social media to access information. It's therefore important that RAM continues to develop a deeper understanding of our audience, how we can network better with them through social media and how we can continue to offer new experiences.
Another challenge is to carefully build new audiences, for example the middle-aged generation. Their education, experience and backgrounds are vastly different to the younger generation so its important to develop new connections with them and ensure they can be fully engaged with the museum's activities.
Another unique aspect of the Shanghai audience is the rapid growth of a new generation of wealth. There is a very interesting link between the transformation of the art market and the transformation of the luxury market. This younger generation no longer want big artists names or big brands with the same products and artworks. They want access to unexpected and unique emotional experiences, and art is a major component of this. So a museum like RAM needs to be a place where people can forge more intimate relationships to art—offering surprising and maybe tough experiences but true and intimate emotional connections.
Reflecting on the flourishing arts scene in China and the proliferation of both private and public museums, has all this development been good for the development of contemporary art in China?
I don't want to be one these people who are always applauding the new generation of museums and regretting the "glorious past experimental years" before the rise of the private museums.
I do believe that the proliferation of museums in Shanghai has contributed considerably to the decisive development of the Shanghai and Chinese art scene. Indeed, each museum in Shanghai has developed a very specific program offering great diversity in content and exhibition formats.
Of course, it is never productive when museums are exclusively related to the art market or when they are only illustrating the tendencies of art. It is always important to take risks. That is the way we are now focused on content, taking artistic and creative risks, building new networks with the art community and the art audience.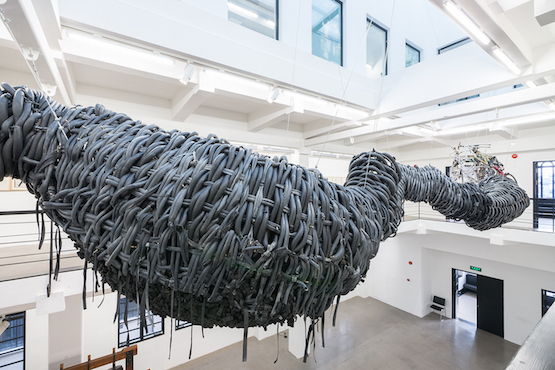 Chen Zhen, Precipitous Parturition, 1999. Metal, inner tubes of bicycles, toy cars, fragments of bicycles, black acrylic paint. Approx. 2000 x 150 cm, variable dimensions. Pinault Collection. Photo provided by Rockbund Art Museum
Turning to the HUGO BOSS ASIA ART Award, 2015 marks the second edition of the award. Please tell us a little about the award and its founding ethos.
HUGO BOSS ASIA ART is a biannual award conceived and curated by Rockbund Art Museum in partnership with HUGO BOSS. The award aims to honour emerging contemporary artists who are in the early stages of their artistic creation and exhibition practices. The award will also include on-going education and research programmes during the course of the exhibition. The award is committed to instigating long-term dialogues about the contemporary art world in Asia by examining the diverse histories and cultures across the region.
HUGO BOSS ASIA ART aims to activate and to question Asia as a site for new challenges to support international contemporary art in an era of global transformation. We believe that the on-going progress of contemporary art in Asia in the era of globalisation depends on our ability to cultivate continuous creative dynamics with respect to otherness. We have designed the HUGO BOSS ASIA ART project to encourage artistic creativity and theoretical research as tools of analysis and inventiveness with regard to new ways of engaging in plural, local and international cross-cultural exchanges.
HUGO BOSS ASIA ART calls for a permanent commitment in favour of powerful experiments with regard to new cultural challenges in Asia, as well as encouraging diversity in aesthetics, thought and culture.
And how was the inaugural edition of the award received?
With its inaugural edition in 2013, the HUGO BOSS ASIA ART has immediately been recognised as the best art award in Asia because of its daring concept, a sincere and deep commitment to an independent jury and with the artists and its rich education and research activities around the project.
The first edition did not hesitate to take some risks with the finalists that were selected, showing a lot of innovative conceptual and performative statements, and I think that was very well received by the art community.
Chen Zhen, Zen Garden (Detail), 2000. Alabaster, iron, plastic plants, wood, sand, small stones, light. 175 x 340 x 300 cm. Courtesy GALLERIA CONTINUA, San Gimignano / Beijing / Les Moulins. Photo provided by Rockbund Art Museum
You have just announced the finalists for the 2015? Please explain the selection process.
The shortlisted artists were selected from a long list of over 30 artists from over ten countries, nominated by a jury comprising a strong mix of independent and institutional members who have a deep knowledge of contemporary art in Asia. The jury is in charge of nominating and selecting the shortlisted artists and the final winner. Their insights into the development of the contemporary art scene in Asia today, and their clear visions of the challenges and opportunities of the future, will stimulate a strong contribution to the evolution of contemporary art in Asia, through the award.
The six shortlisted artists were selected to participate in the upcoming HUGO BOSS ASIA ART group exhibition, conceived and curated by RAM. The exhibition will be shown from 30 October 2015 to 3 January 2016, with newly commissioned artworks to be created and unveiled specifically for the award. The winner of the award will be announced in November, receiving a prize of ¥300,000 to further develop their practice.
Have any changes been made since the first edition of the award?
The second edition of the award returns with a focus on greater China but also encompassing exciting artists from Southeast Asia, highlighting the rich possibilities for cultural exchange and dialogue across the region. Envisioned as an integral part of the award, this edition will also present rich education programmes for the local and international audience. The programme activities will take place at RAM, as well as in the home cities of the shortlisted artists in Southeast Asia, from August 2015 through June 2016. A publication will be produced in 2016 fully documenting the programmes.
What are your hopes for the future of the prize?
From one edition to another, HUGO BOSS ASIA ART will actively contribute to the development of the Asian art scenes, presenting the best of current contemporary art practice from the region.
I hope that RAM might in the future collaborate with another international museum so that future winners of the Hugo Boss Asia Art award could benefit from a solo international exhibition. —[O]