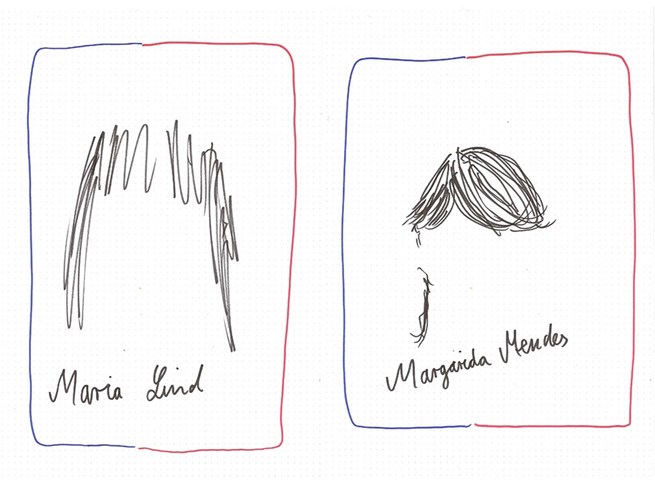 Image: Portraits of Maria Lind and Margarida Mendes by artist Bernd Krauss.
In July 2015 Maria Lind was appointed as the artistic director of the 11th Gwangju Biennale (GB11) which runs from 2 September to 6 November in South Korea. Her curatorial team for the Biennale includes Margarida Mendes as assistant curator, along with Binna Choi (curator), Azar Mahmoudian and Michelle Wong (assistant curators), as well as Mite-Ugro (curatorial associate).
Under the curatorial team's direction, the Biennale's main exhibition poses the question of, 'What does art do?'. The question is raised in an attempt to query the agency of art today, and its relationship to the future. The Biennale also evokes the 'eighth climate', a philosophic notion which refers to a state one might reach using imaginative capacities.
Described as a 'constellation of many moving parts happening over one year', in addition to the main exhibition, the Biennale also includes: 'Monthly Gatherings' (informal gatherings taking place in Gwangju and focusing on art and the city); the ongoing 'Infra-School' (a program of group discussions and seminars by GB11 artists and curators aimed at fostering a connection between the Biennale and educational institutions); and a 'Forum' (at which the Biennale Fellows—art organisations whose work is considered important to the art ecology—artists, and other cultural practitioners are invited to come together to share their work and experiences).
In this Ocula Conversation, Srinivas Aditya Mopidevi speaks to Maria Lind and Margarida Mendes about the conceptual framework of the exhibition, the Biennale 'Forum' and other Biennale projects.
Natascha Sadr Haghighian, pssst Leopard (2013-ongoing). 2A7+, Lego, mp3 players, cables, headphones, 445 x 376 x 772 cm.
SAM

The 11th Gwangju Biennale, 2016 is staged as the 'Eighth Climate', in which you are drawing reference to ideas by 12th century Persian mystic and philosopher Sohravardi and the 20th century French philosopher Henri Corbin. Can you speak more about this concept of the 'Eighth Climate'. To what extent will it relate to climate change?

MLThe 'Eighth Climate' is a title rather than a theme, a title which indicates an inter-world which has a number of similarities with how contemporary art is functioning. After the philosophers Sohravardi and Henri Corbin, we may understand their proposition of the 'Eighth Climate' as a space of potentiality that establishes real imaginative knowledge and function, while escaping rationalism as we know it. The 'Eighth Climate' does not refer directly to climate change. However, it is conscious of the utmost relevance of this topic today, and many of the artists we will show share such concerns throughout their practice.

MMTake for example Natascha Sadr Haghighian and Ashkan Sepahvand's installation Carbon Theater, which will be located at the GB11 outdoor amphitheater, where the color coding of the space mirrors the molecular links of the carbon compounds. In this empty auditorium whoever passes through is already complicit with the 'carbon democracies' narrated in the audio file that one can download and listen to at this location. By doing so, we address through several angles the problems raised by climate change: the difficulty in representing its totality as a planetary phenomenon, and our challenge to accept our complicity with it and reach pragmatic consensus in how to manage its consequences.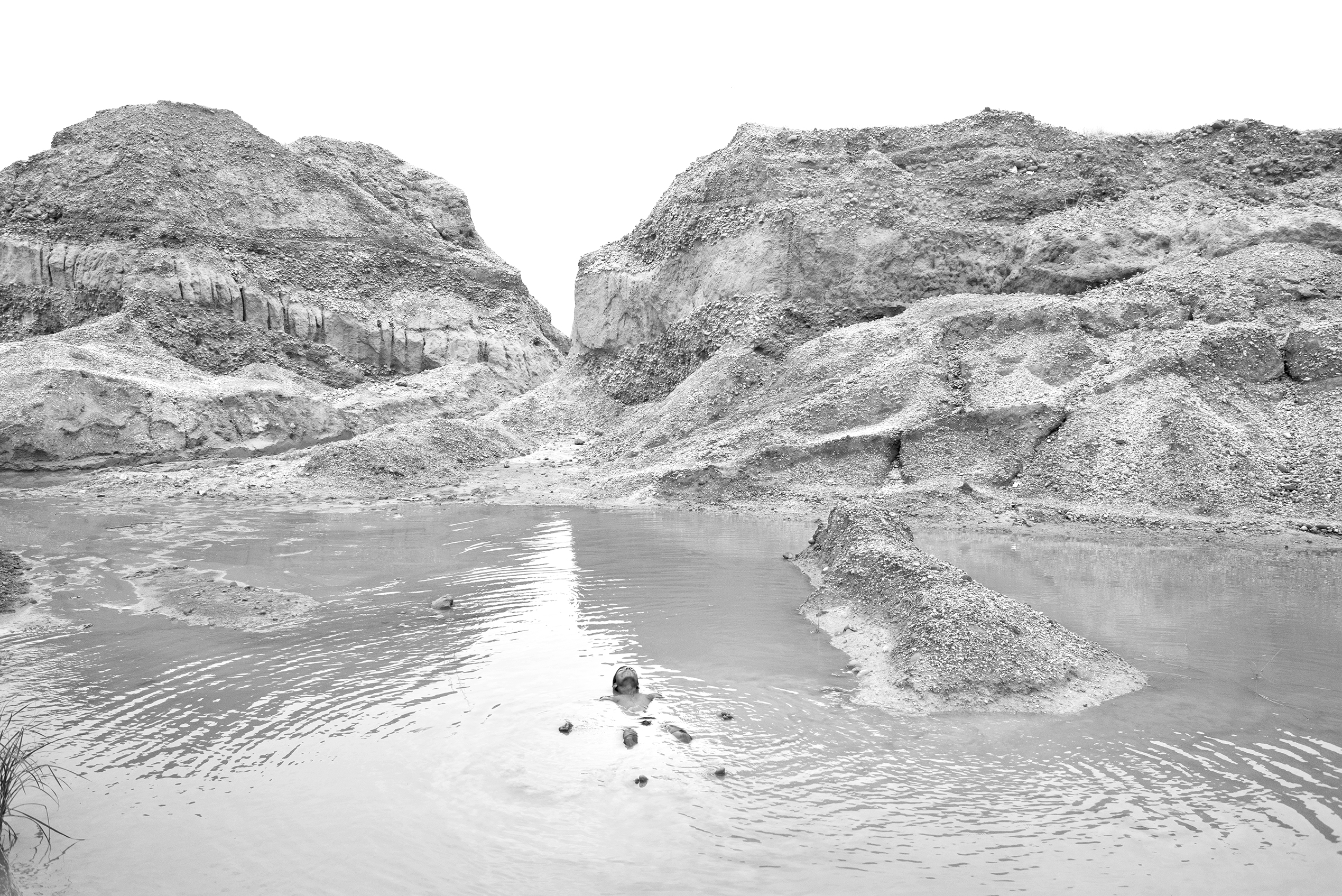 Munem Wasif, Land of Undefined Territory (2014–2015). Archival Pigment print, 8" x 12" (9" x 13" framed). Courtesy of the artist and Project 88, Mumbai.
SAM

'What does art do?' is the central question which this edition of the Biennale poses. This framework references the need to revive the role of art beyond its relationship to infrastructure. How has the GB11 team designed a constellation to address this concern?

MLTake for example the black and white photographic series of Munem [Wasif], showing a surreal barren rocky landscape with traces of human activity and occasionally even a human, which comes out of a project co-organised by Dhaka based art collective Britto [Arts Trust] on the border between Bangladesh and India. The series speaks about the right to the land, to the resources above and below ground and how they are distributed. Or Apolonija Šušteršič's participatory project with the residents of the Duam-dong area in Gwangju, based on numerous meetings and workshops about the needs of the neighbourhood since early this year, resulting in a 'performative master plan' to be used in the local community centre. Or the lavish tapestry by Otobong Nkanga which refers to natural resources in terms of mining; in radically different ways all of them relate to one of the urgencies of our time: what goes on above and below the ground.

The works in GB11 do things in various ways, which is the point: contemporary art is radically heterogeneous, multifaceted, fragmented. As a form of understanding which helps us grapple with existence in all its variety, it can include everything else. Each work does it in its own way, whether concretely, abstractly, poetically, critically, associatively, based on research et cetera. In doing so it also says something about the future, whether the artists are doing it consciously or not. This means that GB11 will be kaleidoscopic.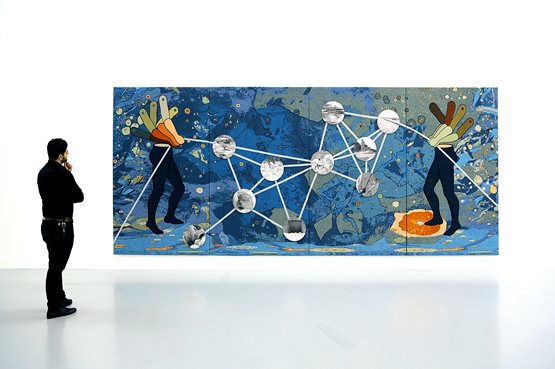 Otobong Nkanga, The Weight of Scars (2015). Woven Textile and photography/Yarns - viscose bast, mohair, polyester, bio cotton, linen, acrylic and inkjet print on 10 laser cut forex plates. 4 tapestries 253 x 153 cm each. Courtesy of the Artist. Photograph: MUHKA.
SAM

Could you tell us more about the research approaches that you adopted during the process of putting the Biennale together?

MLLuckily, I could put together a curatorial team with Binna Choi as a curator and Azar Mahmoudian, Margarida Mendes and Michelle Wong as assistant curators. Everybody brings special knowledge and competence and yet sharing the experience of working with small structures, with self-organisation. Eventually, the Gwangju-based art collective Mite-Ugro became our local curatorial associates. The relatively short time for preparation—less than a year—has affected the process in terms of what has been possible. For example, shorter residencies for artists have been organised but longer ones became impossible.

MMA curatorial and research process were crucial to GB11 that privileges a methodology over a topical approach. In September 2015 a dozen artists joined the curatorial team for the first research trip to Gwangju and Seoul, all being invited to make new work. To these invitations, and alongside several research trips across the world, and spending a significant amount of time in Gwangju itself, we added further artists to the list and started noticing shared concerns and methodologies. Furthermore, we debated among our team what was common in their concerns and practice and developed what we call 'strands', gathering artists by their affinities. It was a very intuitive yet necessary process, and rather organic. This is how we believe this particular project should grow, with acute sensibility for what is happening with our surroundings. 'Above and below the ground' as mentioned above, is by the way one of the 'strands' within GB11.
Ane Hjort Guttu/Daisuke Kosugi, The Lost Dreams of Naoki Hayakawa (2016). 16mm scanned to HD video, 25 minutes. Photo: Marte Vold.
SAM

The Biennale 'Forum' brings together around 100 small and medium scale organisations from different parts of the world, institutions that have been pushing the boundaries of artistic and curatorial practice. Can you elaborate more on the importance of this forum in relation to the larger framework of the Biennale?

MLThe Biennale fellows are organisations which often function as the research and development department of the art world, generating new ideas, giving opportunities to emerging artists and shaping new curatorial and educational methods. Yet they tend to be under the radar of both the mainstream art scene and the media. Concretely, being a Biennale 'fellow' means that the organisations go on doing the great work they normally do, without GB11 being involved in their activities. By connecting the dots, the aim is to manifest a critical mass and to underline its value.

The 'Forum', entitled 'To all the Contributing Factors', is a great opportunity for such an encounter. Taking place on the opening days of GB11, from 2 to 4 September, this forum curated by myself and Binna Choi will have contributions by Han Kang, author of The Vegetarian (2007); Dr Andrea Phillips, art theorist and PARSE Professor of Art and Head of Research at Valand Academy, University of Gothenburg; and Shin Ji Young, researcher and author of Minority Commune. From lectures to working groups or mountain hiking at Mudeungsan Mountain National Park, this forum will be a special moment to debate questions of value, continuity, and scale, and imagining acts in common.
Curated Walk - Monthly Gathering for GB11, May 2016.
SAM

Can you expand a little on the curatorial association with the Gwangju-based art collective Mite-Ugro, in engaging with the local context of Gwangju?

MMWhen we first started working on this edition of GB11 we were asked to choose a local curator to collaborate with. After our first research trip in September, it was clear that Mite-Ugro collective is one of the most exciting art places in Gwangju, whose program and curatorial approach we share so many affinities with. Opting for a collective, rather than an individual was a conscious choice, especially as most of our curatorial team comes from a self-organised background and we share methodologies and similar concerns to Mite-Ugro.

Developing the 'Monthly Gatherings' program together with them, we expanded their book collection with art and theory publications and started group readings from it, as well as group critique ('the artwork in focus'), curated walks, and artist film screenings. 'Monthly Gatherings' are a series of informal gatherings in Gwangju held from January through to November 2016 which aim to nurture this connection and engage with the local community actively.

The 'Infra-School' program is another good opportunity to engage with educational platforms, art students and the broader Gwangju audience. But not only, many of the activities we develop with our partners—such as lectures and artist talks—occur also in Seoul and online. Places such as Chosun University, the Gwangju International Center, and RAT school of Art became regular platforms to host our visiting artists as well as the curatorial team. It is about using what is already there, connecting the dots.
Hito Steyerl, Factory of the Sun (2015). Single channel HD video, environment, 23 minutes. Exhibition view: German Pavilion, Venice Biennale 2015. Image courtesy of the artist and Andrew Kreps Gallery, New York. Photo: Manuel Reinartz.
SAM

Finally, what artist projects are you specifically excited about seeing realised at the Biennale?

MMIt is difficult to select among so many interesting projects, but I must confess that I am particularly excited to see how the 'Nokdu Bookshop for the living and the dead' by Dora García will come to life. And I am also very curious to see the local reception of Hito Steyerl's Factory of the Sun (2015), and Gunilla Klingberg's installation at Uijae Museum in the Mudeungsan National Park area, Gwangju.

ML: I am excited about how the gallery spaces of the exhibition, with their different atmospheres, or climates, will come together. Among the 28 commissions, I am curious about Bernd Krauss in the Hyundai Mudeung Museum of Contemporary Art and how he will inhabit the space with his concern about creativity ranging from the professional to the amateur, using found material and changing the installation during his six week stay. And Ane Hjort Guttu's new film about an overworked art director of an advertisement firm from Japan who starts to hallucinate. An existing work which I am looking forward to seeing installed is Siren Eun Young Jung's film Act of Affect (2013) about the Korean yeosung gukgeuk theatre tradition in which to this day women play all the roles on stage. —[O]