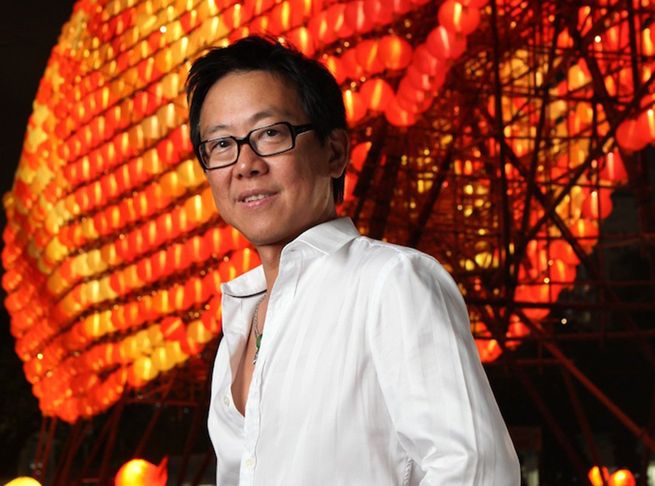 William Lim is an award-winning architect and highly regarded artist; and over the last eight years he has amassed one of the most interesting collections of contemporary art in Hong Kong.
Lim is also Co-Chairman of Para/Site; a member of the board of the Asia Art Archive and serves on the Tate's Asia Pacific Acquisition Committee.
Para/Site has always taken a fresh look at work and continues to push ahead of the local art scene to bring artists and artworks so important elsewhere and combine them with little known artists in this incredibly accessible and intimate space in the centre of Hong Kong.
AD

How did you first become interested in building an art collection?

WLI always liked art and started buying art from a very young age. On my first trip to London I bought art from the vendors who sell their artwork next to Hyde Park. This interest continued during university, when I started buying art from art students.

Though I guess it has always been with me, in the beginning I was really just buying art on instinct, but as I learnt and saw more, I started focusing more on building a collection. I got to a point when I looked around and realised I had all of these random things and I realised some of it was junk. I wanted to focus on putting together a collection of strong works.
AD

How do you focus your collection?

WLMy collection has a very broad base, but now I would like to focus more on Hong Kong artists and on collecting the best works by artists whom I already have in my collection. I bought artists like Ho Sin Tung while she was in art school, now I concentrate on her more significant work. I like to track the career of an artist, and always want to know what they are doing.
AD

Ho Sin Tung, Lee Kit, Tozer Pak, Tang Kwok Hin, Kacey Wong, Tsang Kin-Wah are just some of the Hong Kong artists who you support. What initially inspired you to support contemporary Hong Kong artists?

WLIt was Para/Site who initially really triggered my interest in Hong Kong artists. Para/Site has always taken a fresh look at work and continues to push ahead of the local art scene to bring artists and artworks so important elsewhere and combine them with little known artists in this incredibly accessible and intimate space in the centre of Hong Kong.

I first became involved with Para/Site about six years ago through collecting. I was initially more interested in Mainland Chinese art and I called Para/Site to ask about some limited edition prints they had. Tobias Berger answered the phone and said to come in. I went in and they were hanging a show by Hong Kong artists. It was the first exhibition of Hong Kong artists I had seen. From that point on I started to learn and want to know more about the art being produced in Hong Kong.
AD

You have a recognised career as an artist in your own right. Your 'Bamboo Curtain' is currently installed at the Asia Society in Hong Kong.

WLBeing an artist is a great way for me to experiment with my profession as an architect. When clients want something with more personality, I draw on my artistic practice and so being an artist helps me as an architect. However, at the start I really felt I had to justify myself as an artist because I am not specifically trained as an artist.

I struggled with reconciling my career as an artist with that of being an architect. I talked to a lot of people about it, including Hans-Ulrich Obrist, and he advised: "Don't try to separate the two, try to make them one." There is more slippage now between disciplines. There is acceptance that you can be a film director, an architect, a designer, but also be an artist too. At the start I felt unsure about this, but now less so.
AD

Your collection has a distinctly architectural feel to it, for example the Lee Bull work you have. How does your architectural background affect your collection?

WLMy architectural background has a lot to do with how I think and react to work. Architectural training teaches you to think about space and the quality of space, and the position of an object within it, so I am interested in that.

As an architect I am trained to be conceptual, because the concept of an architectural project is very important so it is easy to accept an artist that has a strong or clear concept. Perhaps that's why I am particularly attracted to conceptual art, like the works of Tozer Pak and Tsang Kin-Wa. I suppose in this way, I view art as process rather than an end product.
AD

As an architect, particularly an architect in Hong Kong, you will be well aware of how space influences how we live. How do you think it has shaped the art scene?

WLSpace has a great deal to do with how the art scene in Hong Kong has developed. It affects both artists and collectors. For artists, the lack of space has both a physical and conceptual effect. For some artists, studio space is either small or non-existent, (for example at the University, art students don't have a dedicated space and they have to remove their work to allow the space to be used by other students) so work produced in Hong Kong has tended to be small and portable.

Hong Kong art sometimes seems to me to be more personally intimate and thoughtful. Perhaps this too is a reflection of it being conceived in an environment constricted by space. With less room for mistakes artists have had to be more thoughtful and careful about the work they make. You can often also see themes of space and a person's relationship to it being considered in the art produced in Hong Kong.

On a collecting level the issue of space influences what collectors buy because they are constrained by where they can put the artwork and Hong Kong collectors have tended to look for art they can put in their homes.
AD

Are Hong Kong artists becoming more engaged with the international art scene?

WLI always think that the best way to test and to promote Hong Kong artists is to put their work on an international platform. Some artists, like Tozer Pak, Tsang Kin-Wah, Lee Kit, Kacey Wong, etc., are already present in some international shows. Tsang Kin-Wah exhibited work at the Lyon Biennale 2009, and in the Mori Art Museum. Lee Kit will represent Hong Kong in Venice. Tate Modern has Tozer's work in its collection.

However, Hong Kong art is a relatively new area for international collectors. Now Basel is helping a lot by bringing international collectors and galleries to Hong Kong. This year during Basel Hong Kong, my own collection, which includes many Hong Kong artists, will be open for international collectors to view it. Last year, the collection was shown together with the Dutch collection G&W (Albret Groot) and the DSM Art Collection in Holland. Now international collectors can see it in Hong Kong.

I believe in a few years' time, particularly with the M+ collection, the Hong Kong art scene will develop very fast and become even more international.
AD

The Art Basel Hong Kong art fair is in May. Where should overseas people go to see Hong Kong art outside the fair?

WLOutside of Basel there will be many opportunities to see Hong Kong art. There is of course no Museum yet in Hong Kong, but M+ will show Tam Wai Ping's work as part of the inflatable sculpture exhibition they will have on.

It will be very important to see local galleries, for example Grotto, Gallery Exit and Para/Site who will all be putting on exhibitions of local artists. I will be showing tours of the collection at my studio space on Wong Chuck Hung, and here at my offices we will have an exhibition of Nadim Abbas' work.
AD

Name five Hong Kong artists whose work you have recently purchased.

WLHo Sin Tung, Trevor Yeung, Morgan Wong, Roy Ng, and Kong Chung Hei. —[O]