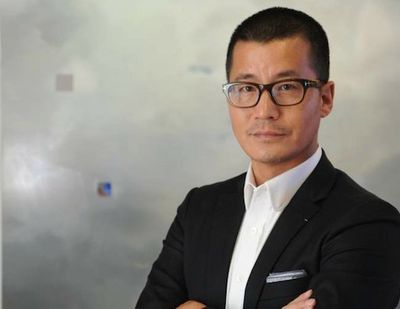 The last decade has seen an extraordinary interest in the art of China, yet Hong Kong artists have been significantly overlooked in this bubbling and frothing phenomena.
It is timely therefore that Ai Weiwei, arguably the most well-known of the Chinese artists, has chosen to curate an exhibition in Hong Kong featuring only Hong Kong artists; and that he has done so by asking each artist to produce a work using a frame designed specifically by him for the exhibition. The exhibition is entitled Framed: Ai Weiwei and Hong Kong Artists, and its being held at Duddell's in Central, Hong Kong.
The title of the exhibition surely references Ai Weiwei's own fraught relationship with Chinese authorities, but also most obviously the frame he has provided to each artist and asked them to respond to. Typical of Ai Weiwei, the frame is not ordinary. Its cross-section would reveal an outline of China's border - the border which Hong Kong faces - thereby evoking the peripheral nature of Hong Kong's position to the Mainland. The thirteen works in the exhibition by some of Hong Kong's leading artists, including Frog King Kwok, Nadim Abbas and Map Office, each provide a considered response to Ai Weiwei's curatorial challenge; and in doing so they present an exhibition that emphasises how Hong Kong art has every reason to sit, not in some artistic island ghetto, but at the centre of any global discussion on art.
William Zhao is the exhibition organizer for Framed. A friend of Ai Weiwei's, he discusses in this interview how the exhibition came about and why it is so interesting. Born in China, Zhao obtained his MBA in France, and he worked there for 11 years in the finance sector, before returning to Hong Kong in 2003 and moving full-time into the arts. While in France, Zhao became active in curating art exhibitions, advising the French Government Commission in charge of the Joint France-China Years 2001-2002 and the president of the Pompidou Centre, Jeans Jacques Aillagon, on the exhibition Alors, Chine. Following his return to Asia, Zhao devoted himself to advising collectors and writing on contemporary Chinese art. His writing regularly appears in publications such as Modern Weekly, Bazaar Art (China edition), and South China Morning Post. Zhou has also served as Vice Chairman-Asia of the Association of Guimet Museum (Paris), as a member of the Board of Directors of the Sovereign Art Foundation, Hong Kong, and Guest Creative Director for Bazaar Art. In a curatorial capacity, Zhao has curated a number of major exhibitions of Chinese artists, including most recently solo exhibitions for Liu Weijian, Zhang Huan, Zhan Wang, and Sun Xun.
AD

How did you get involved in art?

WZBefore starting I did my MBA in Paris and then I did banking for around 10 years. I moved back to Hong Kong about 10 years ago and I started writing as an art critic. When I was at school, I studied painting.
AD

What type of painting?

WZOil painting and old Chinese painting. I was interested to take this onto a professional level and I wanted to continue studying art after I finished school, but my parents stopped me. At that time — and perhaps there is still that thinking today — art was not seen as a very serious subject — and I don't think that is only among Chinese families, I think many parents still don't view art as a possible professional career. So when I was 17 I applied to art school and I was accepted, but my parents stopped me and said it was time to do some serious work as it would otherwise be a tough life for me. It was seen as something that should remain a hobby. So I went back to university and studied finance, to be a banker and have a traditional life.
AD

But you kept your passion for art, so you kept looking at, and studying art in your own time?

WZYes, I kept on looking and studying. My first job was in investment banking, but with my first salary payment, I bought artwork. It was more than a hobby. It really was my passion.
AD

Can you remember that first work?

WZYes. It was about twenty years ago that I bought that work. It was a small drawing on paper by Picasso.
AD

So at what stage did you move from investment banking to art?

WZSo, when I came back to Hong Kong I stopped investment banking and I started writing articles for different newspapers — for Chinese papers and then also for Bazaar Art. I am now the art director for Bazaar Art and also I write for SCMP.

And after a few years of writing, I started to organise exhibitions. I organised an exhibition for Louis Vuitton. I started with a small show for them and then I organised their museum show at the National Museum of Beijing and so on.
AD

How then did you become involved in this exhibition at Duddell's?

WZWell Duddell's is a place a few friends wanted to create because we shared a love of art. We wanted to build something in Hong Kong that would support artists. Central has almost no commercial space for art. So we wanted to create a small place where we could share our passion for art. Create a place with ambience and that was different. It is a place where people can go to have lunch or coffee, but see something interesting.
AD

It's very much about bringing the art to where the people are, isn't it?

WZYes. This is not a commercial gallery space. Duddell's does not sell the art that is shown here. We wanted to allow art to be shown here to promote it and so that we could bring something interesting into the city and people could access and discover it. So the artists we show don't have to be commercially successful. We can and try to support young artists.
AD

The decision to have Ai Weiwei curate the exhibition then was really about using his success as a way to draw people to look at the lesser-known artists who are actually in the exhibition?

WZThat is part of the reason. Ai Weiwei is a close friend, and our friendship goes back many years. People either love Ai Weiwei or they are critical. We really wanted to share the things we love, the things we find interesting. Weiwei supported us from the very beginning. When we fist opened the space in May during Art Basel, we asked him to do a show at that time. However, there wasn't enough time, but we kept on talking to him. We asked him to curate a show of really important European artists — those who had influenced his work. However, we eventually decided against this, but we kept on talking. Then we started thinking about how Hong Kong is on the border of China and the Hong Kong artists are also on the periphery of this huge Chinese art market. The Chinese artists receive so much attention, but the Hong Kong artists don't receive it. We wanted to do something to change that. And Ai Weiwei thought a curated show of Hong Kong artists was an excellent idea. But Ai Weiwei didn't know the Hong Kong artists, so we started to show him works and introduce him to artists and when we travelled to Beijing we took works and catalogues.

We spent about two or three months choosing the artists with Ai Weiwei that should be in this exhibition.
AD

However, this exhibition is not just about Ai Weiwei selecting artists to be in a show?

WZNo. After a few months Weiwei told us "I can just put the artwork on the wall but I cannot come to Hong Kong for political reasons, it will be a shame because the show will not be that interesting just to have my name to the show. I think it will be so much more interesting if we create an exhibition that involves artworks that have come out of a dialogue between myself and the artists.

And Ai Weiwei came up with this idea of providing a frame for the artists to work with. He created 20 frames of exactly the same dimensions, but what is particularly interesting about these frames is that if you were to cut them and look at the cross-section of the frame you would see that its follows the topography of the border of China. And I think it is rather a romantic idea, and one that the artists then responded to. There is really a lot of soul put into this exhibition.
AD

Perhaps we can discuss specifically how some of the artists responded to Ai Weiwei's frame?

WZIt was very interesting. Some of the artists did not want to play politics with respect to the map of China. There was quite violent dialogue, and when you look at the different works in the exhibition, they very much reflect the differing responses.

The actual works demonstrate the different approaches to Ai Weiwei's frame. Ho Sin Tung, for example felt that none of her work could be framed by someone else, so she choose to do a portrait of Ai Weiwei and let him frame himself. The work is called, Ailiens. It is a very really small portrait but it has a story.

Kum Chi-Keung works with birdcages. This is a particularly beautiful work. The artist created tiny birdcages - very evocative of people in Hong Kong and the way we live in a confined space - and the artist placed them together, and in doing so they create a map and also the appearance of hands opening.

Tsang Kin Wah — did a wall paper work, and as you know of course he works with the lotus flower — which is closely associated with Buddhism, but if you look at the works closely you will see that the flower patterns are created from words associated with pornography. This work takes up the entire wall and Ai Wei Wei's frame is placed in the middle of it.
AD

I was particularly interested in the Map Office work upstairs. Perhaps you can tell me about that work?

WZMap Office has known Ai Weiwei well for a long time. And they have been exploring the concept of an island — which of course Hong Kong is — so they made an island using Ai Weiwei's head as the topography of the work.
AD

And the work by Nadim Abbas?

WZIn the beginning Nadim wasn't that interested in the exhibition, but after being involved in discussions regarding the work he started to get more interested and he wanted to do a work that responded to Ai Weiwei politically. He created a very political work that comments on the relationship between Hong Kong and China. An earlier version of these photographs was shown in a group exhibition responding to Ai Weiwei's much publicized incarceration in 2011. He has used photographs from the entrance signage to a local PRC ministry office. From these it was possible to spell out the titles of two well-known exhibitions by Ai Weiwei. Nadim Abbas however made some revisions for this exhibition — he blanked out some words - he wanted the work to be more oblique and for the reader to have to fill out the blanks.
AD

So, in terms of the physical placement of works - the decision regarding which works would be hung together and so on — how were these decisions made?

WZThese decisions were made by Ai Weiwei. He sent his team manager here and they used videos and photos. He really cared about the lighting for example. We spent a lot of time getting the lighting right with Ai Weiwei on the phone.
AD

What's the next exhibition?

WZWell we are working on that at the moment. Every year we will do two or three. This show will be on until February. After that we will start thinking about the show that will be on during May — which is obviously an important time for Hong Kong given Art Basel. — [O]