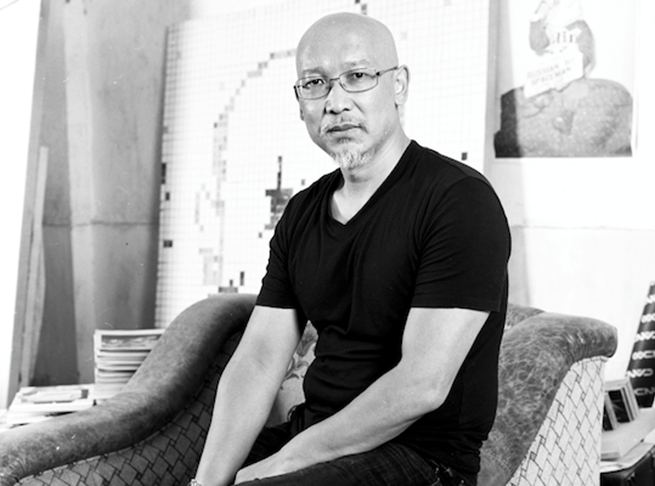 On the occasion of Zhang Enli's current project at the Institute of Contemporary Art in London (showing to 22 December 2013), in which the artist produced a space painting within the ICA Theatre, Ocula correspondent Stephanie Bailey caught up with Zhang Enli to ask a few questions about his practice as an artist using the ICA project as a starting point.
I wanted to somehow use the ICA project, Space Painting, as a way to talk first about your evolution as a painter and an artist. It has been documented that your work underwent a shift around 2000, when you moved from painting bolder, caricature work to focusing on delicate studies of mundane, quotidian objects. In an interview with Richard Vine of Art in America, you explained that this change – this desire for 'subtlety and quiet' – came from maturity. In this light, can you talk about how you moved into 'space paintings' and an interest in space in general?
I am a painter in the traditional sense. Before 2000, I mainly painted people and I had also done a lot of painting on different materials such as geographic balls, darts and so on. I then began to paint the objects around me. When I began painting objects, it was a change of thinking; I found a new way for my career as artist.
In terms of my space paintings, I am influenced by the ancient form of Chinese painting that paints directly on to walls, and also by certain parts of western culture. I focus on the relationship between material and wall; space itself is structured, but people zoom around it. In 2007, I completed a project in Antwerp, which became the first space painting. In addition, I have since produced space paintings at The Eighth Gwanju Biennale, The 6th Curitiba Biennial, Minsheng Art Museum and at the Kochi-Muziris Biennale.
Could you talk about the project you did at the Kochi-Muziris Biennale? The spaces used in this biennale were incredible, and I wanted to know how much the context of the locality inspired and influenced your approach to producing work for this biennale in particular...
Since the Kochis-Muziris Biennale in India, my space paintings have become non specific colours and objects. The colours are more abstract. For the Biennale, I used typical Indian colours like bordeaux (mulberry) and navy blue: these are very special colours in India and for me. For me, memory becomes a tool for art, in particular, the expression expressed in memory.
Your work somehow mediates or balances influences from east and west, while also adopting principles of perception particular to both cultures – European and Asian. Could you talk a little bit about how your influences and ideas have developed as your career has evolved? Have there been artists, theories or movements that have remained key points of inspiration for you, or have you seen major changes in terms of how you view and practice your art?
I try to find interesting things from both the east and the west, however I do not draw a line in terms of which one is most important. Aside from ancient Chinese Painting, the period before the Renaissance and during the Renaissance, as well as the Impressionists, in particular Manet, and also Francis Bacon, have all been a big influence for me.
It is said that you always paint with artificial light in a studio located in Moganshan Road art district, an industrial (and artistic/creative) compound in Shanghai. What made you choose to work with artificial light?
Light is extremely important in my paintings. I always choose to complete my paintings in the same condition using artificial light. I like to use light colours – and in a very simple way – to finish my paintings, and always paint in this good light condition in order to finish the painting in they I want. If I were to paint in natural light, the light would change throughout the day, affecting my work. Consequently, the colours in the painting would be much more different.
In many ways, your work was a rejection of some of the more popular movements and styles that were coming out of China in the late eighties/nineties – I wonder how and where you position yourself within a certain 'history' of 'Chinese art' in this regard...
Art has no boundaries and is a personal expression. As an artist, I always use my own personal feeling or personal view to express myself. Of course, I am influenced by outside elements, but you don't just take it and use it yourself. You take it and digest it and then what you create becomes something different.
Some of your biographies describe you as a 'professional' artist. How do you see the position or role of the 'professional' artist in the 21st Century? I thought you might shed some light – or even provide some advice for younger artists – on how an artist might operate within the art market today, from your experience and perspective.
Being a professional artist provides me with a certain degree of freedom. Through my paintings I am able to express my thinking and myself. In the past, I used to teach at a university, but I didn't want different elements, like teaching and the art market, to affect my practice as an artist. In terms of advice, it is hard to give advice. But I would say: try, try, try and try.
Zhang Enli was in conversation with Stephanie Bailey