Feature
Armory Week Lowdown: Shows to See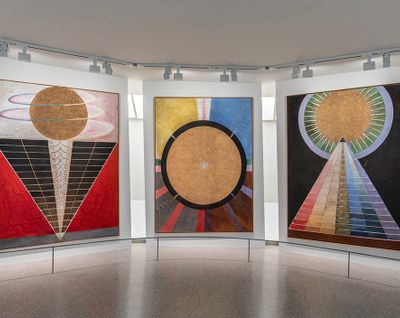 Exhibition view: Hilma af Klint: Paintings for the Future, Solomon R. Guggenheim Museum, New York (12 October 2018–23 April 2019). Courtesy Solomon R. Guggenheim Museum. Photo: David Heald.
The Armory Show opens to the public on 7 March (running to 10 March 2019)—just about a week after the fair relocated a portion of its 194 exhibitors due to structural issues found in Pier 92, forcing its sister fair Volta to cancel its 2019 show so that Armory could occupy its Pier 90 venue. Despite the upheaval, New York's art week is going full steam ahead with fairs galore, including ADAA's Art Show at the Park Avenue Armory (28 February–3 March 2019), Independent New York at Spring Studios (8–10 March 2019), and Spring/Break at the former embassies of Finland and Liberia, to name a few. With an abundance of things to see, here is a list of noteworthy shows on view in New York.
Kiki Smith, Wave (2016). Bronze. 176.5 x 309.9 cm. © Kiki Smith. Courtesy Pace Gallery.
Kiki Smith: Murmur
Pace Gallery, 537 West 24th Street
1–30 March 2019
Kiki Smith was born in Nuremberg, Germany, and the influence of German Expressionism is evident in her handling of form, material, and affect. Drawing from the human figure and the natural world for inspiration, Smith channels deep primordial and celestial forces that enrich her sculptures with inner life, borrowing generously from fantasy, folklore, and fairy tales to deconstruct myths and generate new narrative possibilities. The archetypal wild woman within a resurrection/birth story is a common Smith trope, and perfectly underscores the generative dualities and themes of animal/human, spirit/consciousness, and life/death that are present in her work. Rapture (2001), for instance, depicts a life-size bronze sculpture of a woman stepping out of the belly of a recumbent wolf.
Murmur is Smith's eighth solo show with Pace since she joined their roster in 1994, and includes about 20 new works made over the past three years. The exhibition builds on her multidisciplinary practice, and expresses her ability to scale both the intimate and monumental. Etchings, cyanotypes, contact prints, and sculptures in bronze, aluminium, and silver are on view, including Wave (2016), a large bronze sculpture covered in a dark patina evoking the mysterious power of the ocean. Also included is a nearly seven-foot-tall sculpture of a woman's visage enveloped by occult symbols. Smith is having a prolific year; a retrospective titled Procession, originally organised by Haus der Kunst, will be presented at the Sara Hilden Art Museum in Tampere, Finland, between 9 February and 12 May 2019, followed by the Belvedere Museum in Vienna between 7 June and 15 September 2019. In total, Smith has been the subject of over 25 museum exhibitions and participated in five Venice Biennales, including the 57th edition in 2017. In 2006, she was recognised in 'TIME 100: The People Who Shape Our World'.
Alice Neel, Joe Gould (1933) (detail). © The Estate of Alice Neel. Courtesy The Estate of Alice Neel and David Zwirner.
Alice Neel: Freedom
David Zwirner, 537 West 20th Street
26 February–13 April 2019
Freedom presents paintings and works on paper by one of the most thrilling and iconoclastic American figurative painters of the 20th century: Alice Neel. Born in Pennsylvania in 1900, Neel's life had an unconventional streak from the start. She enrolled at the Philadelphia School of Design for Women where she was drawn to realism and figurative painting. Graduating in 1925, she wed the affluent Cuban painter, Carlos Enriquez, and moved to Havana for a period, where she was embraced by the avantgarde circles of writers, artists, and musicians, and produced paintings not only of her peers, but of the marginalised. The 1926 oil on canvas Beggars, Havana, Cuba, for instance, depicts a hunched elderly woman sat on the edge of a bench next to a younger man in a suit.
The death of her first child soon after the couple's return to New York sent Neel into an emotional spiral. She suffered a massive nervous breakdown and was hospitalised in an asylum after her husband left her, taking their second child with him to Cuba. Paintings around this period exhibit dark, expressionistic tones and a deep, psychological charge that indicate the internal states of both the artist and her sitters. Degenerate Madonna (1930) shows a woman sat cross-legged and dressed in black, her saggy breasts in full view, holding a child with a grey face and minimalist features in her lap; while Childbirth (1939) consists of a woman lying in bed, dark bags under her eyes and her plump belly folded over a white sheet. Both paintings reflect Neel's abiding interest in non-idealised representations—not only of the subjects that interested her, such as writer Joe Gould, but also of womanhood, which strikes a discernible contrast with the history of art and the male-driven notions of feminine beauty that define it. Organised by Ginny Neel of the Estate of Alice Neel, the exhibition also reveals the arc of Neel's work, which by the 1960s had started to gather popular traction. When she died at the age of 84 in New York, she was a celebrated artist and feminist icon.
Otobong Nkanga, The Weight of Scars (2015). Exhibition view: To Dig a Hole That Collapses Again, MCA Chicago (31 March–2 September 2018). Courtesy © MCA Chicago. Photo: Nathan Keay.
Perilous Bodies
Ford Foundation Gallery, 320 East 43rd Street
5 March–11 May 2019
The Ford Foundation Center for Social Justice, which reopened in Manhattan in November 2018 after a two-year renovation, unveils a brand new 2,000-square-foot gallery to support artistic projects that engender social change. A trilogy of exhibitions curated by Jaishri Abichandani and Natasha Becker around the theme of utopian imagination are planned for the inaugural year. Abichandani, an artist herself, has been involved in grassroots activism since the 1990s, and has curated several noteworthy exhibitions of South Asian diasporic art, including Fatal Love: South Asian American Art Now at the Queens Museum in 2005. Becker, along with Yulia Topchiy and Paola Gallio, launched the curatorial collective Assembly Room, with a storefront gallery in Chinatown in 2018, to act as a collective for female curatorial vision.
The first of these scheduled shows, Perilous Bodies, features 19 artists, including Barthélémy Toguo, Otobong Nkanga, and Dineo Seshee Bopape: a cross-section of international artists who are using craft, activism, data visualisation, and agitprop to address xenophobia, racism, class, and gender inequality. Jasmeen Patheja, also included in the show, is an artist and social activist from India who is the founder of the community project Blank Noise, which was initiated in August 2003 as a student project to counter street harassment of women and has since gained national and international recognition for using art and activism to stimulate conversations around women's safety. Tiffany Chung, another exhibiting artist, will be opening a U.S. museum solo exhibition at the Smithsonian American Art Museum in Washington D.C. later this month (Vietnam, Past Is Prologue, 15 March–25 August 2019). Her visual articulations of historical data about the Vietnam War and her family's migration include woven maps, photographs, and detailed drawings that lyrically meld the personal and the political.
Purvis Young, Flower Arrangement (c. 1990s). Mixed-media, found book. 33 x 24 x 3 cm. Exhibition view: Purvis Young, Salon 94, New York (26 February–23 March 2019). Courtesy Salon 94.
Purvis Young
Salon 94 Freemans, 1 Freeman Alley
26 February–23 March 2019
Purvis Young, a self-taught artist born in 1943, was from Liberty City in Miami, Florida. A prolific painter, subjects range from pregnant women and holy men to urban landscapes and depictions of social malaise, with paintings that reference drug use and jail cells. In his youth, Young himself spent time in jail for petty crimes; and it was during his incarceration that he focused on drawing. In the early 1970s he began to paint murals, attracting local media attention, with a number of his early murals still on display in Overtown, where he moved in 1971. One 1984 mural can still be seen on the wall of the Overtown Public Library: on a yellow backdrop, shapes and lines combine to form a pulsating view of an urban landscape, with clusters of grey rectangles marked by dark squares signifying city blocks, and thick lines and circles marking out rows of men and women.
The effects of Young's greatness may be cumulative: a gathering storm of brushstrokes, an instinctive feeling for colour, and that rarest of compounds in contemporary art—unadulterated human emotion. Throughout his career, Young's iconic status grew, with Bernard Davis, a millionaire and former owner of the Miami Museum of Modern Art, becoming Young's patron until Davis' death in 1973. After Young's passing in 2010, his legacy continues to grow. During Art Basel Miami Beach last December, the Rubell Family Collection unveiled the largest retrospective of Young's work to date, with over 100 paintings drawn from their private collection (the exhibition continues until 29 June). This year, the artist's work will be included in a special exhibition organised by the Dutch non-profit GAA Foundation at the 2019 Venice Biennale. This Salon 94 exhibition marks Young's first in New York in a decade, and contains paintings and artist's books. James Fuentes Gallery, located three blocks away, will host a concurrent presentation of his work (26 February–24 March 2019).
Carol Saft, Three Man Carry (2001). Bronze. 15.24 x 17.78 x 3.81 cm. Courtesy the artist.
Carol Saft: Fallen Men
Lesley Heller Gallery, 54 Orchard Street
20 February–7 April 2019
On the Lower East Side, Carol Saft's small figurative bronze sculptures on view at Lesley Heller Gallery are part of an ongoing series that focus on moments of communal empathy. These miniature figures are first hand-carved with a penknife by Saft in wax, before being cast in bronze; their forms bear the markings of the artist's touch, just as the compositions of these works show bodies embracing, holding, or supporting one another. In Up and Over (2008)—a wall-mounted seven-inch sculpture that depicts two men—the stronger, more able man is caught in the action of heaving a man that appears to be physically limp over his shoulder. In Dancing Men (2010), two men are poised facing each other to either begin or end a ballroom dance. The figures have a coarse, unadorned quality to them that amplify their frank sincerity.
Given that the sculpted figures are almost all men, Fallen Men offers a radical—and hopeful—gesture when it comes to questions of healing in the age Trump, #MeToo, and toxic masculinity. As Saft herself says of her bronze figures: 'It is the humanity of my figure's gestures that I hope will endure for as long as the bronze of which they are made survives.' The simple experience of these humble figures in a city where human connection can be fleeting is a precious gift in itself. Love is transformational, and we can all be its agents.
William Kentridge, drawing for The Head and the Load (2018). Charcoal, pastel, and red pencil on paper. Paper: 100 x 160 cm; frame: 113 x 172.7 x 5.1 cm. Courtesy the artist.
William Kentridge: Let Us Try for Once
Marian Goodman Gallery, 24 West 57th Street
1 March–20 April 2019
William Kentridge is a versatile artist who combines the poetic and the political through diverse means that include drawing, sculpture, animated films, theatrical production, and opera. Born in Johannesburg in 1955, he witnessed apartheid and its aftermath first-hand. His evocative charcoal drawings and animated films critique colonialism and totalitarian regimes, using the individual and society as recurrent themes, with a single drawing undergoing a laborious process of redrawing and erasure, capturing the palimpsest nature of history, memory, and time.
This latest show features drawings, sculptures, and film that relate to three major performance projects from the past two years. The first is The Head & the Load, an epic, multimedia theatrical piece commemorating the African experience in World War II, which premiered at the Tate Modern in 2018, and was described by the New York Times as 'a fiercely beautiful historical pageant of music, movement and shadow play'. The second is the celebrated production of Alban Berg's opera Wozzeck based on a play by Georg Büchner, which Kentridge directed and premiered at the Salzburg Opera Festival in 2017, transforming the tragic score into an art installation that sees animated images in the artist's signature charcoal black projected onto the stage creating an immersive environment for the tale of the titular anti-hero against a backdrop of war and destruction. (The Metropolitan Opera will stage the show during its 2019–2020 season.) The third project, Ursonate was first presented at Performa Biennial New York in 2017, and is based on a poetic and musical work written by the dada artist Kurt Schwitters between 1922 and 1932.
Hilma af Klint, Untitled (1920) from 'On the Viewing of Flowers and Trees (Vid betraktande av blommor och träd)'. Watercolour on paper. 17.9 x 25 cm. The Hilma af Klint Foundation, Stockholm. Photo: Albin Dahlström, the Moderna Museet, Stockholm.
Hilma af Klint: Paintings for the Future
Solomon R. Guggenheim Museum, 1071 5th Avenue
12 October 2018–23 April 2019
The early works of abstraction by Swedish-born artist Hilma af Klint (1862–1944) proves that the art world has had to contend with a major art historical deviation that justly proves that women have been making great art for a while: we just haven't been looking. It turns out, af Klint's early organic brand of abstraction predates Wassily Kandinsky (making a woman, not a man, Western art history's first modernist abstract painter), but beyond the art historical correction, the works themselves presage a spiritual counter-movement to Western forms of rationalism that have been the major underpinnings of formalist thought and production.
Af Klint's work arrives like a fireball from some hidden, ethereal realm, and follows clearly mediated lines of causal thinking that privileges feeling over form. While her later works based on her close theosophical studies are profound too, especially her series of three 'Altarpieces', Group X, No. 1., No. 2, and No. 3 (1915) depicting spinning wheels, cosmic spheres, and rainbow bodies. A bold and brilliant charge ripples through 'The Ten Largest' (1907), a group of large-scale painterly abstractions at the bottom of the museum ramp that are simply mind-blowing. The works were 'dictated' to the artist by a spirit named Amaliel, whom she contacted during a séance with a group called The Five in 1906. Between 1906 and 1915, af Klint embarked upon a major cycle, 'The Paintings for the Temple', which eventually comprised 193 works. This is arguably the most groundbreaking exhibition of the decade.
Lucio Fontana, Spatial Concept, New York 10 (Concetto Spaziale, New York 10) (1962). Copper with cuts and scratches. 94 × 234 cm. Fondazione Lucio Fontana, Milan.
Lucio Fontana: On the Threshold
The Met Breuer, 945 Madison Avenue; The Met Fifth Avenue, 1000 5th Avenue
23 January–14 April 2019
This is the first major exhibition of Lucio Fontana's work in the United States in 40 years, and offers an extensive overview of the artist's remarkable career. Aside from showing a series of slashed canvases from the artist's iconic 'Cuts' series, the show features the artist's early ceramic works that toe the line between abstraction and realism, such as the stunning Clam and Coral (1936) and The Warrior (1949); and figurative painted bronze sculptures, such as Olympic Champion (Waiting Athlete) (1932), and Seated Young Lady (1934). The range on view is remarkable; Portrait of Teresita (1940), for instance, is a stunning bust of a woman with auburn hair and blue eyes rendered in vibrant mosaics.
Also included are pieces from the ceramic series 'Concetti spaziali' ('Spatial Concepts') (1949–1960), which illustrate ideas that the artist articulated in the first manifesto of spatialism that he wrote in 1947, titled 'Primo manifesto dello spazialismo'. Spatial Concept (1950), for instance, is a canvas on which multiple pinholes have been punctured through the surface in a way that recalls astral constellations; while another work from 1954 presents a flourish of orbs on canvas rendered in glass, oil paint, and ink. Three of Fontana's pioneering spatial environments, which combine abstract sculptures, fluorescent paintings, and black lights, have also been reconstructed especially for this show—two are on view at The Met Breuer, and another is being housed in gallery 913 at The Met Fifth Avenue. Concurrent to this extensive survey, El Museo del Barrio is presenting Fontana's last spatial environment, which he showed at Documenta 4 in Kassel in 1968, shortly before his death.
Exhibition view: Frida Kahlo, Appearances Can Be Deceiving, Brooklyn Museum, New York (8 February–12 May 2019). Courtesy Brooklyn Museum. Photo: Jonathan Dorado.
Frida Kahlo: Appearances Can Be Deceiving
Brooklyn Museum, 200 Eastern Parkway, Brooklyn
8 February–12 May 2019
Frida Kahlo needs no introduction. She contracted polio at the age of six, and suffered a life-changing bus accident at the age of eighteen, resulting in a broken spinal column, broken collarbone ribs and pelvis, eleven fractures in her right leg, a crushed and dislocated right foot, a dislocated shoulder, and a pierced abdomen. Kahlo spent three months recovering in a full body cast, during which time she turned to painting.
What makes this show unique—aside from this being the largest American survey of Frida Kahlo's output in the last decade—is the focus on Frida Kahlo's personal artefacts, many of them rediscovered in 2004. These items—which encapsulate Tehuana clothing, contemporary and pre-colonial jewellery, hand-painted corsets and prosthetics—were kept in Casa Azul (Blue House), the Mexico City home of Kahlo and her partner, the muralist Diego Rivera. This rich assemblage of artefacts contextualise the paintings, drawings, and photographs on show, which have been sourced from the Jacques and Natasha Gelman Collection of 20th Century Mexican Art. Furthering this historical portrait rendered through the artist's objects are pieces from the museum's collection of Mesoamerican art have also been curated into the show—a reference, the curatorial statement notes, to the collecting interests of Kahlo and Rivera.
Exhibition view: BRIC Biennial, Volume III, South Brooklyn Edition, New York (7 February–7 April 2019). Courtesy BRIC. Photo: Jason Wyche.
BRIC Biennial: Volume III, South Brooklyn Edition
BRIC House, 647 Fulton Street, Brooklyn
7 February–7 April 2019
If you're crossing the bridge to see the blockbuster exhibition Frida Kahlo: Appearances Can Be Deceiving at the Brooklyn Museum, then go one step further and explore the third edition of BRIC Biennial. Launched in autumn 2014 by BRIC, the non-profit arts and culture hub, this biennial show is curated by in-house curators Elizabeth Ferrer and Jenny Gerow, and focuses on emerging and mid-career Brooklyn-based artists. This current edition, The Impossible Possible, spotlights 19 artists working in South Brooklyn, which includes the neighbourhoods of Park Slope, Gowanus, Sunset Park, and Bay Ridge. A series of satellite shows expand BRIC's footprint this year, taking place throughout the borough, including Green-Wood Cemetery, La Bodega Art Space & Gallery, NARS Foundation, Ortega Y Gasset Projects, and Trestle Gallery.
Bobby Anspach's Place for Continuous Eye Contact (2018), one of the most talked about pieces in the show, is a participatory installation constructed from the debris of electronic media that invites viewers to lay down with their head beneath a large, glowing dome, and to gaze into a mirror. The Ukrainian-born artist and curator Katya Grokhovsky has created a video installation called The Future Is Bright (2018), which takes from a popular Soviet-era slogan that was used to create a future-fantasy distraction. The colourful set-up includes an old couch the artist has painted and wallpaper, with two screens, one playing an interview between the artist and her 94-year-old grandmother, a Second World War veteran, while the other depicts a more oblique response to the stories told in the interview.
Alexander Gorlizki, Rolodex (Piccadilly) (2018). Metal, paper, plastic and mixed media. 17.78 x 17.78 x 17.78 cm. Courtesy the artist.
Alexander Gorlizki: Your Eyes, So Beautiful, Like Washing Machines (But Not as Big)
Kentler International Drawing Space, 353 Van Brunt Street, Brooklyn
1 March–21 April 2019
Fair warning, this show is a trek to get to; but once there, the Kentler International Drawing Space's rustic interiors will envelop you in a warm embrace. Co-founded by artists Florence Neal and Scott Pfaffman in 1990, this non-profit space has been committed to hosting contemporary drawing exhibitions by under-recognised local, national, and international artists. The title of this show, Your Eyes, So Beautiful, Like Washing Machines (But Not As Big), is part of a love poem that Gorlizki wrote, and like most of the eclectic material culled for this show, is part of a dense network of free associations that reflect Gorlizki's years travelling the world, with a focus on Central Asia, India, Pakistan, China, and Tibet, during which time he collected objects that include cosmological maps, divination and healing diagrams, and tantric visual guides used for meditation and prayer.
Originally trained in sculpture at the Slade in London, the artist became particularly obsessed with Indian miniature painting in the 1990s, initiating a long-term, transnational collaboration with Riyaz Uddin, the miniature painter he met in Jaipur, Rajasthan. Gorlizki meticulously works out his compositions in his New York studio, and then sends them to Riyaz Uddin's atelier, where sections of the paper are fastidiously painted with a single-haired brush in the Mughal tradition. The back-and-forth can take years, and the results are wacky tableaus that hilariously mash up unlikely Eastern and Western images, iconographies, and styles. In this new exhibition, Gorlizki presents a collection of new works on paper that build upon these visual eclecticisms, with a wry sense of humour. One of these is Ain't That Grande (2016), a painterly intervention to a postcard bearing an image of the classical oil painting, Grande Odalisque (1814), by the French painter Jean Auguste Dominique Ingres. Prepare to be amused. —[O]