Insight | Artist, New Zealand
Eve Armstrong at Michael Lett, the Auckland Art Fair
Most booths at this year's edition of the Auckland Art Fair will be hoping to make some gainful sales. However, Auckland-based gallery Michael Lett's booth is different, insofar as it will be dealing goods without money changing hands. The gallery has given over its entire booth to artist Eve Armstrong, whose Trading Table facilitates the money-less exchange of objects and services. Armstrong is known for aesthetically beguiling sculptural assemblages of used materials, refuse and second-hand objects. An on-going project, the Trading Table is the social element of a practice concerned with dislocating consumerist aesthetics and systems. While the politics sound hefty, its practice is both light-hearted and unassuming: Armstrong is inviting visitors to the fair to drop by, have a chat and think about trading anything from a Karen Walker bag to the service of digging a garden composting heap.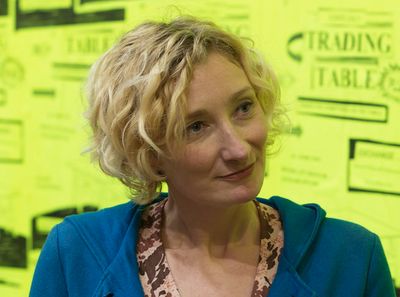 Image: Eve Armstrong. Courtesy Campbell + Co.
How does the Trading Table work? How do people get involved and how are exchanges made?
I set up a table—usually in a public space—and I invite people to trade. I already have some trades available on the table and people can exchange objects, ideas, skill or services for these. Everything goes through the table and through me, so people are not directly trading with each other. Someone might see something on the table, decide that they want this object or service, and then we talk about what they could possibly offer in exchange. One of my favourite all-time trades was made by a woman who offered a prayer for a special intention of the recipient's choosing. The trader could call her and have this prayer made for any given reason.


Image: Exhibition view, Eve Armstrong, Trading Table, at Michael Lett, Auckland Art Fair 2016. Photo: © Meg Porteous & Ocula.
What other kind of trades do you attract? Are there common objects or activities that people are more or less interested in exchanging?
I tend to be interested in trades that are more performative or seemingly ridiculous—these things do not need to be immediately useful in a practical sense. Sometimes their value is measured in time, and sometimes it isn't ... This means that the trades are quite varied. One person offered to dig a hole in a backyard to start a compost pile. A self-described 'museum worker' once traded white gloves purported to be from the Auckland War Memorial Museum. Another offered the song Moon River whistled on tape.
I do turn things away, but my tag line is 'almost anything accepted'. At the end of the day, I want to keep the trade flowing and the exchanges turning over.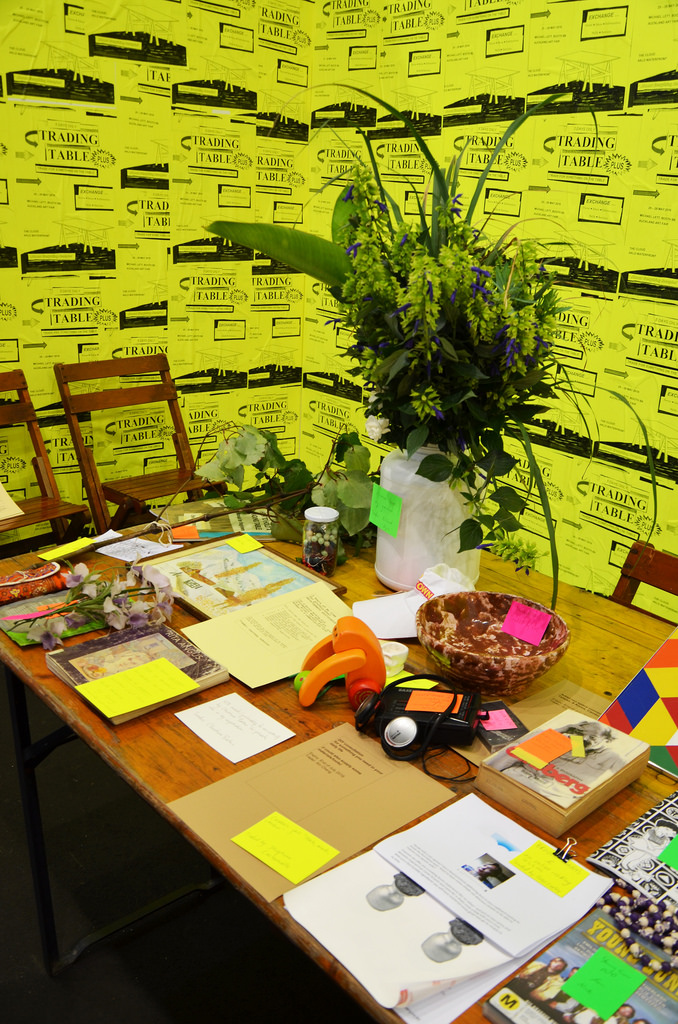 Image: Exhibition view, Eve Armstrong, Trading Table, at Michael Lett, Auckland Art Fair 2016. Photo: © Meg Porteous & Ocula.
When did the project start? What motivated you to establish this platform of money-less exchange?
The project started with two main ideas that were important to me when I was at art school. The first was very practical: I was collecting a lot of materials that I didn't use and were eventually going to waste. Secondly, I was also interested in questioning forms of artistic authorship in the art school context.
Those were my initial interests, but as soon as I moved the project into a public space, it took on a life of its own. I staged the Trading Table in St Kevin's Arcade in central Auckland in 2003. A range of different people came along and were quite struck by the idea that they could get something on the table 'for nothing', meaning that they weren't paying cash. Here the trades became far less about the objects or materials and more about the conversation or moment where these traders realised the 'value' of what they could offer.
Your first Trading Table pre-dated both the massive expansion of social media and online commerce. Even though people are not directly trading with each other in the flesh, the project still maintains a certain 'physicality'—a face-to-face sensibility that is quite appealing. Is this something you are interested in?
The Trading Table is really an extension of the way I operate in the world. I am a late adopter of all technology and if I need something, I'm more likely to ask someone for a recommendation than I am to Google it. In my daily life I am constantly trading for things like childcare. Or I would owe a friend 'art hours' where she's helped me on my project and I'm going to help on hers in the future.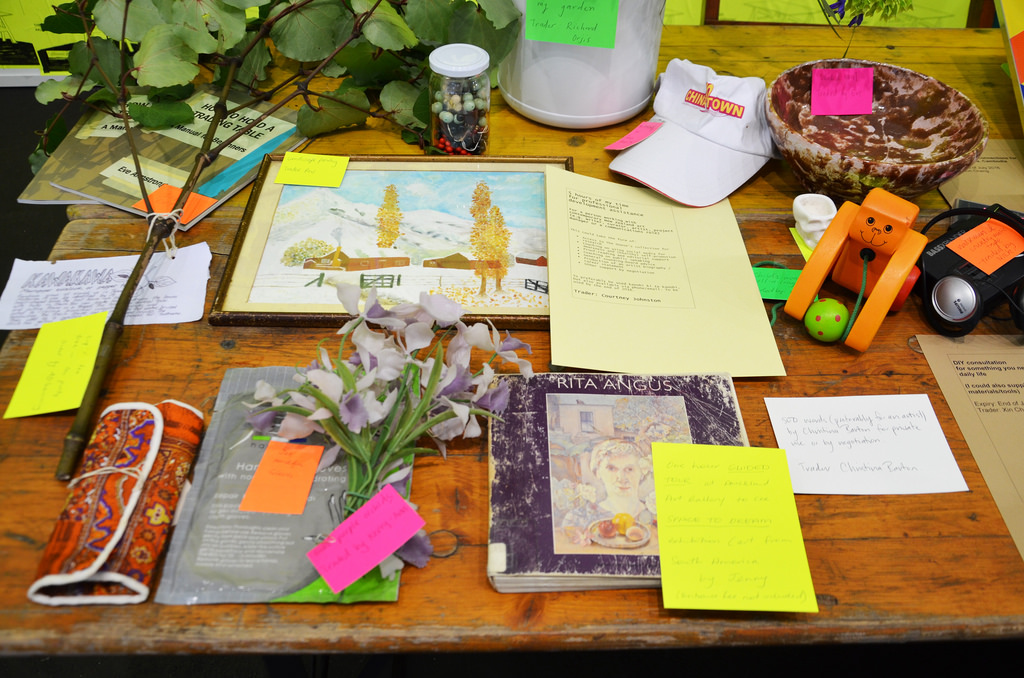 Image: Exhibition view, Eve Armstrong, Trading Table, at Michael Lett, Auckland Art Fair 2016. Photo: © Meg Porteous & Ocula.
How will the Trading Table work at the Auckland Art Fair? Will it be different to previous public contexts?
I am really curious to see how the trades will unfold at the fair. In one sense, the trading table will work in exactly the same way as it has in the past: many people won't know about the project and will simply be curious to have a look at this table of things and find out how it all works.
But the fair is the first time where these people will also have some kind of specific interest or involvement with art. Or, this is what I presume. When you do anything in public like this, you just cannot predict what it will become. I always have this vision—perhaps a hope—that someone might try and subvert the table for political purposes to try and get a message across. The art fair is a more commercial environment, so that might also add an interesting element to it.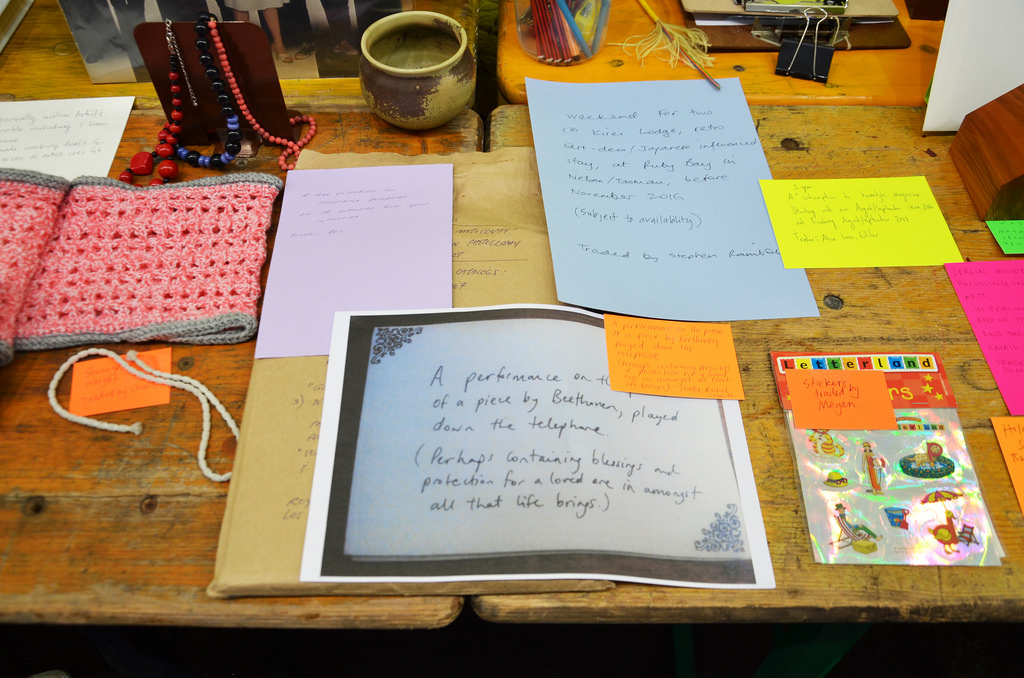 Image: Exhibition view, Eve Armstrong, Trading Table, at Michael Lett, Auckland Art Fair 2016. Photo: © Meg Porteous & Ocula.
Can you offer 'previews' of some of the trades that will be on the table?
In this context, I am interested in encouraging trades that might really benefit an artist in a practical or professional sense. People have been very generous for this iteration of the table. For instance, a museum director has offered five hours of professional development for an artist or someone working in the arts. And it is going to be really important to push people to think about what an equivalent trade would be for a service like this. Because all of the 'currencies' for each trade are completely different, this is almost an impossible task, but it does offer a really interesting place to start thinking about the value and function of things.
This system of trading seems to be related to your broader practice that involves collecting and reassembling used materials and objects, but I can't quite articulate this relationship. Do you have any thoughts about this connection?
I am often working with second-hand material in some shape or form and this is part of a wider logic of exchange that interests me. I see both the Trading Table and my practice of making in terms of provisional systems where I explore what can be done with materials and structures that already exist. I often say that I have an interest in 'adaptable support structures' where I am always assessing and reassessing the form, function and value of a certain commodity or way of doing things. —[O]