Insight | Ocula Advisory
Frieze Viewing Room: Ten Advisory Selections
Running until 16 October, Frieze Viewing Room launches to VIPs on Thursday 8 October from 12pm BST, and is open to the public from 9 October. Ocula Advisory highlights ten artworks.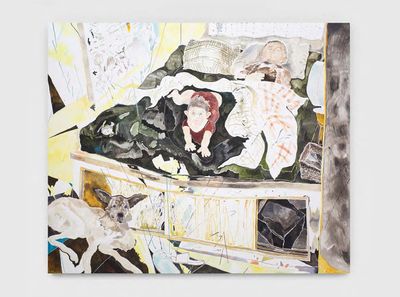 Chris Huen Sin Kan, MuiMui, Tess and Joel (2020). Oil on canvas. 220 x 260 cm. Courtesy the artist and Simon Lee Gallery, London
Chris Huen Sin Kan, MuiMui, Tess and Joel (2020) at Simon Lee Gallery
With a style described as 'en plein air—hereto indoor', Chris Huen Sin Kan's paintings consistently feature his dogs, wife, and children in his home and studio in Yuen Long, Hong Kong.
Through the use of diluted oil paints, Huen creates scenes with varying degrees of precision and colour, while his continuous brushstrokes reflect the smoothness of the calligraphic line.
Vibrant, chaotic, yet cohesive and organised, his scenes align with his interest in the 'specious present', a theory first put forward by E.R. Clay to describe the present as being a cumulative experience of many moments.
Speaking to Ocula Magazine's Editor-in-Chief Stephanie Bailey in April 2020, Huen noted, 'I selectively depict the more uneventful moments in my daily family life. The less interesting and exciting moments tend to escape our attention.'
Prafulla Mohanti, Padma (1979). Mixed media on canvas. 140 x 99 cm. Courtesy Jhaveri Contemporary.
Led by Chisenhale Gallery Director Zoé Whitley, Prafulla Mohanti features in 'Possessions', Frieze's new curated section focusing on the theme of spirituality in contemporary art.
After graduating as an architect in Mumbai, Mohanti moved to the U.K. in 1960 to work as an architect-town planner in London. Now devoting himself to painting and writing, Mohanti's mixed-media works—inspired by Indian traditional theories of cosmogony—feature concentric circles in vivid colours.
Born and having grown up in Nanpur, a village located in the east of Odisha, India, Mohanti's paintings are simultaneously rooted in his village culture, particularly yoga and tantra.
Reflecting on old village life and his move to the U.K., Mohanti notes, 'Actually, I have never left the village, either physically or emotionally or spiritually because for me the two worlds are not really separate, they are one. Wherever I go, I carry my village inside of me.'
Suzanne Jackson, El Paradiso (1981–1984). Acrylic wash on canvas. 139.7 x 157.5 cm. Courtesy Ortuzar Projects. Photo: Tim Doyon.
Suzanne Jackson, El Paradiso (1981–1984) at Ortuzar Projects
In the late 1960s, Suzanne Jackson studied art and ballet at San Francisco State University, before touring internationally with a modern dance company and eventually settling in Los Angeles.
There, she met and studied under the influential African-American artist Charles White, whose philosophy encouraged her to set up and run Gallery 32 that endorsed the use of art as a vehicle for social activism and gave early shows to David Hammons and Betye Saar.
For the last 28 years, Jackson has lived in Georgia, teaching at Savannah College of Art and working in her studio. The Jepson Center, Telfair Museums in Savannah, honoured her with a comprehensive survey last year (Five Decades, 28 June–13 October 2019).
This figurative painting from the 1980s features two faces rendered in layers of washed acrylic, coming tantalisingly close to kissing, revealing a multitude of colours that brim to the surface, whilst others fade away.
Jackson is an alchemist when it comes to colour; natural hues swirl together with richer blues and purples, imbuing the canvas with a translucent depth beautifully counterbalanced by solid areas of vibrant orange heat and deep red.
Jackson's silhouettes recall mystical paintings or hieroglyphic inscriptions, but the lips are curvier and the tones richer. Her playful and poetic imagination transports us to her own alluring Garden of Eden.
Alex Da Corte, Cavatica's Moon Song (2020). Neon, vinyl siding, laminate, plywood, house paint, velvet, hardware. 182.9 x 182.9 x 11.4 cm. © Alex Da Corte, courtesy Sadie Coles HQ, London.
Alex Da Corte, Cavatica's Moon Song (2020) at Sadie Coles HQ
Informed by Pop Art and Surrealism, Alex Da Corte creates exploratory and fantastical works. Frequently combining video and film, his hypnotic installations often fall in the category of Gesamtkunstwerk, or 'total art work', where different art forms are combined to create a single cohesive work.
Da Corte combines high and lowbrow American cultural references to explore the psychological complexities, desires, and illusions so prevalent in capitalist culture.
Cavatica's Moon Song represents a continuation of the artist's use of window imagery in his work. The shape of the hand carved out by spider webs in the open window can be seen as both beckoning and ominous, suggesting the sinister potential of the home.
William Kentridge, Cursive (2020). Bronze, set of 40. 130.8 x 153 x 16.5 cm. Courtesy the artist and Goodman Gallery, London.
William Kentridge, Cursive (2020) at Goodman Gallery
Goodman Gallery have just concluded a programme of William Kentridge's films on their website (29 September–3 October 2020), with this set of bronze sculptures showing in the Frieze Viewing Room.
As a member of the South African Resistance Art movement in the 1980s, Kentridge's practice has since been grounded in the struggles and emotions of post-apartheid South Africa. In 1999, an exhibition of Kentridge's work went on view at London's Serpentine Gallery, and he has since had countless solo exhibitions worldwide.
Cursive comprises 40 bronze sculptures, or 'glyphs', many of which have been used across Kentridge's previous projects. With each glyph representing a different symbol, the sculptures can be rearranged as one wishes, allowing a multitude of memories and influences of different cultures and periods to interact.
David Hammons, Untitled (Body Print) (1974). Pigment on paper. 93.7 x 78.7 x 4.1 cm. Photo: Jeff McLane © David Hammons. Courtesy the artist and Hauser & Wirth.
David Hammons, Untitled (Body Print) (1974) at Hauser & Wirth
Born in Illinois in 1943, David Hammons' diverse oeuvre, spanning the past 60 years, encompasses conceptual, performance, and installation art.
Untitled (Body Print) is part of Hammons' earliest and most renowned 'Body Print' series. Coating bodies—usually his own—with grease or margarine, Hammons would press these body parts against a sheet of paper. Black pigment would subsequently be dusted onto the work leaving behind a figure detailed with skin, hair, and clothing.
On the process, Hammons notes, 'I have to carefully decide how to get up after I have made the impression that I want. Sometimes I lie there for perhaps three minutes or even longer just figuring out how I can get off the paper without smudging the image that I'm trying to print.'
Recording his presence in his works, and bringing visibility to the narratives and experiences of racism, Hammons reckons with the absence of Black representation in 1970s America, which he has endeavoured to confront and rectify through his work.
Paula Rego, Dame with Goat's Foot 1, (Undressing the Divine Lady) (2011–2012). Pastel on paper. 137 x 102 cm. © Paula Rego. Courtesy the artist and Victoria Miro, London/Venice
Paula Rego, Dame with Goat's Foot 1, (Undressing the Divine Lady) (2011–2012) at Victoria Miro
This is one of three pastel on paper works by Paula Rego showing with Victoria Miro, who recently announced their representation of the artist.
Rego is rightly considered the grand dame of figurative painting in her native Portugal and the U.K., where she has lived since studying at the Slade School of Fine Art in the 1950s.
She exhibited with The London Group in the 1960s, alongside David Hockney and Frank Auerbach, but it was in the 1980s when she received more notable institutional support with solo exhibitions at the Gulbenkian Foundation and the Serpentine Gallery. Later, she was to become the subject of comprehensive survey shows at the Museo Nacional Centro de Arte Reina Sofía in Madrid (2007) and Tate Britain (scheduled for 2021).
Typically for Rego, this work incorporates fantasy into an intimate domestic scene depicted through a distinctly feminist lens. Smooth tones combine with her confidently drawn line to define the form and expression of her figures.
Her hand has become looser and more economical with large parts of paper left untouched, with detail concentrated around the faces of her figures, which enchant us with their melancholic gaze and the psychological complexity of their relationship.
Rego's male figure has a confronting yet vulnerable stance, as he clings on to the 'divine lady' who confidently looks out towards us whilst propped up above him, leaning on her guitar. Numerous foreboding narratives threaten the scene, but Rego never forces them into view, allowing us space for our own interpretations.
Vaughn Spann, Laurel Canyon (Saguaro) (2020). Mixed media, silk, polymer paint, canvas on stretcher bars. 156.8 x 126 x 8 cm. © Vaughn Spann. Courtesy the artist and Almine Rech.
Vaughn Spann, Laurel Canyon (Saguaro) (2020) at Almine Rech
Since graduating with an MFA from the Yale School of Art in 2018, Spann has already been included in more than three dozen group shows across the U.S., and there is a lot of heat around his work after recent strong secondary market auction results.
Avoiding the temptation to settle on one signature style, Spann has remained committed to making surreal figurative scenes and abstractions, as well as works that float between the two.
'I don't want to choose one conversation', the artist has explained. 'I want to be rebellious and think through lots of ideas. I learn through the chaos.'
Alina Szapocznikow, Lamp Double Mouth on Phallus (1967). Sculpture, design, coloured polyester, lightbulb and electrical wiring. 55 x 49 x 38cm. © Alina Szapocznikow. Artists Rights Society (ARS), New York / ADAGP, Paris. Courtesy of Richard Saltoun Gallery, London.
Imprisoned for over ten months in concentration camps during the Second World War as a Polish Jew, Szapocnikow's work functions as a record of both her memory as well as a commentary on the female form. Best known for her resin casts of body parts, her sculptures explore a black humour rooted in the fragility and sexualiation of the female body.
The death of Stalin in 1953 saw the Polish government loosening control over creative freedom and prompted Szapocznikow's move to figurative abstraction.
Lamp Double Mouth on Phallus (1967) is part of her sculptures produced in the 1960s that employ bright polyester resins and the forms of lips and breasts. With light bulbs concealed within, these works take the form of functional desk lamps, adding to the artist's commentary on consumer culture and modular reproduction.
Philip Guston, Paw II (1975). Oil on canvas. 170.2 x 203.2 cm. Photo: Genevieve Hanson. © The Estate of Philip Guston. Courtesy the Estate and Hauser & Wirth.
Philip Guston, Paw II (1975) at Hauser & Wirth
Tate Modern in London, the National Gallery of Art in Washington, D.C., and several American museums recently announced their postponement of a major touring retrospective of Philip Guston's work, due to the perceived sensitivity of his material during this time of political and social unrest, particularly in America.
The decision has attracted widespread criticism from within the art world, given the overtly thoughtful nature of Guston's work that critiques many facets of Western society. There have been numerous comparisons of the present political context to that of the 1970s in the U.S.A. and despair at the lack of progress made.
This painting was made five years after Guston dramatically eschewed his abstract style for a more crude figurative approach in a solo exhibition at Manhattan's Marlborough Gallery. Thick brushstrokes are applied in fleshy tones, imbuing the image with a menacing grotesqueness.
Guston often focused on specific domestic or studio objects, transforming them into harrowing metaphors for broader existential doubts he felt so acutely. At times surreal and lugubrious, Guston uses visceral texture as a vehicle for ridiculing our modes of living, whilst profoundly expressing his own impending confrontation with mortality.—[O]