News | Exhibitions
Aichi Triennale Makes New Appointments Following Scandal
The event made headlines in 2019 when a work shown to address the theme of censorship was itself removed from the exhibition.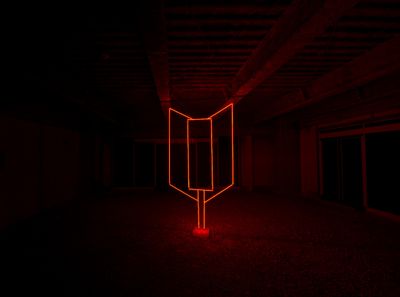 Nodoka Odawara, ↓ (1946–1948) (2011–2019). Exhibition view: Taming Y/Our Passion, Aichi Triennale 2019, Aichi Prefecture (1 August–14 October 2019). Courtesy Aichi Triennale. Photo: Takeshi Hirabayashi.
The Aichi Triennale has announced two new major appointments for its 2022 edition. Mami Kataoka, director of the renowned Mori Art Museum, will be its artistic director, and Takeo Obayashi, who chairs the board of construction company Obayashi Corporation, will be chairperson of the Organising Committee.
Kataoka, who was born in Nagoya, Aichi prefecture, is the first female artistic director in the history of the event, which began in 2010.
The new appointments follow a local government enquiry into the fraught 2019 edition, entitled Taming Y/Our Passion. Led by previous Artistic Director Daisuke Tsuda, the event drew criticism from Nagoya mayor Takashi Kawamura and prompted Japan's Cultural Affairs Agency to withdraw a ¥78 million grant (US $750,000), about 6.5 percent of the festival's 1.2 billion yen operating cost, saying it was not informed the event might incite protests.
Many of the works in the Triennale touched on censorship. For example, Nodoka Odawara's ↓ (1946–1948) (2011–2019), pictured top, references an arrow-shaped post that appeared in 1946 at the location where the atomic bomb hit Nagasaki, despite Allied Forces' prohibitions on marking the spot.
'After "Freedom of Expression?"', an exhibition of works previously removed from public view, was particularly contentious. It included Kim Seo-kyung and Kim Eun-sung's Statue of Peace (2011), a life-size sculpture of a so-called 'comfort woman', one of between tens of thousands and hundreds of thousands (estimates vary) of women forced into sexual slavery by the Imperial Japanese Army in the first half of the 20th century.
In seeking to explore the boundaries of free expression, the Triennale's organisers became the target of intimidation, including a threat to burn down the Aichi Arts Center where the work was displayed. Consequently, 'After "Freedom of Expression?"' was closed three days after opening and remained closed from 3 August to 7 October.
The enquiry found that closing the exhibition was 'unavoidable' given the threats and 'did not comprise an unwarranted restriction on freedom of expression.'
At the time, Kawamura, who has also disputed the Japanese Army's mass murder of civilians in Nanjing, sent a letter to Hideaki Omura, the governor of Aichi and the head of the Triennale's organising committee demanding that the sculpture be removed, claiming it 'tramples on the feelings of Japanese citizens.'
In response, Omura said, 'The government and public officials should be the ones protecting freedom of expression. Even if the expression is not to their taste, they should accept an expression as expression.' —[O]