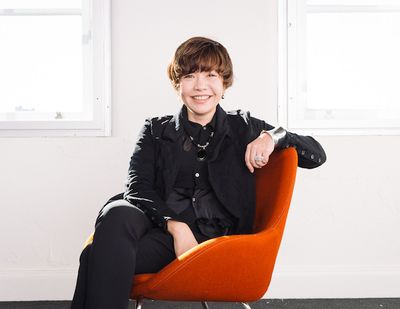 Image: Mami Kataoka. Photo: Daniel Boud.
Mami Kataoka has been the chief curator at the Mori Art Museum (MAM) in Tokyo since 2003. Also a writer, lecturer and professor, Kataoka has proven her intimate knowledge for trends within contemporary Asian art, addressing social, cultural and historical themes in the multitude of projects she has curated in the past decades.
Exhibitions curated by her and shown at MAM include Follow Me!: Chinese Art at the Threshold of the New Millennium (2005) and Lee Bul: From Me, Belongs to You Only (2012). Other notable exhibitions curated by her include: Phantoms of Asia: Contemporary Awakens the Past (2012) at the Asian Art Museum, San Francisco; and Ai Weiwei: According to What? (2012) at the Hirshhorn Museum and Sculpture Garden, Washington DC.
Prior to her position at the Mori, Kataoka was chief curator of the Tokyo Opera City Art Gallery. She currently serves as a board member of CIMAM (International Committee for Museums and Collections of Modern Art), a member of the Guggenheim Museum's Asian Art Council and an advisory member for Ullens Center for Contemporary Art in Beijing.
In July, Kataoka was appointed as the artistic director of the 21st Biennale of Sydney in 2018. I spoke with Kataoka about her plans for the event.
Mori Art Museum, Museum Cone. Courtesy Mori Art Museum, Tokyo.
SA

You have recently been appointed artistic director of the 21st Biennale of Sydney (BoS). What is your vision for this edition of the Biennale?

MKIt is such an honour to be appointed artistic director of the 21st Biennale of Sydney [to be held] in 2018, and especially to be the first artistic director from Asia since the Biennale's inauguration in 1973. This means a lot to me and hopefully to the region.

The Biennale of Sydney was the first event of its kind to be established in the Asia-Pacific region and I am especially interested in the role that it has played in bringing international contemporary art, artists and art curators to Australia for more than 40 years and how it has engaged with (and been influenced by and also influenced) the Asia-Pacific region. Biennales were not so common in the early 1970s and the phenomenon really exploded in the 1990s.

I feel one needs to ask, what role can a biennale have in 2018? How do these events function now that contemporary art is so available in dedicated art spaces and galleries and online? As artistic director I am interested to test the Biennale's significance given the growing understanding of multiple modernities: the many socio-political contexts and accelerated complexities found in the world today.
I'm as curious as anyone to see how artists might engage with their worlds, and indeed how that might intersect and merge with other aspects of contemporary culture such as design or food.
SA

How does this vision fit with your larger, enduring concerns and preoccupations?

MKI am still formulating my ideas and shaping my thinking for the 21st edition. It is significant that this edition marks a coming of age—a moment to reflect on past iterations, to consider what a biennale might be and what a future might be.

Like all exhibition makers, I have particular preoccupations, and some of these will undoubtedly influence my approach. However, the biennale model does offer an opportunity to think on a grand scale and explore artists and their practices differently from a museum-based standpoint.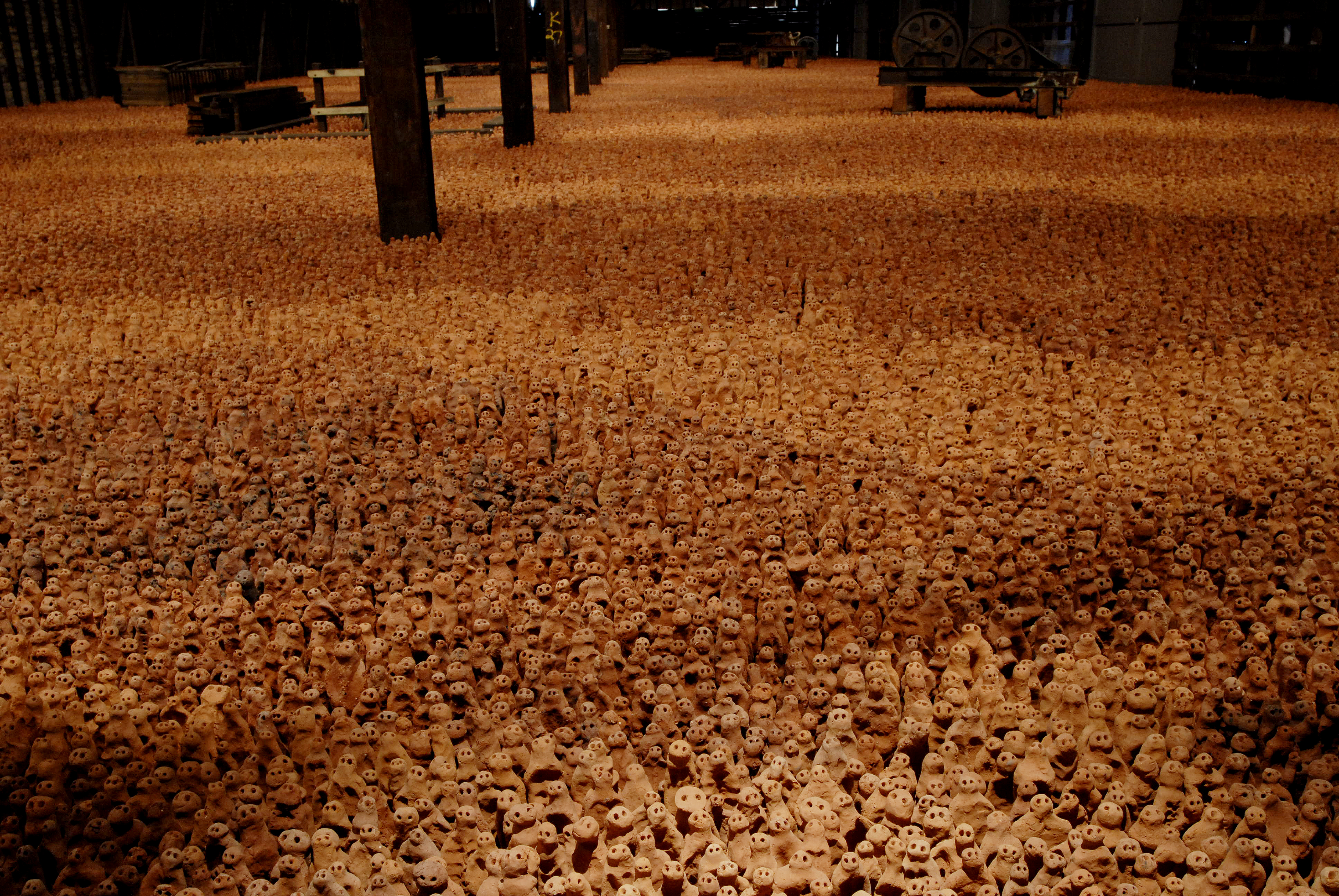 Antony Gormley, Asian Field (2003). Exhibition view of the 15th Biennale of Sydney at Pier 2 3. Photo: Greg Weight.
SA

You worked with Stephanie Rosenthal, artistic director of the 20th Biennale of Sydney 2016, as one of her 13 international advisers on that edition. You must feel like you have some solid foundations for this Biennale, through knowing the city and being on the ground for the previous Biennale?

MKI was so delighted to be part of the 20th Biennale and to support Stephanie Rosenthal in my capacity as a curatorial attaché. It provided wonderful opportunities to meet artists and peers in Sydney and Australia. The 20th Biennale was the fourth I have visited.

I also visited the 15th Biennale in 2006, curated by Charles Merewether; the 17th edition in 2010, curated by David Elliott; and the 18th Biennale in 2012, curated by Catherine de Zegher and Gerald McMaster. The BoS is well known internationally and I have engaged with many previous directors and artists who have participated. It has a rich history that I am keen to explore more fully.
As artistic director I am interested to test the Biennale's significance given the growing understanding of multiple modernities.
SA

You have been chief curator at the Mori Art Museum in Tokyo since 2003. Please tell our audience about the Mori program and the exhibitions you have been involved in.

MKI have been with the Mori Art Museum since its inauguration in 2003. As a contemporary art museum, open to both international and local communities, programming the museum has been a series of negotiations among different needs, expectations and curatorial intentions, and visions for the Museum.

Reflecting on these negotiations, I have curated a series of major survey shows by mid-career and established Asian artists such as Ai Weiwei, Lee Bul, Makoto Aida, Tsuyoshi Ozawa, Lee Mingwei, and an upcoming exhibition in 2017 with N.S. Harsha. I also co-curated Roppongi Crossing in 2004, the first in a series of triennial exhibitions of contemporary Japanese art, and the 2013 instalment of the series titled Out of Doubt.
Carle Santos, Piano Performance (1990). Exhibition view of the 8th Biennale of Sydney (1990) at the Opera House. Photograph Heidrun Lohr.
SA

How has the sphere of contemporary Japanese and Asian art changed since 2000?

MKThere have been dramatic changes in political and economical situations in various parts of Asia, and those changes have been visible through the establishment of new biennales and triennales, as well as in the proliferation of art fairs. Growing economies have created an art market and that has made it possible for some important private collectors to emerge.

Now we are seeing a number of private museums with public awareness, where previously national or regional governments funded public museums. In the last 18 months I have been travelling extensively in Southeast Asia, as I am preparing a major exhibition of art from the region to be shown at the Mori Art Museum and The National Art Center, Tokyo, in 2017.

In terms of artistic practices, we have now observed a few generations of artists active in the region. Their concerns vary from social conditions, to changing landscapes and belief systems, to the recent history of their country, particularly among the younger generation.
SA

How do Japanese audiences view Asian art in general? Is there a lot of interest?

MKThere is certainly a growing interest from younger generations—broadly, in terms of contemporary art and, specifically, in terms of the region. Since the 1980s a number of artistic exchanges have taken place within the region, starting with initiatives by Fukuoka Art Museum (since 1999, the Fukuoka Asian Art Museum) and continuing in the 1990s with strong support from the Japan Foundation.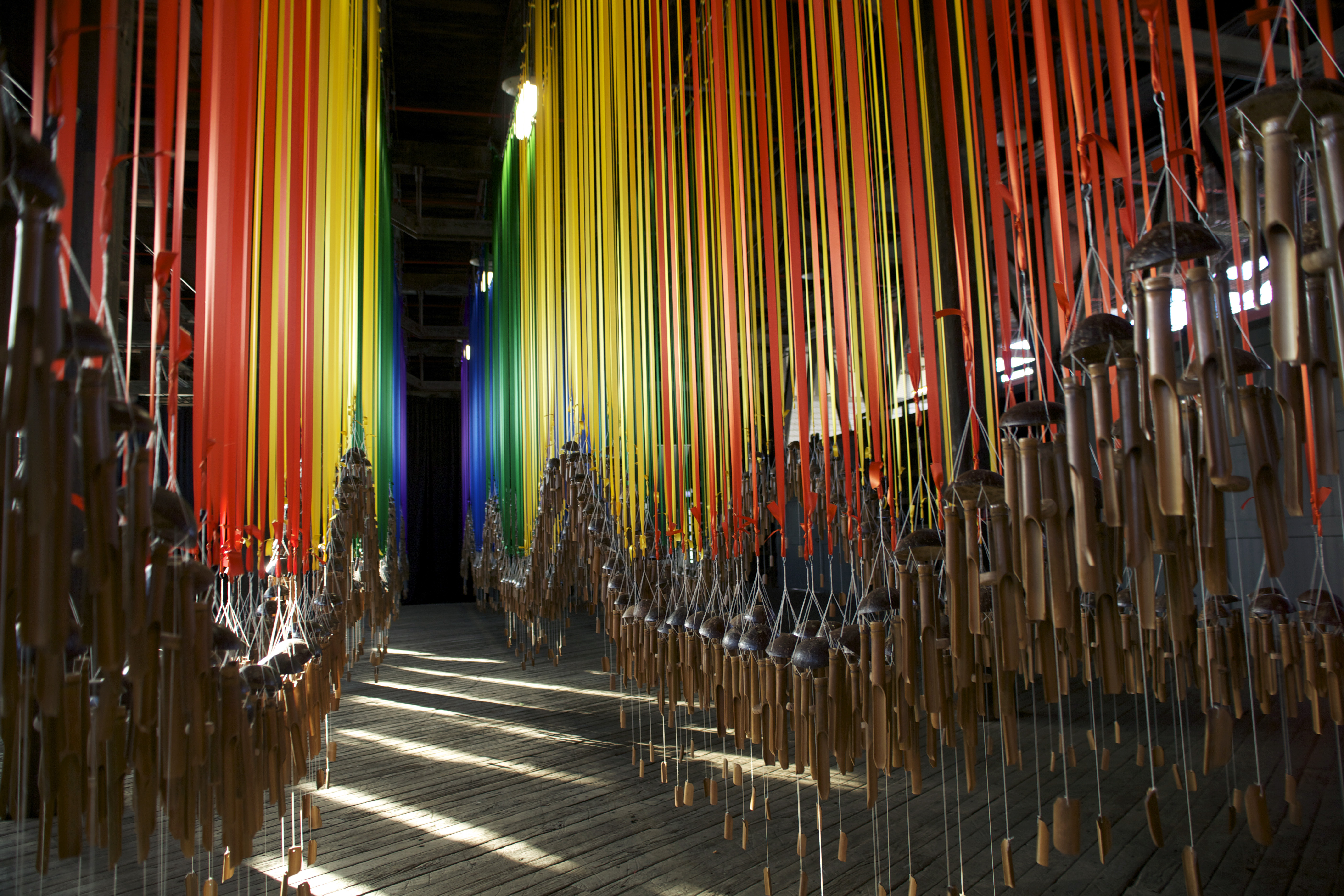 Tiffany Singh, Knock On The Sky Listen To The Sound (2011). Exhibition view of the 18th Biennale of Sydney at Pier 2 3. Photo: Tai Spruyt.
SA

Many art observers in Australia are delighted to see an Asian curator appointed for the first time as artistic director of the BoS. Indeed, some think it way overdue. Do you see your position as an Asian curator as important for your incarnation of the Biennale?

MKIt is important for three primary reasons. First of all, it is important for both the Biennale and its audiences to redefine the current position of the Biennale 45 years after its inception.

Second, it is important for me to state that BoS is not only about bringing international contemporary art to Australia, as it was in earlier times, but about being aware of its own standpoint in order to reconsider the world it references.

And finally, perceptions of the world, cosmos and nature that draw on Asian cosmologies and belief systems are important to me and something I would like to have represented in the 21st Biennale, alongside my own understanding of the universe.
Art is a valid way to explore these unknown frontiers, to offer thought and awareness.
SA

Centres of power and interest are constantly emerging and shifting in the art world. Are there any frontiers left in contemporary art? Are they now virtual rather than geographic frontiers?

MKWe could say that contemporary art is always looking at frontiers, and has been at any time in its history. How do we equate a centre of power, or define contemporary art? In a time of multiple modernities and a globalised art history, it does not make sense to seek a lineal frontier.

Rather, we now live in a time when we should shed light on unknown realms, including missing or overlooked zones of art history. There are still such vast unknown areas of knowledge: from dark matter in space to cells in the body. Art is a valid way to explore these unknown frontiers, to offer thought and awareness.
Cockatoo Island. Courtesy Airview Online.
SA

You were co-artistic director (with 5 other curators) of the 2012 Gwangju Biennale. How did that experience influence your thinking about biennales?

MKI am not sure how my experience at Gwangju Biennale might influence this particular BoS edition. Each event has diverse audiences and specific demographics and different expectations, yet one thing I could probably say is, regardless of the complexities of a local and international context, the fundamental issues are quite common.
SA

The transient nature of biennales seems appropriate for the fast pace of today's world. What kinds of opportunities, strengths—and challenges—does the temporary showing of art outside of museum walls offer?

MKMany biennales, at least in Asia, are becoming quite similar to major museum exhibitions—with larger budgets than their museum-based equivalents. A number of them take place with one main museum functioning as the central venue and small side venues supplementing the main presentation. While periodic exhibitions tend to a transient nature, a biennale like Sydney has its own history. I think it is important to see what has been accumulated in the art community in Sydney and the region in the past 45 years.

Of course, non-museum venues, such as Cockatoo Island, enable a certain type of installation, with restrictions from a conservation point of view. Non-traditional sites do provide a different experience and allow a wide audience to encounter art.
Image: Mami Kataoka. Photo: Daniel Boud.
SA

Finally, what do you think the future holds for the biennale exhibition model? Do you think it will be a model which endures through the 21st century?

MKI don't think we can assume a general framework for projecting biennales into the 21st century; presentation models will be shaped by artists and their concerns and practice. One could ask is 'contemporary art' a distinguishable movement in art history? It is impossible to say what platforms might possibly appeal or be utilised in 25 or 50 years. As an exhibition maker I try to respond to artists and be sensitive to their ideas.

I'm as curious as anyone to see how artists might engage with their worlds, and indeed how that might intersect and merge with other aspects of contemporary culture such as design or food. Having said this, I am very much aware that all these discussions and experiments are based on the fundamental questions: Do we still need the biennale? What is the function of the biennale for the city and people? What can we leave behind for the coming 100 years? Perhaps it is not a matter of a 'model', but more of sustainable, underpinning philosophies. —[O]