News | Artists
Arturo Di Modica Negotiated a $12m Platinum Bull, Says Dealer
The Sicilian artist's ambition overcame the obstacles he faced right up until his passing on Friday, aged 80.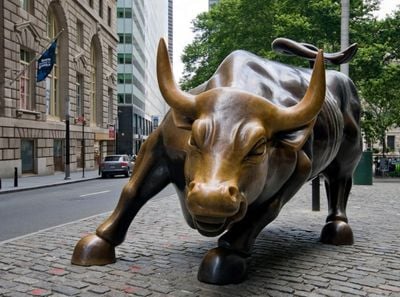 Arturo Di Modica, Charging Bull (1989). Bronze. 340 x 490 cm. Courtesy Gin Huang Gallery.
Sicilian-born sculptor Arturo Di Modica is best known for his Charging Bull (1989), a work now inextricably associated with America's finance industry. But Di Modica worked tirelessly throughout his life, creating dozens of bull sculpture of different sizes as well as other works in bronze, stainless steel, and marble.
In addition to the 16-foot bronze bull in Manhattan, which Di Modica created using U.S. $350,000 of his own money and installed under cover of darkness outside the New York Stock Exchange in 1989, the city of Shanghai commissioned another bull that was unveiled in 2010. A third public bull was negotiated fot the United Arab Emirates, but never realised.
'He wanted to make a triangle of peace love in the world connected by three bulls,' said London dealer Jacob Harmer, who began working with Di Modica in 2012 when he was just 24 years old.
'They were building the financial district in Abu Dhabi and we all thought we'd secured the sale back in 2014 — $12 million for one sculpture — but then this agent got involved,' Harmer recalls. 'He said if the deal happened there'd be a lawsuit, and the whole thing collapsed.'
'It would've been a 16-foot platinum bull,' he said.
The Shanghai bull Di Modica did realise was already unlikely enough. Unveiled in 2010, it was widely perceived as a statement of the city's ambition to displace Hong Kong as the region's financial centre, and China's bid to become the world's leading economic power. In the spirit of these rivalries, Di Modica told The Wall Street Journal he made the Bund bull 'redder, younger, and stronger' — red, because it's 'the colour of China' and strong because 'it's about a strong nation'.
The sculpture was something of a capstone to China's 'economic miracle', the transformation from an impoverished Communist country in 1989, when the New York bull was installed, to the 'socialist market economy'— a hyper-competitive capitalist society presided over by an authoritarian government — it is today. However, Harmer said, 'Arturo wouldn't be thinking about that.'
'He came to America with nothing and by 1987 he had a four-level studio he owned on Crosby Street [in Lower Manhattan], he had some of the world's strongest collectors, and he had a Ferrari,' he said. 'The [New York] bull was a gift back to America. It wasn't a finance-related thing; it was to inspire people to keep on fighting for the future.'
British billionaire Joe Lewis, who turned the millions he made in themed restaurants into billions trading currencies, is the biggest private collector of Di Modica's bulls. He owns the New York bull as well as 16-foot bronze bulls at the first tee of the Isleworth golf course in Florida and at Albany Marina in the Bahamas.
An eight-foot bronze bull was also purchased by a Dutch family and has been displayed outside the Amsterdam Stock Exchange since 2012.
Harmer attributes Di Modica's success to his tireless work ethic and indomitable ambition.
'If he made $100,000, he'd start a project for $500,000,' Harmer said. 'He was always overextending, always under so much financial strain.'
Towards the end of his life, he was also under considerable physical strain, which he largely chose to ignore.
'In the last two years, he would collapse,' Harmer said. 'We'd be walking along and I'd have to grab him before he fell, but he'd just get back up and carry on going. He had so many operations, the doctors would tell him you've got to rest now, and the next day he'd be out of the hospital, take a trans-Atlantic flight in terrible shape, and be straight back in the foundry.'
Di Modica is also represented by Taiwan's Gin Huang Gallery and SM Fine Art Gallery, New York. —[O]