News | Artists
Banksy Funded Boat Rescues Hundreds in One Week
The artist didn't want to keep money he made from works about the refugee crisis.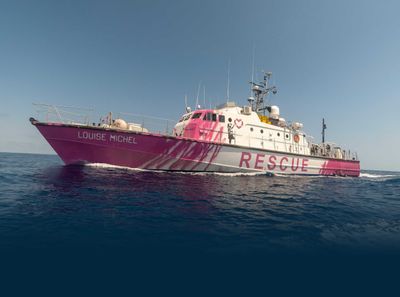 MV Louise Michel. Courtesy Louise Michel.
A vessel bought by British street artist Banksy to help people in distress trying to reach Europe has rescued hundreds since it set off from Spanish seaport Burriana, near Valencia, on 18 August.
The MV Louise Michel, a former French Navy boat crewed by a collective of 10 experienced rescuers, had already picked up 89 people off the coast of Libya—found bucketing water out of a dinghy with their hands on 27 August—when it received word of another 130 in need of help. Two days later, with 219 survivors on board and another 33 on an attached life raft, the Louise Michel had significantly exceeded its maximum capacity of 120 passengers and was itself in need of assistance.
'#LouiseMichel is unable to move, she is no longer the master of her manoeuver, due to her overcrowded deck and a life raft deployed at her side, but above all due to Europe ignoring our emergency calls for immediate assistance. The responsible authorities remain unresponsive,' they tweeted.
After several hours, an Italian Coast Guard vessel and German rescue boat Sea-Watch-4 arrived to transport the people to safety.
Banksy first introduced the 30m Louise Michel, which is capable of traveling at up to 28 knots, in a video he posted to his Instagram on Sunday.
'Like most people who make it in the art world, I bought a yacht to cruise the Med. It's a French navy vessel we converted into a lifeboat because EU authorities deliberately ignore distress calls from "non-Europeans". All Black Lives Matter.'
Banksy painted the boat pink using a fire extinguisher, and decorated it with a stencil of a girl holding onto a heart-shaped life preserver.
Last year, Banksy reached out to activist Pia Klemp, captain of several NGO boats that have rescued thousands over the years, offering money made from artworks about the refugee crisis.
'I am an artist from the UK and I've made some work about the migrant crisis, obviously I can't keep the money,' he wrote in an email to Klemp, according to The Guardian. 'Could you use it to buy a new boat or something?'
Banksy's previous works on the subject of freedom of movement for migrants and refugees include a 2015 portrait of Steve Jobs, whose father moved to America from Syria, at a refugee camp in Calais, France, and a child in a lifejacket holding up a rescue flare on a canal in Venice, Italy.—[O]