News | Events
CAFA Museum's Tech Triennale Falls Victim to Virus
With more events being postponed and institutions closing their doors, Art Basel in Hong Kong is also under pressure to cancel.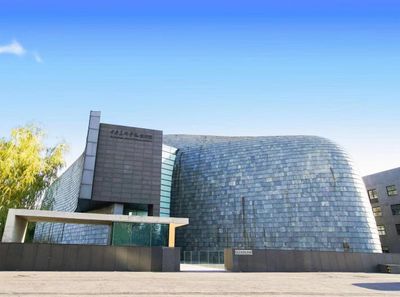 China Central Academy of Fine Arts Museum. Image courtesy the museum.
UPDATE—this story has been updated to include the postponement of both Gallery Weekend Beijing and the opening of the He Art Museum.
The inaugural CAFAM Techne Triennial 2020, which would have taken place in Beijing from 20 February–29 March, has been postponed indefinitely. The event would have brought together works by more than 130 artists and collectives from 28 countries.
'To reduce mass gathering amid the outbreak of the coronavirus, CAFA Art Museum will postpone the CAFAM Techne Triennial 2020, and has suspended its preparations for the exhibition,' said China Central Academy of Fine Arts Museum director Zhang Zikang.
Many of mainland China's art museums have similarly shut down because of the virus, which has been declared a global emergency by the World Health Organisation (WHO). The National Art Museum of China in Beijing, the Guangdong Art Museum in Guangzhou, and the Union Art Museum in Wuhan were among the first to close.
Other institutions that closed for Chinese New Year have postponed reopening, among them the UCCA Centre for Contemporary Art in Beijing.
Michael Xufu Huang and Theresa Tse's X Museum, slated to open in Beijing in March, has been delayed indefinitely, and the He Art Museum in Guangdong will not open on 21 March as planned.
Fairs and events in mainland China and beyond are now in doubt. Gallery Weekend Beijing, scheduled to take place from 13–20 March, has been postponed. They will decide on March 15 whether to postpone the event to mid-April or cancel it entirely.
The organisers of Art Basel in Hong Kong, already dealing with concerns about the city's protracted political protests, are under increasing pressure to cancel the event, which is planned for 19–21 March.
In a letter to galleries obtained by Bloomberg, Art Basel directors Noah Horowitz, Adeline Ooi and Marc Spiegler said, 'This is a challenging time for all of us. Our team is working hard to review all possible options. Needless to say, the contemplation of postponing or cancelling an event of this scale—which takes a full year to produce—is a complex process, with many factors and multiple stakeholders.'
They continued, 'The health and well-being of you, your team, our team, and everyone involved is of paramount concern, and we are equally cognisant of the many impending deadlines. We fully recognise the urgency of the situation, and we will provide a resolution as soon as we can.'
Some galleries in the city have already cancelled upcoming March shows, including David Zwirner, who called off a Luc Tuymans exhibition. He told ARTnews that Art Basel in Hong Kong's cancelation is just a matter of time.
'They will do the right thing,' he said.
Art Central in Hong Kong, planned for 18–22 March, is another event that's now in doubt.
Art institutions outside greater China are continuing business almost as usual. National Gallery Singapore said it was monitoring the situation, and Tokyo's Mori Art Museum has allowed staff to wear masks. —[O]