News | Artists
Heman Chong's First Show at STPI is a Spy Thriller
Opening 20 February, the exhibition includes redacted texts and photos of embassies' unmarked back doors.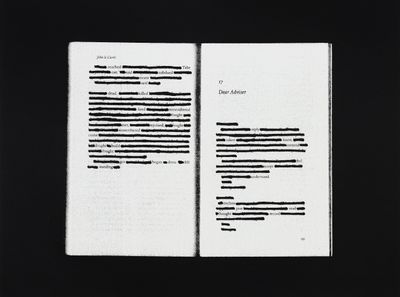 Heman Chong, Call for the Dead (2020). Produced at STPI – Creative Workshop & Gallery. © Heman Chong / STPI. Photo courtesy STPI.
The title of Heman Chong's first solo show at STPI Creative Workshop & Gallery, Singapore, drips with irony. Peace, Prosperity And Friendship With All Nations is also the phrase used on a coin created to mark Britain's exit from the European Union on 31 January 2020.
The phrase is an indirect apology, an attempt to paper over the same nasty nativism that supported Trump's wall and allows China's ongoing repression of Uyghurs. It's a fitting departure point for an exhibition that investigates our collective backslide away from globalism, retreating to the kind of realpolitik more associated with the Cold War.
Call for the Dead (2020), for instance, takes its name from John le Carré's spy novel of the same name, published in 1961 when he was still working for British Intelligence. Each of the 86 silkscreen prints in the room-sized installation depicts a spread in the book, only with almost every word except for the verbs redacted in black ink. There are no subjects or objects, just deeds done in the dark for reasons unknown.
Covert actions are also implied by Chong's 'Foreign Affairs' series. The artist has taken hundreds of photographs of effortfully nondescript backdoors into embassies—the domain of whistle-blowers and dissidents on the run from the nation-states they seek to criticise. These photographs are repeated on a grid, as if viewed through the eyes of an insect, or on a bank of closed-circuit televisions.
Heman Chong. Photo: Toni Cuhadi. Image courtesy of STPI – Creative Workshop & Gallery, Singapore.
The pandemic, of course, did far more to roll back our global connectedness than Donald Trump or Boris Johnson ever could. Chong captured the phenomenon in his series 'The Circuit Breaker Paintings' (2020). Each of the 56 works, painted with a large X as if marking off a calendar, corresponds to a day of Singapore's 'circuit breaker' lockdown, which persisted from 7 April 2020 to 1 June 2020.
In Safe Entry (Version 2.0-2.7) (2020), giant QR codes like those used to access Singapore's national registration system, instead take viewers to a recorded walk of Changi Airport's Terminal 2, a familiar but increasingly distant memory for regular travellers in the region.
Chong, who was born in Malaysia and grew up in Singapore, described his fascination with nation-states in a text originally presented at Asia Contemporary Art Week's annual forum in 2019.
'I think we can all agree that nationalism is a kind of fiction: a way of telling a story to produce some sort of an agreement about what is real and what is not, just like money, or the law. These things allow us as human beings to somehow agree with each other in a way that enables the formation of something like a cooperative: a union that allows us to interact with each other in order to dominate the planet, or the exact opposite.' —[O]