News | Market
How Are Governments Supporting Art Workers During the Pandemic? (UPDATED)
Most of the benefits workers in the arts and culture sector are eligible to receive are part of broad support for small businesses, employees, and the self-employed.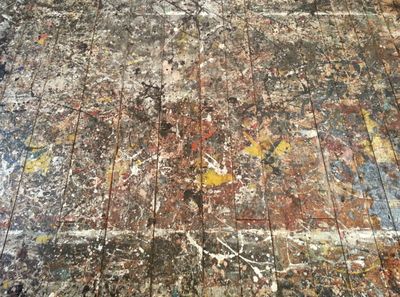 Studio floor used by Jackson Pollock at the Pollock-Krasner House and Study Center in Springs, New York. Photo: Rhododendrites (CC BY-SA 4.0).
UPDATE — Artist Relief grants worth US $10 million have been made available to American artists affected by COVID-19. Application information for the US $5,000 grants can be found at artistrelief.org.
National governments around the world have announced economic stimulus and support measures in response to COVID-19. These include wage supplements that will help galleries pay staff, benefits for employees of art companies and organisations, and entitlements for the self-employed that may help artists. For some in the art world, however, these measures don't go far enough.
Hans-Ulrich Obrist, the artistic director of the Serpentine Galleries, has called on the British government to invest millions of pounds in the arts in a move similar to United States President Franklin D Roosevelt's Public Works of Art Project (PWAP) and Works Progress Administration (WPA). Established during the Great Depression, these schemes employed more than 3,700 artists and helped kickstart the careers of Jackson Pollock and Mark Rothko.
The Metropolitan Museum, New York, has been similarly vocal in appealing for massive government investment that has not yet come. The Met called for a US $4 billion bailout for American museums alone, campaigning under the hashtag #CongressSaveCulture on social media.
Here's what governments in the English-speaking world have promised so far.
Australia
The Australian government will spend 320 billion Australian dollars, or 16.4% of GDP, in response to COVID-19, including $130 billion in wage subsidies. The plan includes expanded eligibility for the JobSeeker Payment, which pays $550 per fortnight, and the JobKeeper Payment, which pays $1,500 per fortnight for up to six months for those who would otherwise have to be let go. They are also offering $20,000-$100,000 to small and medium-sized businesses and not-for-profits. More information can be found on the Treasury website.
Without any additional funding, the Australia Council for the Arts has redirected $5m from available fund to provide immediate relief to Australian artists, art workers, and art organisations. Individual states are also offering additional support. More information is available on the website of the Australia Council for the Arts.
Canada
On 28 March, Canada raised its economic stimulus spending to 202 billion Canadian dollars. This includes a Temporary Wage Subsidy for Employers, Employment Insurance for employees, and the Canada Emergency Response Benefit (CERB) for self-employed people, which could include artists and cultural workers whose income has been disrupted. The CER is a payment of $2,000 per month for up to four months.
To help arts organisations survive while their doors are closed, the Canada Council for the Arts will be making advance payments totalling $60 million—equivalent to 35% of their annual grants—to their 1,100 core-funded organisations.
More information on resources available to art and culture workers, including the Temporary Wage Subsidy, Employment Insurance and the CERB, is available on the website of the Canada Council for the Arts.
Hong Kong
In late February the Hong Kong government announced its Anti-epidemic Fund, 120 billion Hong Kong dollars worth of measures to support the economy, including a cash payout of $10,000 to residents age 18 and above, and low-interest loans with government guarantees for small businesses. A second round of measures to support businesses and residents impacted by the COVID-19 outbreak will be announced shortly, according to chief secretary for administration Matthew Cheung Kin-chung. More information on these benefits can be found on Hong Kong's coronavirus response website.
Also included in the Anti-epidemic Fund is $150 million to support the arts sector, of which $50 million was allocated to the Hong Kong Arts Development Council to strengthen its Support Scheme for Arts & Cultural Sector. The HKADC expects the scheme to benefit more than 630 organisations and projects with up to $130,000 and around 4,600 arts practitioners with up to $7,500. More information is available on the HKADC website.
New Zealand
New Zealand announced a stimulus package of $12.1 billion New Zealand dollars, or 4% of GDP on 17 March, adding an additional $4 billion to the package on 23 March. Wage subsidies will allow employers to draw $586 per week per full time staff member and $350 per week for part time workers to offset a 30% or greater drop in revenue from January to June 2020. The self-employed, sole traders and contractors are also eligible for the wage subsidy. More information is available on the Work and Income website.
Government arts agency Creative New Zealand's Emergency Response Package will provide $16 million to support the arts community, with funding available from 14 April. Funding includes: Arts Continuity Grants (up to $50,000) to support the creation of new work or the reframing of an existing project; Emergency Relief Grants (up to $10,000) for artists experiencing devastating loss of income and opportunity and an uncertain future; and unspecified sums for arts organisations. A second phase of funding providing support beyond June will be discussed in April. More information is available on the website of Creative New Zealand.
United Kingdom
The British government's total economic relief package to date is £330 billion, or 15% of GDP. It has promised to pay 80% of the wages of furloughed workers and 80% of the income of self-employed people for three months, up to £2,500 per month. It has also introduced cash grants up to £25,000 for small businesses. More information is available on gov.uk.
Arts Council England has released plans for a £160 million emergency response package that will give £20m to artists, creatives and freelancers, with grants of up to £2,500 each, and offers £50m to organisations outside its national portfolio, with a further £90m to support National Portfolio Organisations such as the Barbican Centre and the Whitechapel Gallery. More information is available on the website of Arts Council England.
A new Culture in Quarantine Fund launched by BBC Arts with Arts Council England is also offering grants of £3,000-8,000 for projects that 'could have been made at no other time'.
United States
The United States' 2.2 trillion US dollar stimulus package includes a one-time $1,200 rebate per adult making under $75,000, and tax credits for businesses who keep workers on their payrolls up to a maximum of $5,000 per worker. The unemployed will be able to receive an extra $600 per week for up to four months on top of state unemployment benefits to make up 100% of lost wages. Independent contractors and gig workers will also be eligible to receive federal aid. Student loan payments have been suspended and protections have been implemented against foreclosures and evictions. More information is available at benefits.gov.
The stimulus package also includes funding specifically earmarked for the arts, including: $25 million for the Kennedy Center for the Performing Arts, Washington DC, which was said to be at risk of closing permanently without the cash injection; $7.5 million towards the Smithsonian Institution; and $75 million each for the National Endowment for the Arts and the National Endowment for the Humanities, organisations that provide grants to arts and culture groups across the country. More information on resources available to American artists and arts organisations is available on the website of the National Endowment for the Arts. —[O]
—