News | Galleries
Peter Blake, Great British Pop Artist, to Pop Up at Mayfair Art Weekend 2022
Works by Billy Apple, Yoshitomo Nara, and Hans Hartung will also be shown during the event.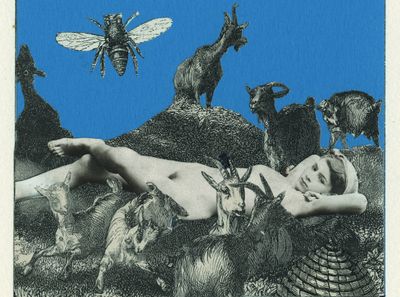 Peter Blake, Images for Under Milk Wood by Dylan Thomas (1985-2013). Detail. © Peter Blake. Courtesy the artist and Waddington Custot.
British Pop art icon Sir Peter Blake, known for his contribution to the Beatles' Sgt Pepper's Lonely Hearts Club Band album cover, will have two shows running during the Mayfair Art Weekend in London from 24 to 26 June.
Waddington Custot will present works from Blake's 'Under Milk Wood' series (1979-ongoing), which comprises 170 collages, watercolours, and drawings illustrating Dylan Thomas's radio play of the same name. Blake's works will be shown in a pop-up space at 22 Cork Street opposite Waddington Custot's main gallery, which will be showing paintings and photography by Hans Hartung.
A 15 minute walk away, The Dorchester Collection's 45 Park Lane hotel is hosting an exhibition of the artist's most recent collage series, 'Joseph Cornell's Holiday' (2017-2019). In the series, Blake envisages his hero, the late pioneering American assemblage artist, travelling to locations across the globe from a Blackpool Desperate Dan convention to the Royal Court of Ludwig II of Bavaria.
Blake emerged on the British art scene in the late 1950s and promoted a style of pop art, warm, affectionate and towards its subject matter. In a recent interview with The Guardian, Blake set himself apart from Pop Art peers like Roy Lichtenstein and Richard Hamilton saying, 'They were good, I think, but they weren't kind: they weren't kind to comic books.'
Billy Apple, NY Rainbow (1965). Neon. Copyright the artist. Courtesy The Mayor Gallery.
27 Galleries Join Mayfair Art Weekend 2022
This year, 27 exhibitors are taking part in Mayfair Art Weekend down from 40 last year. Mayfair Art Weekend Director Cherie Silver attributed this decline to the postponement of TEFAF Maastricht to June, which has left several regulars understaffed and unable to simultaneously hold London shows.
Among those making a return, James Hyman Gallery will hold a show to celebrate the 95th birthday of another veteran of British art, Derrick Greaves. Meanwhile, The Mayor Gallery on Cork Street will re-stage the groundbreaking 1965 exhibition of Billy Apple's neon and plexi-glass Rainbow sculptures. Richard Saltoun Gallery will present immersive performances by Romina de Novellis, and Cardi Gallery has an exhibition on Fluxus co-founder Wolf Vostell.
International mega-gallery Pace, who are participating for the first time, will display Yoshitomo Nara's Peace Head (2021) in Hanover Square for the Mayfair Sculpture Trail event that runs from 20 June to 31 July.
Romina de Novellis performing Veglia as part of Tales from the South, Richard Saltoun Gallery London, 2022. Photo by Karen Bengall.
Other new participants include London art charity The Koppel Project, which will showcase Black portraiture with the group show My Profile (23 to 26 June), and The NFT Gallery, whose inaugural show Surface Tensions (9 June to 22 July) puts a spotlight on female creators of NFTs and traditional artworks.
'For Mayfair Art Weekend, we encourage visitors to explore the galleries nearby which may not be in their regular art walk route through Mayfair,' Fair Director Cherie Silver told Ocula Magazine.
'Searching of the galleries which are hard to find, whether on the first floor or down a mews is part of the Mayfair Art Weekend experience,' she said.
Mayfair Art Weekend will again coincide with the Royal Academy of Arts Summer Exhibition 2022 (21 June – 21 August) and the RA Schools Summer Show (17 June – 3 July), as well as Phillips 20th century and contemporary art auction previews.
See a full list of exhibitors participating in Mayfair Art Weekend here. —[O]