News | Market
Phillips Asia Launches Valentine's Day Auction 'My Kawaii Valentine'
The online auction includes not only paintings and prints but also NFTs—a reminder that true love is non-fungible.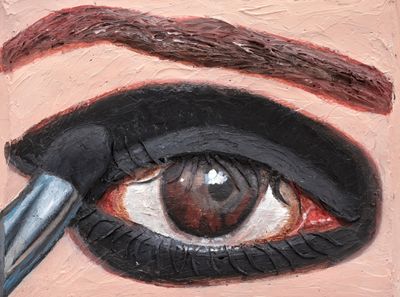 Gina Beavers, Ultimate Smokey Eye (2019). Acrylic on linen mounted on panel. 51 x 61.1 cm. Courtesy Phillips.
Phillips today launches a Valentine's Day-themed auction that runs online from 9pm HKT on 14 February until 6pm HKT on 22 February.
The 'My Kawaii Valentine' sale includes paintings and prints by artists such as Yoshitomo Nara, Tomoo Gokita, and Katherine Bernhardt, plus NFTs by artists including Pomme Chan, Rewind Collective, and Japanese pixel artists EXCALIBUR.
The most meta of the six NFTs is Drowning in Love, whose final form will be decided by up to 100,000 auction data points collected during the week-long sale. The work was created by MonoC, a virtual artist generated by Hong Kong 'brandtech' firm Gusto Collective.
Lili Tae, Love, Me (2022). JPG: 9.6MB. Courtesy Phillips.
Other notable NFTs in the sale include Love, Me (2022), which Bangkok-based illustrator Lili Tae renders in a style inspired by Japanese schoolgirl magazines, and Her Body is Metal (2022) by Polish digital artist Maciej Kuciara, who worked as a concept artist on the films Ghost in the Shell (2017), Wonder Woman 1984 (2020), and the forthcoming Guardians of the Galaxy Vol. 3 (2023).
There are no estimates for the NFTs, with bidding starting from just HK $1,000 (US $128).
Estimates for the physical works include HK $300,000–500,000 (US $38,500–64,100) for Tomoo Gokita's painting Fake Cezanne #1 (2017) and HK $100,000–300,000 (US $12,800–38,500) for both Edgar Plans' A City Park (Undated) and Gina Beavers' Ultimate Smokey Eye (2019), pictured top. —[O]