News | Artists
Who Was Awarded the 2020 NSW Visual Arts Emerging Fellowship?
The winner of the $30,000 opportunity was chosen from eight finalists.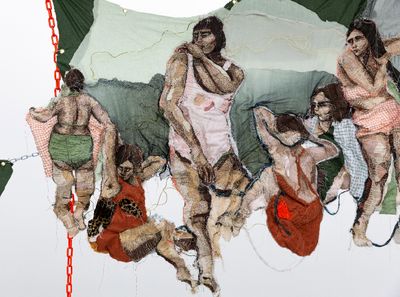 Julia Gutman, No one Told Me the Shadows Could Be so Bright (2020). Clothes worn and forgotten by Gutman's friends, found tablecloths, wire, thread, wooden frame, industrial chains. Courtesy the artist.
Artspace, Sydney, and government arts agency Create NSW announced Dennis Golding the winner of the 2020 NSW Visual Arts Emerging Fellowship today on Facebook Live. The award, valued at AUD $30,000, is offered by the NSW Government to allow an early-career visual artist to carry out a self-directed program of professional development.
Golding, who is of Gamilaraay descent, is the first indigenous Australian artist to win the award. He beat out fellow finalists Akil Ahamat, Tarik Ahlip, Tiyan Baker, Kate Brown, Julia Gutman, Nadia Hernández, and Kirtika Kain following an exhibition that opened on 30 October and continues through 13 December.
Dennis Golding with his work Cast in cast out (2020). Epoxy resin, iron oxides, concrete, acrylic, edition etching rag. Courtesy the artist and Artspace.
'Golding's work Cast in cast out (2020) stems from memories of the Victorian lacework that lined the terrace houses in his childhood suburb of Redfern and throughout the work's development the artist consulted with family, community and peers to embed shared lived experience into the installation,' said co-curators Alexie Glass-Kantor and Elyse Goldfinch. 'Spanning artistic and curatorial disciplines, Golding is an emerging leader in his community and we are excited to see where this opportunity will take his continued research and practice.'
The NSW Visual Arts Emerging Fellowship has been around for over a century, and has been hosted by Artspace for the past 24 years.
Create NSW convenes the judging panel, which this year consisted of: Clothilde Bullen, Senior Curator, Aboriginal and Torres Strait Islander Collections and Exhibitions at Museum of Contemporary Art; Lauretta Morton, Director, Newcastle Art Gallery; Steven Alderton, Director and CEO, National Art School; EO Gill, artist and 2018 recipient of the 2020 NSW Visual Art Emerging Fellowship; and Talia Linz, Curator, Artspace. —[O]