Image: (L-R) Helen Hughes and Victoria Lynn with work by Masato Takasaka, 5th TarraWarra Biennial. Photo: Victoria Stone-Meadows.
The TarraWarra Biennial was established in 2006 to pinpoint new trends in Australian contemporary art, and develop original modes of exhibition making. It is presented in the TarraWarra Museum of Art, a private art museum situated in the verdant outskirts of Melbourne.
The upcoming iteration of the Biennial is a curatorial collaboration between Helen Hughes, editor of Melbourne-based art journal Discipline, and TarraWarra Museum of Art director Victoria Lynn. Sub-titled Endless Circulation, the co-curators consider the structural principles of the journal and the exhibition: namely edition, circulation, dispersion and continuity, to inform the biennials' curatorial framework.
I sat down with Lynn and Hughes to discuss the Biennial and its experimental premise, and how the theme 'endless circulation' carries through to the public programming, publishing projects, and artworks themselves, which engage with political, economic and spatial concerns.
ZS

I'm interested in the idea of the journal being a stimulus and metaphor for exhibition making. Could you talk about that and how it has influenced the curatorial premise?

HHI guess we weren't thinking so much about modelling an exhibition on a journal, but rather looking at what biennials and journals have in common and using these commonalities as a way to collaborate. Victoria is very experienced in curating biennials and other large-scale exhibitions, while my experience is in editing and publishing. So we thought that would be a good procedure whereby to collaborate and draw out some thematics for the show.

For instance, we were interested in the fact that biennials and magazines reoccur periodically with different authors but also a shared platform; there is a sense of being fragmentary—of incompleteness. You might be looking at one issue with the knowledge that another issue will follow shortly in the future. There is always a sense of anticipation.

VLAnd there's also a sense of history. They each have a past. A journal has previous issues and so does a biennial. When you curate a biennial, you are conscious of what's been done before, and it's the same with a journal; we were also drawn to the idea of sections, chapters, and pauses. The other two metaphors that came out of our discussions was the idea of there being strong centripetal and centrifugal forces at play.

A journal is distributed, whereas a biennial brings artists, artworks and audiences in. We were interested in bringing these two forces or directions together and seeing what happens in creating an energy or rhythm for the exhibition. It's different from the DIS example (curators of the 9th Berlin Biennale), as it's not a journal curating an exhibition; rather it's a collaboration between an exhibition and a journal at a metaphorical level.

HHAlso, we were interested in how exhibitions are traditionally a place where an artist or a curator makes something public, often presenting it for the first time, whereas an art magazine is traditionally a site that receives information and then interprets and historicises it. We were interested in mixing these temporalities up a bit.
ZS

Right, so part of the exhibition is setting up pockets and spaces for unpredictable outcomes. You were speaking before of Christopher L G Hill, who has been given space to curate his own exhibition within the Biennial.

HHYes, that's right. He is curating the fourth/fifth iteration of his Artist-Facilitated Biennial, which began around 2008.

VLWith Chris's inclusion in the project comes a self-reflexivity about the TarraWarra Biennial itself. The museum is not simply organising a biennial; the museum has invited another biennial to work within and alongside it. That biennial has its own force and history, and we hope that their combination may open up a discussion around questions like: What are biennials? Who curates them? And how do they happen? Chris' fourth/fifth Artist-Facilitated Biennial and his many collaborators have a very different trajectory to that of the TarraWarra Biennial, with which we are interested in entering into dialogue.

HHIt'll be curious to see how it feels once it's installed, to walk from the central gallery space into this more private space that Chris is constructing in the North Gallery. We're hoping that visitors will exit one and enter the other, using the transition as a site for reflection.
ZS

How are the themes of the curatorial framework occurring in the artworks themselves?

HHTake two artworks in the show for instance: one refers to circulation as a metaphor, the other one literally circulates a material; and both have something to do with pipes. Sydney artist Biljana Jancic makes these incredible, linear sculptural/spatial drawings out of PVC pipes that she then paints in bold colours and textures. In composing the work, Biljana references the specific architectural properties of TarraWarra—perhaps speculating on what invisible networks might hide behind the museum's pristine walls (not necessarily just plumbing, but electronic networks—such as CCTV, internet cables, audio channels or intercom ...). Another artist, Debris Facility, has made soap out of activated charcoal particles that will be located in the TarraWarra bathroom. Visitors to TarraWarra will be able to wash their hands with the artwork and it will literally disappear down the drain, travel through the building's plumbing and out of the site altogether.

Another great project that sets an object or objects in motion is by the Brisbane artist Ryan Presley, who has effectively minted an Aboriginal Australian currency. Instead of having European or Anglo-Australian portraits on the faces of bank notes, he commemorates famous Aboriginal activists, such as the instigator of the Wave Hill walk-off of the Gurindji people Vincent Lingiari, resistance fighter Pemulwuy, Noonuccal poet Oodgeroo, and Wik elder and land rights activist Gladys Tybingoompa. These notes, which Presley dubs as 'Blood Money', will be located in the TarraWarra cash till where people can exchange them for Australian dollars. So the work is literally placed within financial circulation.
ZS

I am interested in the idea of the artworks' dispersion and circulation in terms of the art market. That's where artworks move through different spaces and contexts, with various degrees of pauses. Are there any works in the show that address this idea? What are your thoughts on that?

HHAn artist that directly addresses this is Sarah Crowest who is very interested in the idea that painting may be the most readily commodifiable art form. She's a painter, and she's interested in paintings' provenances—how their value increases over time if included in major exhibitions, or sold to new and prestigious buyers, et cetera. Sarah stitches or paints the work's provenance on its surface.

One of the paintings in the Biennial, for instance, has 'TarraWarra Biennial 2016' stencilled on it, and where it's going next, which is São Paulo. Sarah's going to wear it as an apron to the São Paulo Art Biennial—inserting her work into the show uninvited, like a piece of mobile graffiti. She also stitches the value of her artworks and their projected annual inflation into the lining; her works thus become a record of their own making and market value.

VLOther people wear Sarah's aprons too, meaning that the paintings build up wear and tear, and then we exhibit them. What I like about Sarah's work is that our exhibition of them is just one stage of their life. The exhibition is not the endpoint, or more precisely, the exhibition is not the ultimate endpoint. It's just part of the overall process. And I think a lot of the artists work in this way—they are working on a project and we are one stage of that project.

Another important part of the Biennial is the group of artists who are working with the colonial and imperial histories of Australia and Oceania, and who are dedicated to making these histories present in and through their work. For example, this is the case with Vincent Namatjira, who is the great grandson of the legendary Western Aranda watercolourist Albert Namatjira. Vincent's paintings are fantastically sharp.

One shows Captain Cook with his arm around Queen Elizabeth II's shoulder, as if to say that the colonial project that Cook initiated has not finished—that the colonisation of Australia is seemingly endless. Vincent has also made a new suite of paintings especially for the Biennial: he has painted portraits of every single Prime Minister who's been in power in Australia since he was born in 1983. There are nine of them altogether, beginning with Bob Hawke and extending up to Malcolm Turnbull.

HHThey look awesome all lined up in a row. Like many serial painting and photography projects, if you look at the portraits individually and very closely, you will notice lots of difference and nuance, but when you step back you are just overwhelmed by a blanket of sameness.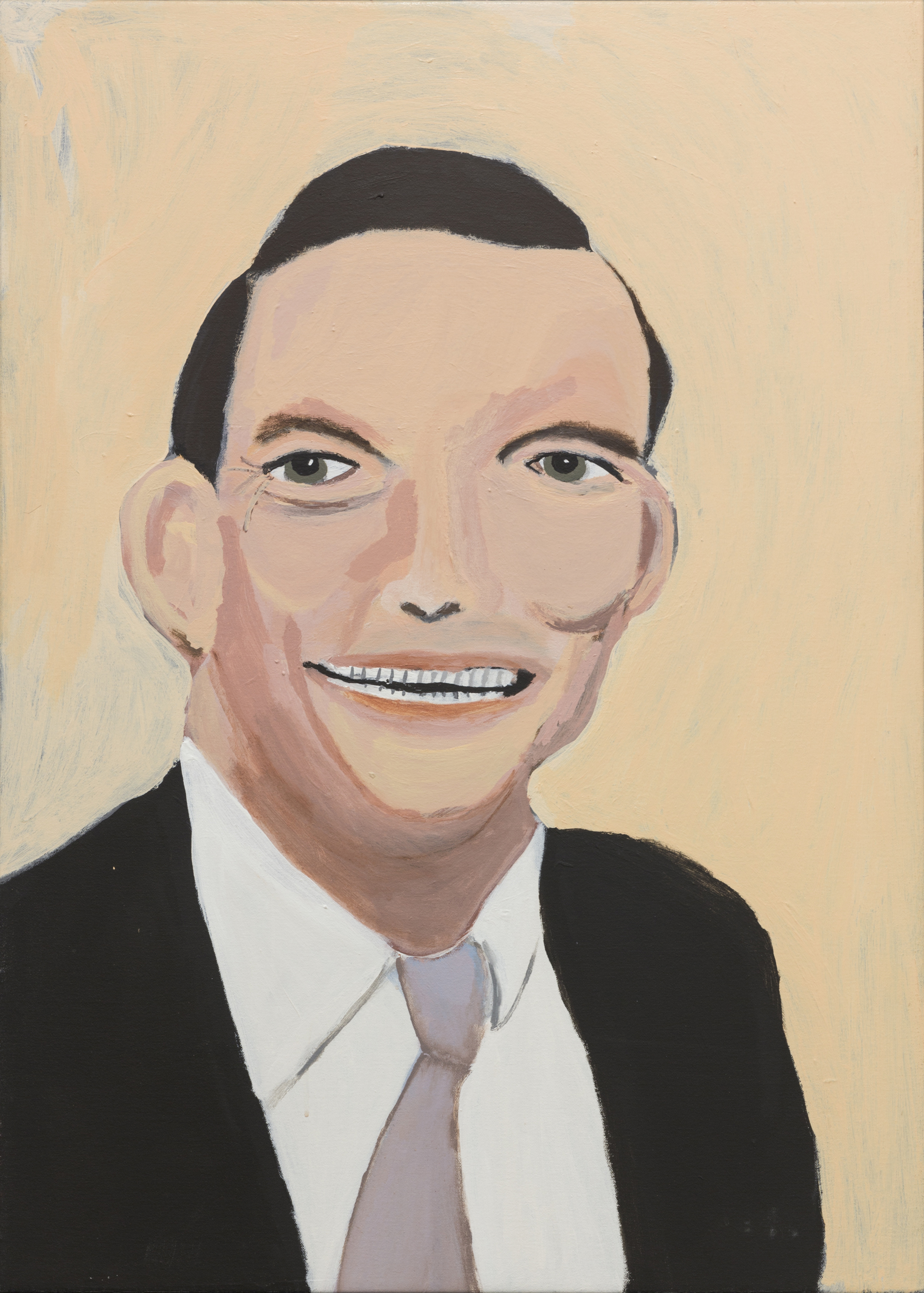 Vincent Namatjira, Tony Abbott (2016). Acrylic on canvas, 91 x 67 cm. Courtesy of the artist and THIS IS NO FANTASY + dianne tanzer gallery.
ZS

Could you talk about the public programs that are occurring as part of the Biennial?

VLWe invited 3-ply, which is the imprint of Melbourne artist Fayen d'Evie, to be part of the Biennial because it's a very interesting independent publishing practice, one which is keenly attuned to and very reflexive about the way publications circulate through different distribution channels. 3-ply decided to work with the fashion curatorial project Centre for Style, who together decided to make a book titled HEROES, which they are describing as a cross between a fashion magazine and an artist's book. Together, they approached a number of fashion designers around the world to create and document new haute couture garments.

HHThe list of participants also includes artists and other 'subculture identities', as Matthew Linde of Centre for Style put it. The curators gave the participants very strict parameters, saying: you've got 24 hours to use materials found in your bedroom or your apartment. You have to create a look that is self-canonising—a look that is an exemplary expression of yourself. It's a complex proposition engaging economies of speed, self-imagining, and self-design. And the results are quite amazing!

VLSo their project is the book, which is a multiple of 1000. In the meantime, 3-ply and Centre for Style were thinking that it would be really great to get a local fashion designer to create a new range alongside HEROES, and then carefully consider how that range would be displayed and orchestrated within a museum environment. So as a result the project has expanded to involve the Melbourne-based collaborative partnership Monica's Gallery (comprised of Spencer Lai and Jake Swinson), and the young, Melbourne-based designer, Jessie Kiely. There will be a fashion performance of Kiely's collection on Friday 19 and Saturday 20 August where the installation and fashion collection will be activated by models. Afterwards, the fashion range will be installed inside the installation, so there will be a before-and-after feeling to it. This project is completely transforming the entrance foyer of the museum; it is almost unrecognisable.

HHAs well, what I love about this collaboration is that Monica's Gallery wrote the feature article in HEROES with Jessie, which they titled 'The Banquet' and illustrated themselves with grey lead drawings and photographs of fabrics. The idea of the fashion parade and installation comes directly out of this feature article, which represents a collapsing of exhibition, fashion and publishing projects. The feature article is a fictional (or more precisely, fan-fictional) piece set in a castle in what I imagine to be a futuro-medieval, Game of Thrones-type land where an elaborate banquet is held. The guests invited to the banquet are all wearing different outfits, which are described in some detail in the article—so the way you as the reader experience the outfits is through this ficto-critical description, which runs counter to traditional fashion magazines. The story gets quite grotesque and violent, a bit Ballardian even! What viewers see in the TarraWarra foyer is the setting of this feature article come to life.

Throughout the rest of the duration of the exhibition there are also six lectures happening at TarraWarra, Gertrude Contemporary, the National Gallery of Victoria International, and Blak Dot Gallery, which constitute the special TarraWarra Biennial/Discipline/Gertrude Contemporary lecture series. The speakers—Charles Green, Chari Larsson, Chris McAuliffe, Astrid Lorange and Andrew Brooks, Léuli Eshraghi and Tina Baum—are each responding to the themes of the show.

VLAnd from the point of view of TarraWarra, it was very important that the lecture series occurs in Melbourne as a way to locate the Biennial outside of TarraWarra and bring it to Melbourne audiences.

HHYes, Endless Circulation is not just about Discipline going into TarraWarra Museum of Art, it's also about TarraWarra coming into the city and permeating the magazine's structure and its community. —[O]