Feature
Collateral Gains: Delhi focus
K Benitha Perciyal, Y_ou will never understand until it happens to you_ (2016). Tree resin, used wood. Installation view: Diary Entries, Gallery Espace, New Delhi (23 January–20 February 2016). Courtesy Gallery Espace.
Plugging in to the excitement created around the India Art Fair, which premiers on 28 January 2016 at the NSIC exhibition grounds in Okhla, New Delhi, exhibition spaces in the capital are hosting some of their best shows. There are private galleries presenting solo exhibitions featuring contemporary and relatively younger artists, such as Sumakshi Singh at Exhibit 320, Shilpa Gupta at Vadehra Art Gallery and Kartik Sood at Latitude 28. The Indira Gandhi National Center for the Arts, in association with the Gujral Foundation, is presenting a show dedicated to Modernist painter, Satish Gujral; while Vadehra Art Gallery is showing recent work by another important Modernist, SH Raza. While artists like Singh and Sood are working round the clock to mount their shows, which will premier on the famed Lado Sarai Gallery Night on 30 January 2016, others have opened their shows a little earlier. In addition to these exhibitions, we provide a summary of other shows not to miss.
Gallery Espace
16 Community Centre, New Friends Colony
Diary Entries (23 January–20 February 2016) at Gallery Espace presents a precise selection of five artists both senior and emerging by curator Gayatri Sinha and is intended to underscore a sense of feminine intimacy. Using the concept of the 'diary' as a motif, Sinha describes this exhibition as creating a space for reflection and contemplation, noting that the 'diary has often served as a cinematic voice'. She chose women artists who have a certain relationship with text, like Nilima Sheikh who has a close relationship with the diary as a sketchbook and has embraced various kinds of painting, from the hand-held miniature to constructs of architectural scale. Benitha Perciyal's works have multiple points of reflection on India's colonial history, and she uses a variety of media to create her contemplations. Paula Sengupta is a visual artist, academic, and writer, who is equally at ease working with different forms of expression such as painting, printmaking, installation and site specific performance work. Sheba Chhachhi is a Delhi based photographer, women's rights activist, writer, film-maker and installation artist and it is in her works that Sinha contemplates the cinematic aspect of the diary. Hemali Bhuta has meditative works on the metropolis of Mumbai. 'The way I have conceptualised the show the works do not annotate each other, rather they follow a vernacular aesthetic that refers to the ground the artists are coming from. I have been writing about women artists for a while now and having this exhibition at Renu Modi's gallery is like a kind of tribute to her early exhibitions that featured women artists', concludes Sinah.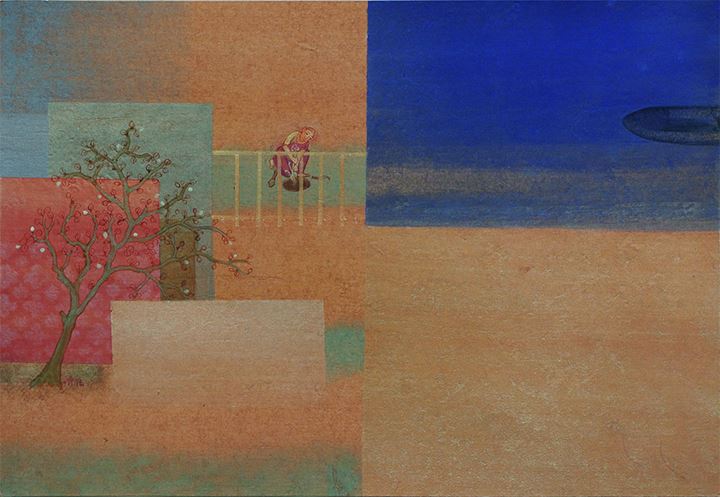 Nilima Sheikh, Mother Sequence-Planting (2016). Mixed Tempera on sanganer paper. 24.1 x 34.3 cm. Courtesy Gallery Espace.
Indira Gandhi National Centre for the Arts
11 Man Singh Road
Marking Satish Gujral's ninetieth birthday this year, the exhibition Satish Gujral: A Brush with Life (21 January–20 February 2016) is an homage to arguably one of India's most celebrated artists. The show that is designed like a retrospective provides an exceptional opportunity for a closer look at the span of Gujral's work as well as a deeper understanding of the man behind the work. The exhibition draws from the key artistic moments of Gujral's life accentuating the diverse oeuvre of the zeitgeist of modernism. The show has on display over 70 original works of art juxtaposed with rare archival photographs which feature friends and family alongside renowned personalities from the 20th century who touched his life. It also includes some vintage images of works that have long left public memory.
Latitude 28
Lado Sarai
The exhibition Kartik Sood: In Search of a Dream and Other Stories (22 January–1 March 2016) draws inspiration from the tradition of oral culture and storytelling. Sood reinterprets the everyday in a visual format reminiscent of folktales, short stories and the Modern play. 'Every day I write, draw, shoot videos or record sounds. My art works are stories developed from these diaries. Subtle in colour and painterly in approach, they are autobiographical, inventive and dislocated. My stories are about reality as I perceive [it], but often they lose the essence of reality (just like reality does) and turn into fictitious tales,' says Sood. Inspired by and contributing to the particular ways in which we construct our sense of self are videos and mixed media work on paper that interplay with text by writer Manoj Nair to form little stories.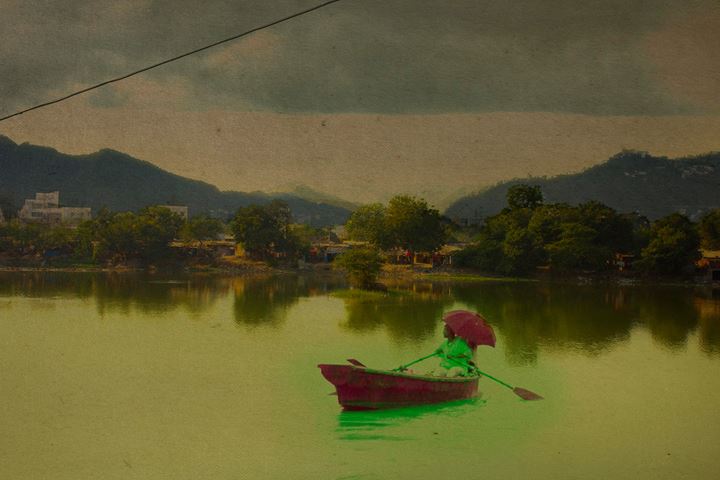 Kartik Sood, An Act (2015). 111.8 x 124.5 cm. Courtesy Latitude 28.
The visuals are saturated with unreal colours, telling tales of the subtle, subjective realities of life that are absurd even when they feel profound. As these deceptively straightforward and random stories unravel and untangle, they reveal a complex subtext: a circuit of visceral sensibilities, philosophical concepts, popular culture, myths and fictions that propel us towards an anxious and uncertain future. The exhibition includes large and small works on paper as well as two video works. Sood and has been been represented by Latitude 28 at the Dhaka Art Summit, 2014; Art Gwangju 2012 and the India Art Fair 2011 - 2014 and was a participant in Contested Spaces, a video project curated by Bhavna Kakar, especially for the India Art Fair, 2014.
Kiran Nadar Museum of Art
145 DLF South Court Mall, Saket
Established in 2010 by Kiran Nadar, an avid art collector, the Kiran Nadar Museum of Art (KNMA), is a private museum of art exhibiting modern and contemporary works from India and the sub-continent. In addition to one of the most comprehensive presentations of work by eminent artist Himmat Shah, the museum is also showing Conversation Chambers: Museum Bhavan (18 December–30 June 2016), a solo presentation featuring the work of artist Dayanita Singh.
Born in 1961, Singh describes her medium as photography and the book as her primary form. She 'has been preoccupied for some years now with conceiving of alternatives to the presentation of a static print on the wall, and with 'evolving a portable architectural form that can function both as a site for display, and a repository for her photographs'. In her latest offering, presented at KNMA, she may have just found the ideal hybrid between exhibition, book and museum piece.
Dayanita Singh, Museum of Little Ladies 1961–Present (2013). Exhibition view: Dayanita Singh: Conversation Chambers Museum Bhavan, Kiran Nadar Museum of Art, New Delhi (18 December–30 June 2016). Courtesy Kiran Nadar Museum of Art.
The exhibition at KNMA, brings to life Singh's work in a unique manner that is dynamic, editable and can take on more than one narrative at any given time. In the exhibition, the artist presents self-sufficient structures—what are referred to as mobile museums—which function as sites of display, preservation, circulation and storage. Bringing together photographs spanning decades of her artistic oeuvre, these structures function as repositories that also provide a performative space in which her images come together in infinite permutations to allow for unexpected poetic and narrative possibilities. Says Singh, 'The design and architecture of the museums are integral to the images shown and kept within them. Each large, wooden, handmade structure can be placed and opened in different ways. It holds around a hundred framed images, of which some are in view, whilst others wait for their turn in the reserve, stored inside the structures.' Visit the site- specific work to experience how the world created by Singh is not one of static nostalgia, but an ever evolving 'experiment' of thoughts and visuals.
Exhibit 320
Lado Sarai
Globetrotter Sumakshi Singh is one of the artists to watch out for as her works that look at architectural spaces as an emotional expression of the self, have been much appreciated among the art cognoscenti. Sumakshi Singh: In The Garden (24 January–24 February 2016) presents the latest body of Singh's works and continues an exploration of ideas situated in the way we experience reality and consciousness. Singh will present immersive mixed media installations using embroidered fabric, stop-motion animation, layered lace drawings and paintings, as a means of suggesting possible gateways for us to understand our 'physical body and its psychological and existential interdependence on cognitive limitations'. In particular Singh focuses on the garden as one such gateway, considering how, through history, mythology, pietism and philosophy, its concept has provided ways to understand our own inner literal and metaphysical truths. —[O]