Insight
Asialink Arts SEA Curatorial Exchange 2018

In partnership with Asialink Arts
The South East Asia (SEA) Curatorial Exchange Program is a two-way arts management exchange between South Australia and SEA. The Program aims to develop expanded institutional links between the partner organisations and arts professionals in both regions. Capturing this exchange, Asialink Arts and Ocula present discussion between participating curators, Philippines-based Paula Acuin who spent three weeks based at the Samstag Museum of Art in Adelaide, working closely with the museum's team, including curator Gillian Brown. Completing the exchange, since late September Gillian has been based at the Museum of Contemporary Art and Design (MCAD), Manila.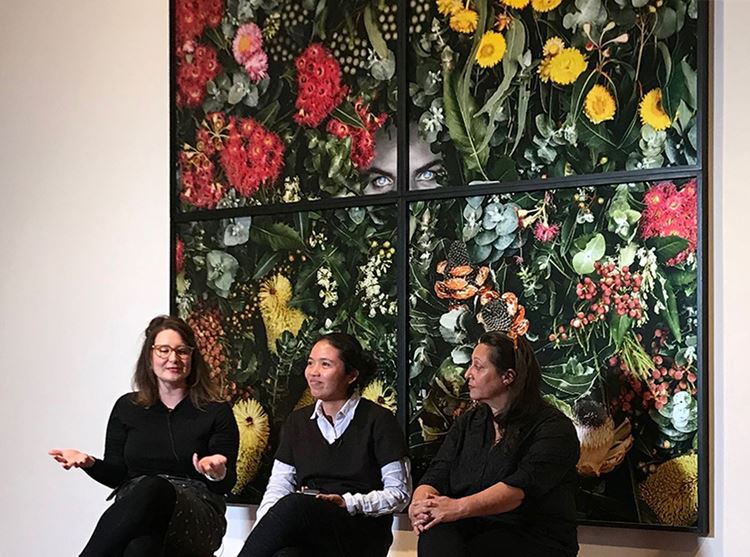 Gillian Brown, Paula Acuin, Fulvia Mantelli. Artwork by Christian Thompson, Loom Aura 1 (2018). Courtesy SAMSTAG Museum.
Currently Paula is adjunct curator at MCAD, teaches at De La Salle—College of Saint Benilde's School of Design and Arts (SDA) in Manila and is pursuing her MA at the University of the Philippines. With expertise in contemporary art practice in the SEA region, Paula shares in particular her in-depth knowledge of film and video. Gillian has managed and curated over 25 contemporary art projects for the Samstag Museum of Art, and has extensive experience collaborating with major international partners, including Independent Curators International (ICI), New York.
Gillian Brown with MCAD staff Mary Ann Pernia, Andy Avila, Therese Mercado and Geraldine Araneta. Courtesy Asialink Arts.
GB: You have quite varied experience in the arts; to begin can you tell us about your curatorial background and interests?
PA: I was an assistant for Yason Banal, who was my teacher and thesis adviser in university where I studied film. Yason's work had a lot of video, performance, installation and photography components at that time, which was something I enjoyed and learnt a lot from. After that I went into several entry-level jobs as gallery 'bantay' (in Filipino and Tagalog this means 'guard', but it could also mean just someone who has to be there to watch over a space). I also did everything else required for an art exhibition—acting as installer, photographer/videographer, press release writer, et cetera—you know how it goes. It was in this role that I was told that some of the tasks I was doing could be considered curatorial work (and some were equally just 'unglamorous tasks'). My entry point into making exhibitions in this sense has primarily been about learning more about the works of artists through working with them in production and display.
You too seem to have arrived at this point through a somewhat indirect route. How have your different experiences led to the kind of work that you do now?
GB: Yes, we do share quite a circuitous route to curatorial practice! My first studies at university were in medical radiation science, but in the end the jobs available to me didn't seem to hold enough appeal. I went back to study photography at university, which segued into interning and then some work at the Melbourne contemporary art space Gertrude Contemporary. Like you say, that was my introduction to the mix of ideas and the 'unglamorous tasks' of curatorial work. There was something in the balancing of the pragmatic and the fantastic that struck a chord (and a great attraction to engaging with so many different ideas). I turned out to be far more enthusiastic about others' work than my own. I had a brief stint working in the commercial sector in Melbourne before moving to Adelaide in 2011 to work in the curatorial department at the Samstag Museum. My route to curating has resulted in an abiding interest in the phenomenological experience of art and the discourse that is encouraged by this, which is where my belief in the importance of writing stems from.
Following this idea of parallel interests, I'm particularly interested in how your engagement with film in addition to writing informs and sits alongside your practice in exhibition-making. Could you describe your approach to curating?
PA: Film production and writing are so different from each other and from making exhibitions. The authorial voice shifts and transforms in different ways. At the moment, writing and research force me to reflect on art and my position in it. This is something not always afforded by making exhibitions, which, at some point, can get extremely fast-paced and preoccupied with certain contingencies—the reflection, then, might happen afterwards. I am not yet sure how these all go together. Most of the time there is work that needs to be done and one just responds to these needs in the best of one's capacity. I also do a bit of teaching now—something that many others in the art world do in order to make ends meet. This has allowed me to see what happens when visitors experience exhibitions—again, something that was not a priority when I was on the exhibition side of things.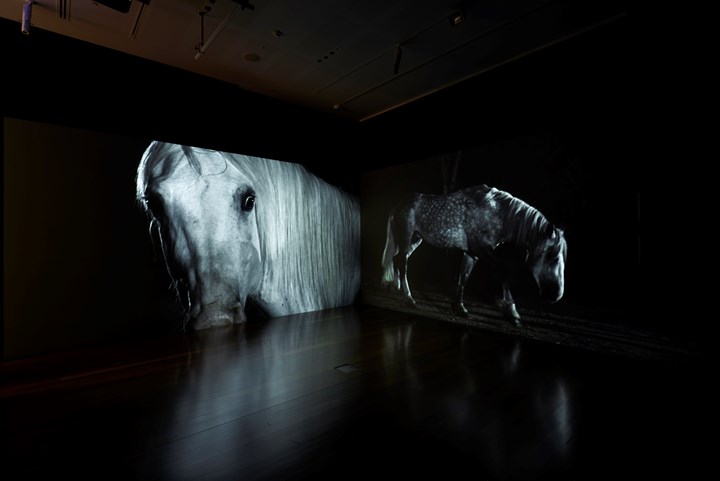 Amos Gebhardt, Lovers (2018). Exhibition view: 2018 Adelaide Biennial of Australian Art: Divided Worlds, Samstag Museum of Art, University of South Australia. Photo: Sam Noonan.
GB: You spent three weeks in Australia as a part of an Asialink Arts Global Project Space (GPS) creative exchange, mostly based in Adelaide at the Samstag Museum with some travel to the east coast cities Melbourne and Sydney. What level of awareness did you think Australia and the Philippines held of each countries respective contemporary practices, and did the practices you saw during your time here challenge these perceptions?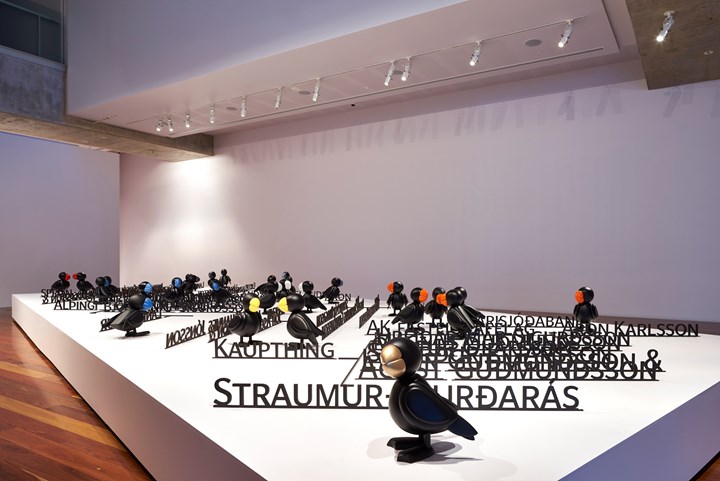 Emily Floyd, Icelandic Puffins (2017). Exhibition view: 2018 Adelaide Biennial of Australian Art: Divided Worlds, Samstag Museum of Art, University of South Australia. Photo: Sam Noonan.
PA: This is a little tricky as one would have to circumscribe what the contemporary is and there is a sense that what it is in Australia is not the same as what we think it is in the Philippines. Of course, there is a kind of global art syntax that would directly override this sentiment—the biennales in our cities attest to this. Seeing the Adelaide Biennial alongside the Biennale of Sydney, for example, and hearing how the two rubbed against each other was instructive and exposed a very complex relationship informed by how the two were conceived and the ways by which they continue to shift direction. One could also compare a new biennale that just closed in Manila and another much older and storied one opening later this year—both unapologetic about the locale from which they speak and mostly artist-led, but both very different too.
I remember Ken Unsworth during one of the Sydney talks musing about what a single-venue biennale would be like. More than a question of scale, I think he was also commenting on how we continue to deal with these more dominant ideas of and around presenting art. Visiting Fontanelle Gallery in Port Adelaide, seeing the National Gallery of Victoria's Colony exhibitions alongside Soda_Jerk's TERROR NULLIUS at the Australian Centre for the Moving Image, and meeting with students, curators, writers and artists—these opportunities allowed me to see the efforts of institutions and individuals outside huge biennale displays. I learned a lot from them.
Christopher Thompson, Loom Aura I and Loom Aura II (2018). Exhibition view: 2018 Adelaide Biennial of Australian Art: Divided Worlds, Samstag Museum of Art, University of South Australia. Photo: Sam Noonan.
GB: Australia and the Philippines are countries with colonial links to the art-historical super-centres of Great Britain and the United States. Do you feel it is important to encourage regional relationships?
PA: Yes, but how and why these relationships are formed become equally important precisely because of these links. What these relationships do to extend or challenge the validity of these links is also something to think about. As we know, these gestures are embedded in networks of soft power; the challenge is what to make of them. These regional relationships are not always easy to spot precisely because they call for some other frame or way/s of thinking. Do you think this regional thinking seeps into the work that you do and if yes, how and why? If not, why not?
GB: I would agree that the synergies between various countries within regions are embedded in a multitude of ways, and are not always obvious, which is where a concerted effort to engage across the usual lines comes in to play. Finding rather than forcing will always be far more beneficial in the long run; it is an acknowledgement of the ways in which we—artists and curators—can work in the same 'space', with shared concerns, mediums and approaches despite geographic distance and perceived cultural differences. This has become incredibly important to the projects I have worked on so far in my career, but (coming from the much geographically tighter, if no longer politically tighter, Europe) I think the scale of distance and colonial history of the Asia-Pacific region has contributed to the odd scenario of our countries being more aware of practices from the other side of the world than our neighbours.
It's a platitude to say that contemporary art is more and more a global practice, but it's for this reason that exchanges like Asialink's GPS are critical in supporting discourse between international peers. That's not to say that we are heading towards a kind of homogenous 'contemporary'—one of the imperatives of working in this networked space is recognising and understanding the inflections of the practices we encounter.
With this in mind, can you comment on how artists in Manila and Adelaide/Australia make the 'local' felt in their work in the midst of all this?
PA: I think that there are several ways by which works of art are able to enter into certain narratives confronting ideas of what is local or even 'national' and what is not. I can imagine how, for example, viewers who may know little about Australian cinema outside of The Adventures of Priscilla, Queen of the Desert (that's me!) would be able to watch TERROR NULLIUS and apprehend how this un-Australian, Australian film would chime with so much of what is happening in their own locale. On the other hand, there are, of course, very real incongruities. The term 'local' would mean something very different to the millions of Filipinos who work and live overseas—including artists—or to those whose lives have been changed by diaspora. What these shared spaces are hopefully able to create is the opportunity to understand the world outside of the usual hegemonic outlets.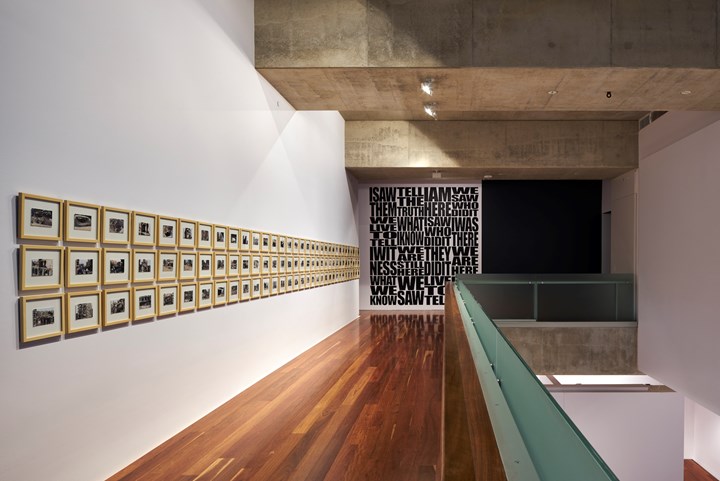 Khaled Sabsabi, 99 Names (2018); Vernon Ah Kee, Kuku Yalandji/Yidindji/Gugu Yimithirr/Koko Berrin/Waanji people, Queensland, I Witness, (2017). Exhibition view: 2018 Adelaide Biennial of Australian Art: Divided Worlds, Samstag Museum of Art, University of South Australia. Photo: Sam Noonan.
GB: Lastly, what was the most surprising thing that has come of this creative exchange to date and what is next for you?
PA: I am looking forward to your visit, Gillian, and do hope we can continue this discussion. One surprising and actual take-away from the exchange is that, owing to your generosity and that of the other people I've met, I have resources and materials to continue the research even after I've left. Constantly I am learning and hopefully making productive connections. —[O]