News | Exhibitions
Aichi Triennale Announces Artists for 2022 Edition 'Still Alive'
International artists taking part include Kader Attia, Cao Fei, and Anne Imhof.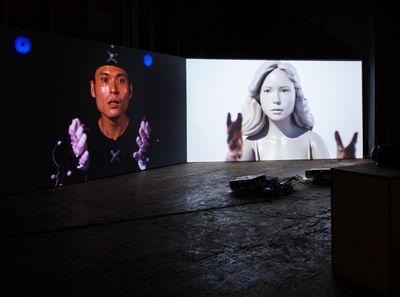 Momose Aya, Jokanaan (2019). Installation view at EFAG EastFactoryArtGallery. Collection of Aichi Prefectural Museum of Art.
Aichi Triennale has named all 82 artists who will exhibit at the event from 30 July to 10 October. Over half are newcomers to the Triennale, including Kader Attia, Cao Fei, Anne Imhof, and Gabriel Orozco.
The Triennale's theme for 2022, Still Alive, is borrowed from Aichi-born conceptual artist On Kawara's series 'I Am Still Alive'. Kawara sent over 900 telegrams testifying to his ongoing existence in the three decades prior to his death in 2014. Kawara's work will appear at the Aichi Arts Center as part of the exhibition.
The theme 'Still Alive' takes on new meaning in the face of recent events.
On Kawara, Telegram to Sol LeWitt, February 5, 1970. From I Am Still Alive, 1970‒2000. LeWitt Collection, Chester, Connecticut, USA© One Million Years Foundation.
'In addition to the pandemic and the war in Ukraine, we also face an endless amount of conflict and threats in our lives, and then there is the even greater question of human existence in the climate crisis we are all facing,' the Triennale's Artistic Director Mami Kataoka explained to Ocula Magazine.
'Still Alive also refers to the total history of human activity and even of the planet,' she continued. 'It means seeing what has been consistent and what needs to be remembered.'
According to Kataoka, more than half of the artists this year are creating new works in response to these themes, and in dialogue with the Triennale's different locations in the Japanese prefecture.
'International exhibitions and art festivals make sense when encounters with the unknown and an experience of the whole town or city come together,' Kataoka said. 'I have intentionally selected particular towns in Aichi with unique cultural histories to serve as venues for the Aichi Triennale 2022.'
Chiharu Shiota, Uncertain Journey (2016/2019). The Soul Trembles (solo), Mori Art Museum, Tokyo. Photo: Sunhi Mang. Courtesy of Mori Art Museum. Copyright JASPAR, Tokyo, 2021 and Chiharu Shiota.
Performance and Installation artist Chiharu Shiota, for instance, will exhibit her blown-glass series 'Cell' in a classroom at a former nursing school, complete with abandoned anatomy models.
Shiota is also making a thread-based installation that will be exhibited at a former textile factory in Ichinomiya City. The work alludes to the memories of the space following the theme of her work in which 'absence is presence.' As she explained in an Ocula Conversation in 2016, this is the idea that, 'No one is there now but someone was there previously.'
Thai artist Mit Jai Inn will exhibit paintings along the traditional façades of houses in the historic Arimatsu townscape. Resembling landscapes seen in Edo-period Ukiyo-e woodblock prints, they refer to the era the town was founded, and the local tie-dye industry that emerged.
'It is his way of responding to the history of the town, to the question of how traditions can still stay alive, and how art can bring back life and energy to a place,' Mami said.
Mit Jai Inn, People's Wall (2019). Photo: Jim Thompson Foundation. Courtesy of the artist and Jim Thompson Foundation.
Among the latest additions to the 2022 Triennale are Nawa, a collective of students and young artists from Aichi University of the Arts initiated by Yoshitomo Nara; and US-Taiwan duo Laurie Anderson and Huang Hsin-Chien, who will present works that incorporate a VR experience.
Included in the Triennale's Performing Arts Programme is John Cage's Europeras III and IV, which will be directed by Japanese musician Adachi Tomomi.
The full list of participating artists can be found here. —[O]