News | Market
Anne H. Bass Collection Featuring Degas, Monet, and Rothko Heads to Christie's
The announcement follows news that 100 works from Australian collectors Gene and Brian Sherman will go under the hammer at Bonhams in Sydney.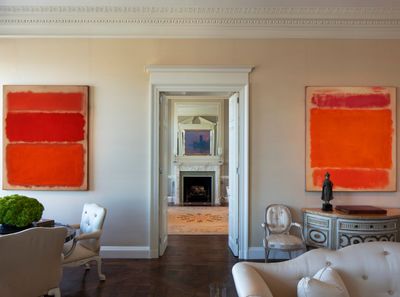 Interior of Anne H. Bass's New York City home. From left to right: Rothko's Untitled (Shades of Red), Monet's Le Parlement,soleilcouchant, and Rothko's No.1. Photo: Visko Hatfield.
Christie's New York announced that they will bring 12 works from the Anne H. Bass Collection to auction during their marquee sales week, starting 9 May. Altogether, the works are estimated to bring in US $250 million.
Anne Hendricks Bass, ex-wife of Texan oil billionaire Sid Richardson Bass, put together an impressive collection of modernist and impressionist works prior to her death on 1 April 2020.
'Everywhere in her apartment there were exquisitely calibrated affinities and dialogues, between the enigmatic windows of Balthus and Hammershøi; between the dancers of Degas in pastel and bronze; between the flowering of Impressionism and the New York School; between Monet and Rothko,' said Max Carter, Christie's Head of Impressionist and Modern Art.
Claude Monet, Peupliers au bord de l'Epte, automne (1891). Oil on canvas. 39 3/8 x 25 5/8 in. Courtesy Christie's Images Ltd. 2022.
Among the highlights of the auction are Edgar Degas' bronze sculpture Petite danseuse de quatorze ans for an estimated $20–30 million, Mark Rothko's Untitled (Shades of Red) for $60–80 million and No. 1 for $45–65 million, and Monet's Le Parlement, soleil couchant for $40–60 million.
The collection will go to auction the week before Sotheby's completes its sale of works from the Macklowe collection. The remaining 30 works—including pieces by Rothko, Gerhard Richter, Cy Twombly, Sigmar Polke, Jeff Koons, and Donald Judd—carry a combined estimate of US $300 million.
Bonhams Australia Brings Gene and Brian Sherman Collection to Auction
Greg Semu, Collection+: Greg Semu (2016). Installation view, Sherman Contemporary ArtFoundation. Photo: Silversalt Photography.
Earlier this week, Bonhams announced that it will bring 100 works owned by leading Australian collectors Gene and Brian Sherman to auction in Sydney on Wednesday 11 May.
The sale, entitled Sherman | 100, includes works by Isabel and Alfredo Aquilizan, Shaun Gladwell, Petrina Hicks, Mike Parr, Greg Semu, Tim Storrier, Guan Wei, and Ai Weiwei.
Brian Sherman co-founded funds management company EquitiLink, which began with an initial investment of $5,000 and grew to be worth AU $5.5 billion by 2000.
Gene Sherman directed Sherman Galleries from 1986 to 2007 with a focus on artists from Australia, the Asia Pacific, and the Middle East. She has received three honorary doctorates, and is a member of France's Legion of Honour and the Order of Australia.
Isabel & Alfredo Acquilizan, In-habit: Project Another Country (installation view), Sherman Contemporary Art Foundation (2012), Photo: Jacob Ring.
The Shermans have gifted works to museums including MoMA in New York, Tate Modern in London, Art Gallery of NSW, and the National Gallery of Australia.
'It has been a deep joy to have developed lifelong friendships with so many wonderful creative practitioners including, amongst many others; Janet Laurence, with whom we have a mutual and abiding interest in plant and animal life; Imants Tillers, one of the very first artists to join Sherman Galleries; and Zhang Huan, whose remarkable mega-scaled Shanghai studio Brian and I visited many decades ago, just as his practice was taking off,' Gene Sherman said.
'Now is the time to be editing and reducing our extensive collection to core museum-scale work – simplifying our lifelong collecting endeavours and setting the stage for future generations,' she added. —[O]